The Best Headphones for Sleep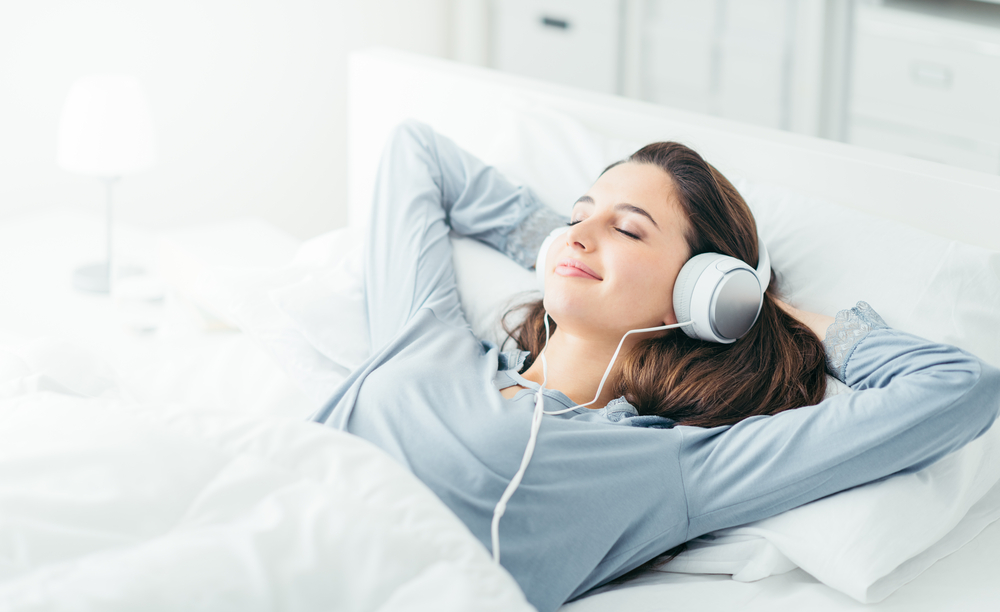 For years, the only way to listen to music was through an external speaker, which was not only inconvenient but nearly impossible to do subtly. Through the years, fantastic technological advances have been made with personal earphones, but for those of us who enjoy being lulled to sleep by our tunes or a soothing podcast, those uncomfortable plastic earbuds just don't cut it. But now, thanks to some research, we've hunted down some of the best and most comfortable options for those who need a little company while they're falling asleep - without disturbing anyone else.
WINONLY Soft Sleep Headphones
A good night's sleep is vital to one's health, and these will not let you down.
If you only want the best of the best for your earbuds, look no further. This headband is made of some of the softest, most lightweight material, and it's a fantastic fit for sleepers of all positions. The 0.25-inch speakers are some of the thinnest on the market, and at such an incredibly tiny size, are unlikely to cause any disturbances or discomfort. And for those of us who live by the phrase, "work hard, sleep hard," these headphones boast an impressive 10-hour battery life with a mere 2-hour charging time from empty to full.
Pros:
Machine-washable (but make sure to remove the speakers first)
Extremely user-friendly with simple instructions
The stretchy material ensures the band can fit nearly anyone
Cons:
Material may have a plastic-like odor during the first few hours after you unbox it
LC-dolida Sleep Headphones With Eye Mask
Perfect for anyone who needs a little extra help getting some solid shut-eye.
Not only does the V5.0 speaker technology work wonders at blocking out noise around you, but this handy little product also has a sleep mask that boasts a complete black-out capability. The mask is designed ergonomically to fit the face of the shape well, with a deep silhouette around the eyes that allows for movement without creating additional tension. The fabric blend also includes memory foam, which ensures that even if you're a side sleeper, you'll still experience the utmost comfort during your slumber. The opening around the bridge of the nose is also covered by a cool and comfortable fabric that won't cause issues for those who are sensitive to extra pressure.
Pros:
Many sleep headphones do not include an eye mask, which makes these appealing, as they'll block out light in addition to sound
Fastened by Velcro instead of elastic, so the size of the band can be easily adjusted
The location of the volume control panel is thoughtfully designed to be front-facing, as a peripheral placement would be uncomfortable for side-sleepers
Cons:
A voice alert informs you when the battery is low, which may jolt you awake if the volume is up too high
CozyPhones Sleep Headphones
A wonderful option for those who travel often and need to use their flight to grab some shut-eye.
When it comes to airplanes, we've all been there: the crying baby. The noisy engines. The chatty seatmate. Flying may be convenient, but it certainly is not conducive to a quiet sleep environment. That said, these headphones work so well, they may even make you feel as though you're in your own private cabin. The light lycra fabric is not only comfortable but also cooling, which may be able to provide some calming relief for nervous fliers. Since these headphones also come with a 3.5mm jack adapter, you're not even limited to listening to what's on your own device, as you can plug right into the in-flight entertainment and enjoy all of the Law And Order reruns your heart desires.
Pros:
Comes with a convenient travel bag, ensuring that these will stay safe and secure inside your carry-on luggage
Speakers can be adjusted within the headband for a more personalized fit
Cons:
Not Bluetooth compatible; you must use a cable adapter
CozyPhones Kids Headphones
If you can't handle hearing "Baby Shark" one more time, we've got you covered.
It can often be difficult to encourage children to relax at the end of the day, but with the help of these adorable headphones, your evening routine will likely turn into a breeze. This unbelievably comfy fleece headband is a must-have for any kid, seeing as it comes in a variety of characters, from unicorns to monsters to Batman. Another great benefit of these particular headphones is that they come equipped with volume-limiting speakers, as children's ears are much more sensitive than adults', so there's no cause for concern that tiny ears are being harmed.
Pros:
The durable band is made specifically to handle the wear and tear of everyday use by children and can bend, stretch, and twist without tearing
Also works well in the car, as the soft, padded headband allows for children's heads to rest easily in a car seat.
Can also be used as an eye mask to block out sunlight
Cons:
Not suitable for very small children, as the band may be too large
ASIILOVI Sleep Headphones & Ear Warmers
When you want access to your tunes for activities besides sleeping (yoga, anyone?), this can accommodate all of your needs.
Being able to block out noise while you sleep is of course helpful, but there are plenty of other activities that this particular device can be beneficial for, such as meditation and yoga. The headband is also insulated and acts as an ear warmer, so these are even a great option to use for outdoor exercising during the colder months. Additionally, the fabric is moisture-wicking, and it conveniently absorbs sweat that may accumulate while exercising.
Pros:
Both the headphones and headband itself are extremely thin, creating the ultimate comfort experience
These are available as both a wired and Bluetooth model, so you can choose whichever design suits your preference
Cons:
Since the band has a warming effect, this may not be ideal to wear during warmer months
Frequently Asked Questions
Is it safe to sleep with headphones during the entire night?
As with virtually anything, moderation is key. Generally, 60 decibels, which is the volume of a standard conversation, should be the loudest level of sound an ear is exposed to. As long as your speakers don't exceed that level, your hearing should be perfectly safe. An added plus of using a product like these headbands as opposed to earbuds on their own is that they may help to reduce the risk of bacterial build-up that can form when using in-ear headphones for long periods of time.
Are Bluetooth speakers better than wired models?
This one really comes down to personal preference. Some prefer to use Bluetooth-enabled headphones as they feel it allows them to move around or exercise with more freedom, without being encumbered by cords or wires. However, others enjoy having the option to plug directly into their devices. Wireless connections in some areas may be spotty, and some people feel that the ability to use a cord enables them to have more control over any connectivity issues. Audiophiles also argue that audio signals delivered via wire will sound better than their wireless brethren.