The Best Hanging Shelves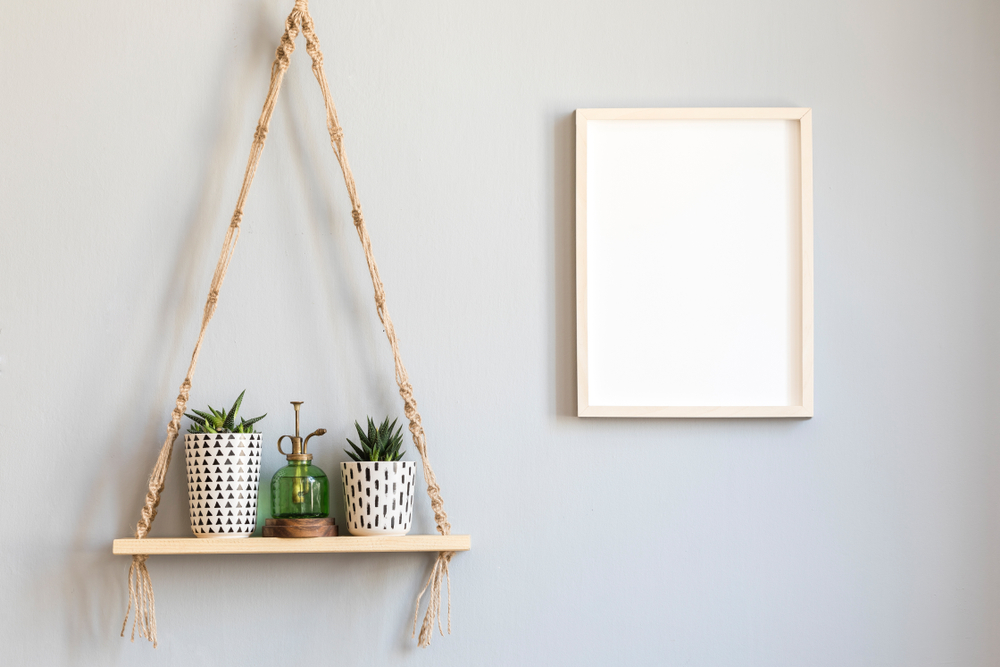 Whether you choose a pop of color or a statement decor piece, customizing your space is all in the details. An easy way to add dimension to any room is to use hanging shelves to display your favorite plants, candles, trinkets, and treasures. Shelves are also a great way to increase your storage space, keeping things off the floor or off of your tables. We've rounded up some of the best hanging shelves out there. Read on to check out this curated list of our favorites.
Timeyard Macrame Wall Hanging Shelf
With timeless wood tones and trendy macrame ropes, this hanging shelf adds texture and interest to any room.
We think this handmade macrame hanging shelf from Timeyard is perfect for any decor, from rustic to modern and everywhere in-between. Perfect for your living room, kitchen, or bathroom, you can create extra display and storage space anywhere. Showcase your best memories and collectibles on these sturdy frames, including photo frames, plants, and diffusers. If you're looking for some extra storage space, you can put your spices or towels on them. All you need is a simple nail or adhesive strip, and you'll be on your way to beautiful and functional decor.
Pros:
Two- and three-tier options available
Multiple wood color options
Statement piece that's still neutral enough to fit with most decor
Cons:
Cannot adjust length of rope
Omysa Hanging Shelves
These sturdy hanging shelves are a great addition to any plant lover's collection.
Omysa's hanging shelves are perfect for a clean, simple look. This set of two shelves are sturdy enough to hold considerable weight, making them perfect for displaying plants. Every plant parent knows that it's impossible to have too many plants. Make some extra room for new plants by popping a few on these shelves. Of course, if plants aren't your thing, these shelves are perfect for holding heavier items, like photo frames or vases. The options are endless with this chic set of shelves. With an easy installation process and two shelves included, you're just one step away from adding to your plant collection.
Pros:
Pine material is sturdy and charming
Multiple ring color options
Holds considerable weight
Cons:
Limited wood color options
ForestBarn Hanging Shelves
Adding depth and color to your walls has never been easier with these elegant, lightweight shelves.
Customize your space with shelves that reflect your style. With a multitude of wood color options and a matte finish, you can pick the shelves that fit with your decor. These minimalistic pine shelves are lightweight, making them easy to install and perfect for those living in apartments. You can hang the shelves with adhesive strips for apartment-friendly removal later on since they're so lightweight. If your shelves are not hanging evenly, just give the strings a tug to balance them out.
Pros:
Lightweight
Multiple color options
Understated design
Cons:
Not ideal for heavy items
Bamfox Boho Shelf
These bamboo shelves give you a stylish way to add warmth and personality to your space.
While most hanging shelves are made of pine, these stylish shelves are made from high-quality bamboo and hung with rope. The shelves are varnished to preserve them and keep them looking new for longer. With three options, you can get two tiers, three tiers, or a set of two with one shelf each. No matter what you choose, these bamboo shelves are sure to fit in with any style or room. Stacked with towels, a home for your plants, or a place to display your favorite memorabilia, these hanging shelves are versatile. If you're looking for a natural look that's beyond the ordinary, these shelves are perfect for you.
Pros:
Bamboo and rope
Metal hook included
Multiple options for tiers
Cons:
Only one wood color option
Yankario Rope Hanging Shelves
If you're not looking for bells and whistles, these classic shelves are perfect for you.
Farmhouse chic has never looked so good. The dark brown finish and thick jute ropes create a beautiful look that will fit in with any rustic decor. The sturdy and functional ropes and the mounting cup hooks make hanging the shelves a breeze. This striking, simple piece is sure to be a conversation starter in your home, adding warmth and charm to any space. Add your own personal touch with your trinkets, books, or whatever else you want to decorate with, and your shelves are complete.
Pros:
Jute rope adds unique texture
Two shelves included
Easy installation
Cons:
Only one wood color option
Frequently Asked Questions 
Will my items fall off the shelves once they are hung on the wall?
Be sure to balance your items along the shelves to prevent any falls. You may also invest in some grippy drawer liners. Inexpensive, discreet, and simple, they can prevent things from falling off your shelves. Drawer liners are also easily removed without damaging your shelves. Just peel them off when you're ready to change up your decor.
What do I put on my hanging shelves?
Hanging shelves are a great way to express your style. You can go for a minimalist look with a simple vase or basket, or you can fill it with your favorite trinkets and collectibles. If you're a plant parent, you can put a few plants on the shelves. Plants that hang down, like String of Pearls or Pothos, are great for adding dimension to shelves. If you're looking for more functionality, hanging shelves are great for storage as well. The options are endless with hanging shelves since you can change up your decor as often as you want with ease. The main thing to keep in mind when choosing your decor is the weight limit of the shelf you have.