The Best Glider Rockers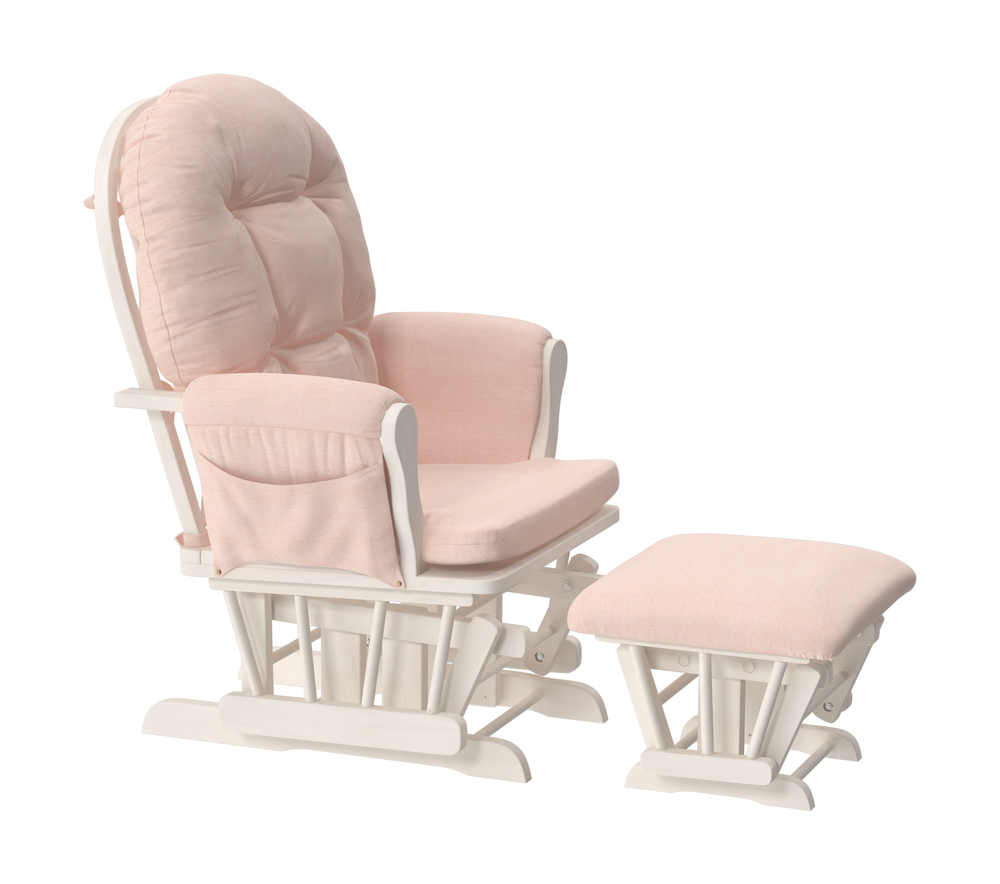 Rocking babies is a time-honored way to soothe a tired, grumpy little one, and we think a comfy gliding rocker is the best way to do it. Of course, if the chair isn't all that comfortable, you end up in pain, strained from sitting uncomfortably while spending hours rocking a sleepy baby. The key is finding one that's ultra-comfortable, glides smoothly, has excellent stability, and is durable enough to outlast a stubborn, sleep-resistant child night after night. Check out some of our favorites to find the one that's right for you.
DaVinci Upholstered Swivel Glider with Bonus Ottoman
This ultra-comfortable rocker has a smooth, easy glide system.
It's hard to choose our favorite thing about DaVinci's excellent swivel glider. Perhaps that's because there isn't just one single feature, but rather it's the whole package deal. And what a package deal it is. With a comfortable seat that features a gently reclining back, ideal armrest height, and an included ottoman, this chair will long be a staple furniture item in the home, whether there's a baby in the house or not.
Pros:
Greenguard Gold Certified for environmental safety and purity — which benefits us, too
Gentle 360° swivel and glide
High, gently sloping back for an ultra-comfortable seating position
Cons:
This chair does rock and glide with a bit of light noise
The seat is on the narrower side
Stork Craft Hoop Glider and Ottoman Cushions
Easy to assemble and move, this lightweight rocker is sturdy, too.
Made with both wood and fabric features, Stork Craft's chair looks classy in any nursery, and it's incredibly comfortable, too. It's ultra-lightweight at under 50 lbs total, which makes it far easier to schlep this chair around — ideal for apartment living or upstairs nurseries. Just because it's lighter in weight doesn't mean that corners have been cut in terms of comfort. With soft, supportive cushions and a padded ottoman, this cozy chair will see a lot of use over the first few years of Baby's life.
Pros:
Lightweight yet durable chair
Generous, comfortable seat
Ultra-convenient storage pockets for middle-of-the-night essentials
Cons:
Maximum weight recommendation of 250 lbs
Does not recline
Angel Line Windsor Glider and Ottoman
Quality doesn't have to come at a cost, as this option proves.
While quality and comfort often come at a price, that doesn't always have to be the case. In fact, this glider and ottoman set from Angel Line is budget-friendly, comfortable, and surprisingly durable. Made with a solid wood frame and a fully padded seat, armrests, back, and ottoman, comfort is queen with this roomy rocker. One of our favorite features is that the padded arms have handy storage pockets large enough to hold a book, lotion, and other midnight feeding essentials.
Pros:
Budget-friendly glider
Solid wood frame for stability and durability
Wide seat for a roomier, comfortable fit
Cons:
The arm cushions aren't fully connected to the chair
An extra pillow for lower back comfort would be a nice bonus
Naomi Home Odelia Swivel Glider Rocker Recliner
This rocker swivels, glides, and reclines for maximum comfort.
For those sleepless nights when Baby just doesn't want to be put down, this reclining chair from Naomi Home is a welcome relief. Ultra-comfortable with a plush back, built-in footrest, and a reclining back, this glider definitely earns its spot in the house. The attractive look — complete with button tufting on the backrest — fits well in just about any nursery room yet can easily be added to the family room once Baby has outgrown the need to rock. An ultra-supportive seat ensures that the comfort of this seat will last that long, too.
Pros:
Smooth gliding mechanisms in place for full range of motion
Incredibly soft fabric
Sturdy, durable construction
Cons:
Make sure to follow the assembly instructions fully
The recliner doesn't click into place when reclined
Delta Children Emerson Upholstered Glider Swivel Rocker Chair
With this ultra-quiet rocker, your little one will be fast asleep in no time.
If a quiet glider is on the list, this one should be at the top. With one of the smoothest rocking mechanisms on the market, this glider is as quiet as they come. Incredibly cozy, the thickly-padded armrests, tufted, tall back, and wide seat all help to make this one of the most comfortable, too. Made of an ultra-soft microfiber fabric, this chair is easy to keep clean and soft enough to sleep in. As comfortable and quiet as it is, you just might find yourself fighting it more often than not.
Pros:
Multiple color choices
Easy to spot clean
Wide, comfortable seat
Cons:
Does not include an ottoman
For extra tall folks, the back may be a bit short
Frequently Asked Questions
Are foot rests necessary?
Footrests are certainly not necessary, but they do add a bit of comfort to the rocking experience. For a more relaxing experience, a padded ottoman at around 15″ – 18″ is the ideal height.
What should one look for in a glider rocker?
While the particulars are up to your own preferences, a few typical features are beneficial to have in a nursery glider rocker. A high back, tall enough to support your head, neck, and shoulders, as well as cushioned support throughout the seat, arms, and back are all beneficial to comfort and posture. Some chairs even have a lumbar support pillow, which is a definite bonus. When trying out a chair, it can be helpful to note the ratio of the armrests — if you're planning on feeding your baby in the chair, will you comfortably be able to do so? Other notable features include a quiet glide, how easy it is to get out of the chair, and if you can easily clean the chair.