The Best Gender Reveal Party Supplies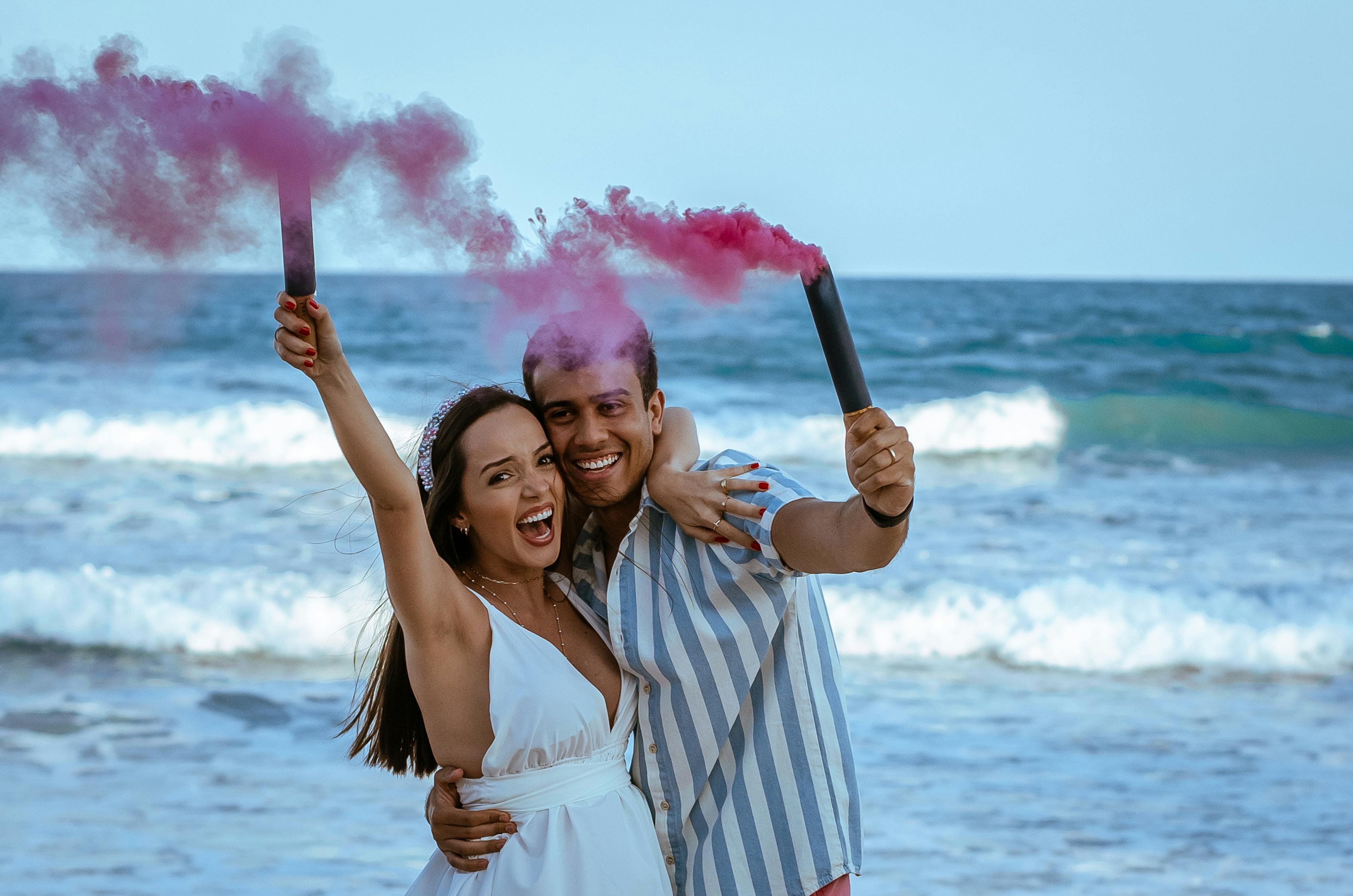 Finding out you are pregnant is amazing on its own, but the feeling of finding out your baby's gender is its own brand of joy. That's when you can really get down to planning and prepping for your little bundle of joy to arrive. Everyone has a different way of finding out and announcing their baby's gender, but any celebration needs supplies. No matter your theme, our list of the best gender reveal party supplies can help you throw a memorable bash for you and your growing family.
Sweet Baby Co. Gender Reveal Confetti Cannons
Make your announcement pop with these fantastic cannons.
If you love to make a statement or put on a show, the Sweet Baby Co. Gender Reveal Confetti Cannons are just what you need. Just point and twist to send a cloud of colored smoke and slow-falling confetti into the air. There are two layers, so the burst lasts longer than many other cannons you can find. They're an excellent choice for anyone who wants to stand out and give their guests a long-lasting photo-op.
Pros:
There are two blue and two pink cannons included, so two people can participate
The correct color is hidden on the bottom of each cannon to ensure you choose the right ones
Corn starch and biodegradable confetti make these cannons safe to use outdoors
Designed to release and fall slowly for beautiful pictures
Easy to twist
Cons:
Cleaning up after you pop them indoors can be a tall order
Ercadio Gender Reveal Cupcake Toppers
These adorable cupcake toppers add to the fun and excitement of your gender reveal party.
Cake is mandatory at any good party, even gender reveals. We prefer cupcakes because they are easier to make and take less work to transport and serve than a full-size cake. Ercadio Gender Reveal Cupcake Toppers are the perfect final touch to your cupcakes. Besides having both blue and pink colors included, girl and boy labels add a bit of mystery to the reveal. Each one stands up easily with a wooden dowel, so you never need to worry about them falling over or out of the cupcakes.
Pros:
Both pink and blue versions are vibrant and glittery
There are dresses and onesies, along with the words "boy" and "girl"
24 cupcake toppers in each set
They are affordable
Cons:
Only one side is decorated while the back is plain white
JXHV Gender Reveal Party Supply Starter Kit
This comprehensive party pack gives you everything you need.
Convenience is an important factor for many people. Trying to find a ton of decor for a low price can be time-consuming and frustrating. Skip the hassle and choose the JXHV Gender Reveal Party Supply Kit. In addition to cake toppers and a black gender reveal balloon, you also get a banner, balloons, tablecloth, photo props, and more. With all the basics covered in one convenient kit, you can focus on enjoying yourself and setting up the big reveal.
Pros:
There are 200 pieces in total included in this kit
The gender reveal balloon itself is dark and won't spoil the surprise
Fun games and photo props provide entertainment for your guests
There are cupcake toppers and cake decorations included for your convenience
This kit is affordable
Cons:
The smaller balloons pop easily
Primepure Gender Reveal Kit
Have the gender reveal of your dreams without spending a fortune
Are you trying to throw an amazing gender reveal party on a budget? If so, the Primepure Gender Reveal Kit is the right choice for you. This kit has everything you need to throw a fun party, all at an affordable price. The set is full of fun, unique designs in vibrant colors with metallic gold accents to add a bit of flair to your festivities. We're especially fond of the patterned balloons and themed party favors that'll set your party up for greatness.
Pros:
There are 111 pieces included
The fun black balloon hides the gender until you are ready to pop it
This kit includes a guide to help you set up your party
All of the included pieces are high-quality and durable
It is affordable
Cons:
The included dot stickers don't hold the balloons well, so you will want a ribbon or your own adhesive
KatchOn Gender Reveal Set
This kit gives you a headstart toward sharing your news with the ones you love.
Best for Small Gatherings
If you want a small, intimate party with simple and affordable decor, the KatchOn Gender Reveal Set has you covered. You'll get all the essentials to kick off your party without spending a fortune. There is a fun photo prop banner, a black reveal balloon, small decor balloons, and both blue and pink ribbon. All you need to do is fill the reveal balloon with the included confetti and get your party started.
Pros:
Everything you need is included so that you can skip the stress
This kit is affordable
The reveal balloon is high-quality and won't reveal the gender until you are ready
It is easy to set everything up and quick to clean after
Cons:
No cake or table decorations are included
Frequently Asked Questions
What does a gender reveal party consist of?
Gender reveal parties usually include cake, games, and lots of balloons, but they all lead up to the main event: the big reveal of whether you'll be welcoming a baby boy or girl. There are many ways to announce the gender itself. Many people choose to get a cake filled with pink or blue filling. Some go with a confetti cannon or a black balloon filled with blue or pink confetti.
Why should I have a gender reveal party?
Gender reveal parties are often more laid back than the average baby shower. They are also an excellent choice for families who already have kids and have everything they need but still want a way to celebrate their new baby with friends and family. We enjoy how exciting it is for kids to find out if they will have a new baby brother or sister.