The Best Fireproof Safes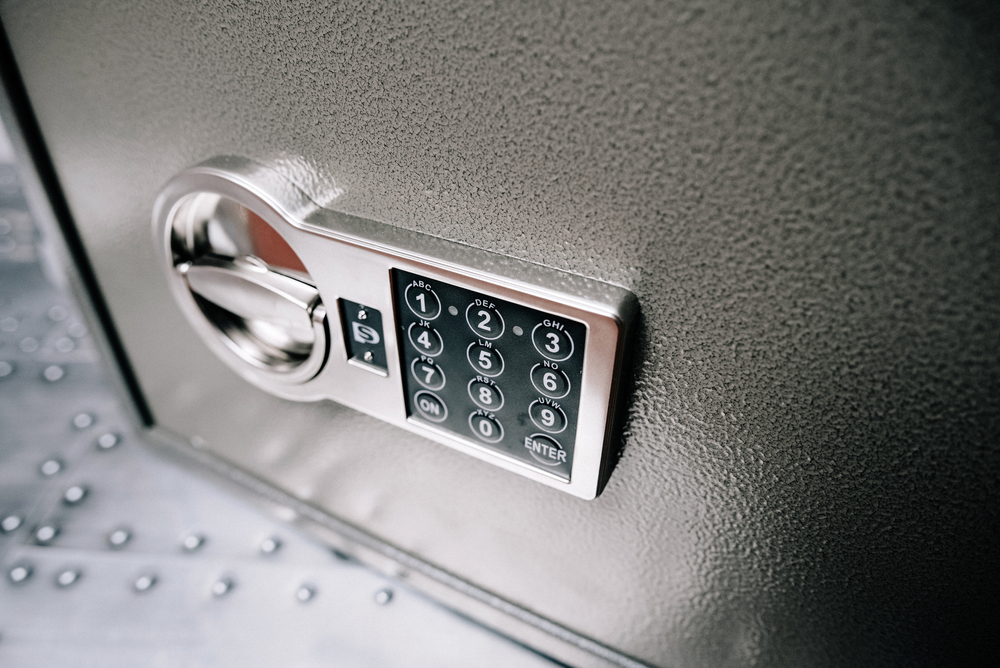 It's one thing to keep your belongings safe from theft, but it's another thing entirely to protect them from the fury of mother nature. If you live in a dry, windy climate, you've probably fireproofed everything in your house already, but if you're moving to a high-risk area or just looking for an extra safeguard, we're here to help you out. Like traditional safes, fireproof safes can store your most important documents and cherished valuables with the added benefit of withstanding temperatures of up to 1700 degrees Fahrenheit. Many can be bolted down for even more security, and some boast waterproof seals for all-disaster protection. Check out our top picks for your personal security needs below.
SentrySafe Fireproof and Waterproof Safe
It's fireproof, reliable, and it's built to withstand a 15-foot drop.
In terms of usability and durability, SentrySafe's 1.23-cubic-feet model checks all of our boxes and more. Though you might need a hand installing this 86-pound safe, set-up is straightforward thanks to the user manual. You can replace the factory code with your own personal combination; just remember that the secondary lock key is not a backup — it's another line of defense. If things get hot in a hurry, know that your safe is able to withstand temperatures of up to 1,700 degrees Fahrenheit for one hour. Flooding or fire-extinguishing is no match for this safe, either, as it can be submerged in eight inches of water for 24 hours without leaking.
Pros:
Proven to withstand a 15-foot drop
Fireproof ability is certified by Underwriters Laboratories (UL)
Purchase includes a bolt-down kit for added security
Adjustable interior shelf for organization
Cons:
Must drill your own holes in order to bolt the safe down
Modrine Security Safe
Modrine's Security Safe is ideal for storing small documents in snug spaces or while on the go.
If you don't have a spacious basement to inconspicuously store a larger safe, the Modrine Security Safe is the model for you. This 11.42″ x 9.45″ x 9.45″ safe is small but secured with a 3-8 digit PIN and a secondary lock key. Though many smaller models only sport a single deadbolt, this unit doubles down on live door-bolts, providing extra durability. Weighing less than 10 pounds, the Modrine Security Safe is as mobile as they come, but it's ready to bolt down if you're hoping to store it away snugly. Just lock it in place with the included anchor bolts and your valuables are safe from both fire and theft.
Pros:
Size makes it easily concealable and mobile
3-8 digit PIN can be personalized
Bolt-down holes are pre-drilled
Cons:
Not waterproof, which could be useful for mobile safes
No apparent UL certification
Barska Fireproof Safe
There's probably no need to bolt down this 135.5-pound safe from Barska, but they give you the option, just in case.
It'll likely take a dolly to get the Barska Fireproof Safe in position, but rest assured this 135.5-pound unit isn't going anywhere once you put it down; its weight makes it a bit unwieldy, while the included bolt-down kit makes it, quite literally, immovable. The digital keypad can store two unique PIN numbers, and it has a lock-out feature after three failed attempts. Rated to withstand 30 minutes at 1,400 degrees Fahrenheit, this safe will properly protect your documents, keepsakes and jewelry. Just remember that this model measures up at 25 inches, so be ready to clear out ample space.
Pros:
Weight provides added security
Keypad stores 2 unique PIN numbers,
Two internal carpeted shelves for organization and added padding
Cons:
Internal depth/width will not accommodate full-sized legal documents
No secondary lock system
First Alert Bolt-Down Combination Safe
Not even Jack-Jack from the Incredibles could crack open this fireproof cookie jar.
Best Bolt-Down Technology
We'll never get over Jack-Jack's intense love for cookies, and you'll never get over how well this safe keeps your valuables secure. While some models lose their fireproofing and waterproofing technology when bolted down, the First Alert Bolt-Down Combination Safe features ready-seal technology so you can fasten your safe to the floor without worry. Bolted or not, this unit can withstand temperatures up to 1,700 degrees Fahrenheit for an hour. Did we mention it floats, too? Your possessions will not only be safe and dry but also easy to spot in the event of a flood. First Alert rounds out this package with two emergency override keys and a five-year limited warranty.
Pros:
Ready-Seal tech maintains fireproofing/waterproofing seal
Purchase includes bolt-down kit
Fireproof ability certified by UL
Cons:
Requires regular opening to avoid gathering moisture and mold
FireKing SureSeal Chest
FireKing's SureSeal Chest is big enough to keep those extra-long documents dry and wrinkle-free.
It might look like a briefcase, but the FireKing SureSeal Chest does a lot more than carry your work papers. It's certified to withstand up to 1,550 degrees for one hour, and depending on which model you buy, it's designed to be waterproof to varying degrees. (And it floats.) This, along with its internal width of 13.125 inches makes it perfect for storing those pesky-sized legal documents that never seem to fit. This safe has plenty of room to stack your most important papers, and to back it all up, FireKing offers an extensive warranty, ensuring your valuables will never go without a protective home again.
Pros:
Large enough to store legal-sized documents flat
Fireproof ability certified by UL
Cons:
Simple key lock is easier to pick
No ability to bolt down or mount
Frequently Asked Questions
What is Underwriters Laboratory (UL)? 
UL is an independent, global certification company that tests, verifies and certifies various products' safety features. While some companies may claim to run their own fireproofing tests, it's always beneficial to have the professional opinion of a trusted third party. UL's most common fireproof rating is "UL 350," which certifies that a product (i.e. safe, chest) can withstand a temperature of 1,700 degrees Fahrenheit while maintaining an internal temperature at or below 350 degrees.
What's the most secure type of lock?
Strangely enough, this answer depends on the strength of your memory. It's widely stated that combination or dial locks are the most secure because of the sheer number of possible combinations, but if you can't remember a code without writing it down, perhaps a safely stored key lock is better for you. Digital PIN pads allow for quicker access but are reliant on battery-life. Newer technology has led to increased biometric security measures, though models equipped with fingerprinting or retinal scanning are worth a pretty penny. Be sure to know your strengths in order to determine those of your safe.
About the Author
Why Trust Us
Since 2010, Momtastic has provided millions of parents with a complete guide to raising a family in a healthy home by offering our expert advice on everything from car seats for kids to baking supplies for the kitchen. It takes a village to raise a family, and our experts are here to make sure every parent finds a little bit of that village in us.