The Best Farmhouse Chandeliers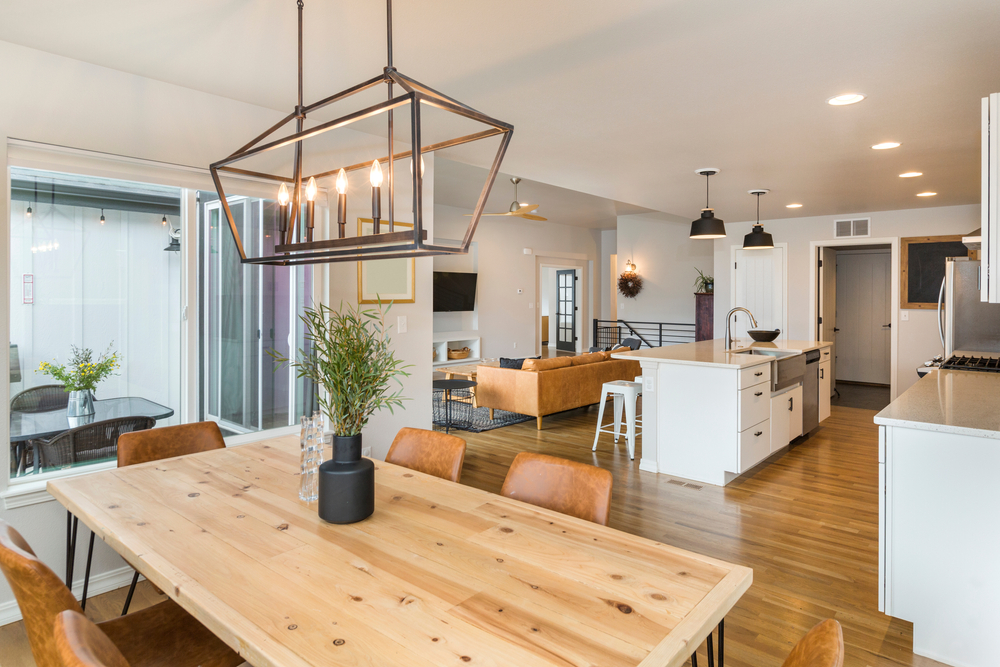 Living in a farmhouse may not be everyone's cup of tea, but the farmhouse aesthetic is a dream come true for many of us. This rustic style can dramatically transform a house into a charming abode. If you're looking to add a rural look to your home, an easy way to get started is with a farmhouse chandelier. That's why we researched the top farmhouse chandeliers on the market today to give you a jump start on your new dream home.
What to Look For
While evaluating each fixture, we asked ourselves three main questions: What design elements does the piece add to a farmhouse aesthetic? Is this chandelier easy to install? What kinds of spaces is it best for? Our favorite fixture was Q&S's unique wooden beaded chandelier, which adds an unexpectedly earthy touch to its elegant design. However, folks searching for a hanging option would do well to check out Xipuda's gorgeous metal and wood piece that works beautifully for kitchen islands and dining room tables. Read on to learn about the rest of our favorite farmhouse chandeliers and why they stood out to us.
Q&S Wood Beaded Chandelier
Bring some warmth to your space with this unique dome light.
Creating a warm ambiance in your home just got a little bit easier with this wooden chandelier from Q&S. With an intricate design of white wood beads and a rounded base, this classy chandelier adds a delicate light to any room. It has three lights surrounded by cascading strands of wooden beads, perfect for a gentle brightness. At a price like this, getting a rustic wooden chandelier for your home is a total bargain.
Pros:
If you're struggling to give your house a natural look and feel, the earthy qualities of real wood can liven up your living space and give your home a little taste of the outdoors.
If you have a dimmer, you can adjust the brightness of this chandelier to set the mood.
Cons:
This isn't the largest fixture, so double-check the dimensions to make sure it's the right fit for your space.
Xipuda Kitchen Island Lighting
Rugged construction and rustic design make this chandelier a farmhouse staple.
Adding a kitchen island can dramatically change the look of your kitchen, but any island needs great lighting to go along with it. If you're looking to pair your kitchen island with a classy farmhouse chandelier, this may be the one for you. With a five-light linear design, this fixture is perfect for islands or even over dining room tables. This rustic yet modern design features a graphic iron frame with wood accents. For country homes or modern apartments, this lighting fixture can fit anywhere.
Pros:
Despite its vintage appearance, all materials used are anti-rust and corrosion-resistant — we can get all the beauty of a one-of-a-kind antique find with none of the drawbacks.
The hanging length of the light is adjustable, so it works for ceilings of virtually any height.
Cons:
The included hardware doesn't live up to the quality of the fixture itself.
Dingli Lighting Farmhouse Chandelier
Illuminate your room with this spherical industrial light.
Whether you're looking for a farmhouse style, industrial style, or something in between, this chandelier will do it all. At first glance, this may look like something that would hang from a castle wall, but its spherical design fits much more than a gothic exterior. It features three lights, flexible metal strips, and an adjustable hanging chain. At a price this low, it's hard to beat this deal.
Pros:
Farmhouse lighting and industrial lighting have a lot in common: both use wood and metal for vintage-inspired designs, both have a rugged elegance, and both are in high demand. This fixture is a flexible piece that can go either way to add dimension to your favorite aesthetic.
Installation is a breeze — this chandelier is shipped flat for safer shipping, but once it's shaped into a sphere, it's ready to hang.
Cons:
We wish the metal felt a bit more durable.
Linea di Liera Wagon Wheel Chandelier
This massive chandelier is perfect for filling up large rooms with light and providing a classy aesthetic to your home.
To fill large rooms of people, you need large lights. That's why this large wagon wheel chandelier could be perfect for your dining room setup. With a design that would feel at home in King Arthur's castle, this 48"-diameter circular chandelier is not for the faint of heart. It requires 16 light bulbs and a decent amount of space to illuminate adequately. It's dimmable, compatible with smart bulbs, and adjustable for sloped ceilings. It may be a bit pricey, but lighting fit for royalty doesn't come cheap.
Pros:
We appreciate that this supersized stunner comes with 17 light bulbs to get it up and running with an extra to spare.
Our fellow dinner-party hosts know having the right table lighting can be crucial to a space's ambiance. This piece makes an impactful visual statement while also providing the perfect amount of light for larger rooms.
Cons:
This larger-than-life chandelier comes with a larger-than-average price tag.
Liusun Liulu Hanging Chandelier
Get farm-chic designs for a bargain with this vintage-modern hanging chandelier.
If you're renovating on a budget, getting the farmhouse look can be surprisingly tricky. But, if you look hard enough, there's always a diamond in the rough. For a great balance of elegance and affordability, this chandelier rises above the rest. It's small enough to fit almost anywhere in your house, so it can work well in many different spaces. Best of all, the price is lower than almost any other chandelier out there, making this deal a certified steal.
Pros:
With an almost atom-like design, this chandelier has a unique look that's hip yet rustic. The metal's antiqued finish gives it a rural American feel with modern sensibilities that will complement a variety of homes.
We appreciate that this fixture works with a variety of bulbs, giving us extra flexibility.
Cons:
Since the lightweight metal is so thin, it can become misshapen if not treated with care.
Frequently Asked Questions
What's the difference between a farmhouse chandelier and a regular chandelier?
The only difference is aesthetic. Farmhouse chandeliers tend to have a rustic appearance and use materials like antiqued wood and metal. They can also take shapes similar to those found in actual farmhouses. Functionally, they're more or less the same as a standard chandelier.
How many lights do farmhouse chandeliers have?
It varies by design. Most will have a minimum of three lights and a maximum of ten, although the sky is the limit. The number of lights depends greatly on the shape of the design and the size of the room. Some chandeliers even have two or three rows of lights. No matter the room size or how bright you want it, there's a chandelier for you.
About the Author
Why Trust Us
Since 2010, Momtastic has provided millions of parents with a complete guide to raising a family in a healthy home by offering our expert advice on everything from car seats for kids to baking supplies for the kitchen. It takes a village to raise a family, and our experts are here to make sure every parent finds a little bit of that village in us.