The Best Drum Sets for Kids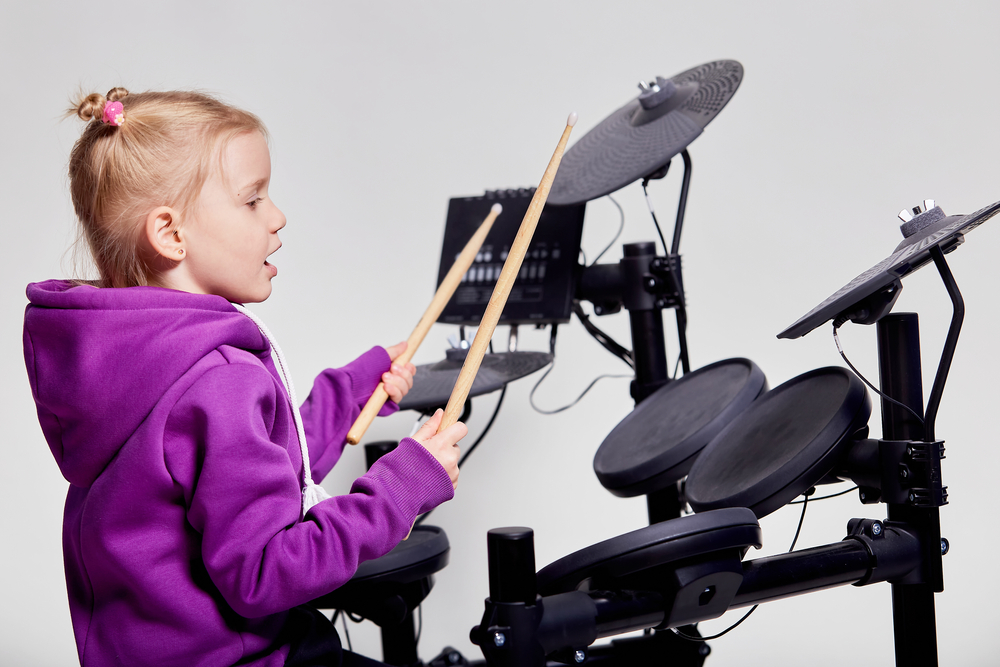 It's never too early to introduce your kid to music. In fact, learning music is a lot like learning language, so young kids have a natural talent for replicating rhythms and melodies. The first step towards musical discovery is getting your child an instrument that they can noodle around on. For the heavy-hitters out there, we've compiled a list of the best drum sets for kids. Read on to discover the perfect set for your child.
Mendini By Cecilio Kids Drum Set
With a tom, snare, cymbal, and kick drum, this option is the perfect drum kit to get your youngster grooving along.
To learn the fundamentals of drumming, you don't need a giant fancy kit. This drum set from Mendini By Cecilio has all the essential components: a snare, a kick drum, a cymbal, and a tom. The size is compact, so the drums sound a bit higher and a bit quieter than those of adult-sized kits. However, the deepness of the kick drum and the quality of the snare may surprise you. Mendini also includes a comfy drum throne and a pair of sticks, so your little one can begin practicing their rhythm as soon as it's assembled.
Pros:
Easy to set up
They're not too loud
Great value for the price
Real functional drum kit
Perfect for any age older than 5
Available in several different colors
Cons:
The kick pedal can be squeaky
VTech KidiBeats Drum Set
For true beginners at the toddler level, this is a fun introductory drum set.
If exposure is the key to learning and growing, then this early-learning drum set is exactly what your toddler needs to begin exploring the delights of drumming. Yes, it is basic, but it boasts vibrant, eye-catching colors and play-along melodies that'll have your tot banging along to the beat. To keep your little one's attention, there are four play modes, including a letter and number mode that will help to teach your youngster early math and reading skills through a musical medium.
Pros:
Has an auto shut-off feature
Drum pads and cymbal light up
May help with sensory development, as each drum and cymbal has its own sound (Don't worry: there is a volume control)
Cons:
The "freestyle" mode isn't really freestyle, as this set will continue playing music even while your little one is trying to create their own
Mendini By Cecilio 3-Piece Junior Drum Set
This is a top-quality drum set for the beginner musician.
Taking it back to basics, this three-piece set is ideal for a younger age. It's the perfect set for a new drummer thanks to its simple three-piece configuration and its clear, sharp acoustics. And perhaps the best part is that just because it's designed for kids doesn't mean it's made with cheaper, lower-quality materials that'll bust after a few hits. Instead, this is an authentic drum set like professionals use, just smaller. With hardwood shells that have triple-flanged hoops, mounted drums and cymbal, and a high-quality drummer's throne, this is a great set for your little one to explore beats to the fullest.
Pros:
Ideal for 3- to 6-year-olds
Multiple color choices to choose from
Small footprint takes up minimal space, so it can fit in a bedroom, basement, or small apartment
Cons:
The foot pedal can be a bit squeaky at times.
CubicFun 5-in-1 Musical Baby Toy
This toy is designed to accelerate your baby's mental and emotional development, all while being a whole lot of fun.
Something of a hybrid between a xylophone, piano, and drum set, this magnificent toy from CubicFun is a smart bet for the parents of a newborn. Because music can stimulate the brain in such fascinating ways, toys like this have earned their place in babies' nurseries the world over. What we love about this one is that, aside from the sheer variety of instrumentation it offers, it also comes equipped will all sorts of features to capture your little one's attention. From playing music to counting numbers and playing whack-a-mole and much more, this contraption is truly designed to help accelerate your baby's brain development in the funniest of ways.
Pros:
Excellent value for the cost
Smooth edges to ensure your baby's safety
A variety of features and activities to keep your baby occupied
Cons:
It is battery-powered, so you'll have to replace those occasionally
iPlay, iLearn Toddler Musical Instruments
If your youngster really takes a shine to music, this variety set of instruments can help them hone their skills at a young age.
This inexpensive set of musical instruments makes the perfect gift for a toddler. It comes complete with maracas, a recorder, a harmonica, a trumpet, a tambourine, and, of course, a drum. Of course, at this price range, don't expect professional-grade instruments. Still, the collection of the percussive and melodic instruments offers a nice variety for explorative minds. It's also a great way to see which section of the band your youngster may be most partial towards.
Pros:
Hours of entertainment
Excellent value for the cost
The drum opens up to double as a storage box
The drum comes with sticks and a strap for wearing around the neck
Cons:
You have to blow really hard into the trumpet to get any sound out of it
Frequently Asked Questions
What is the best age to introduce a drum set to a child?
While some say to introduce your kids a bit later — perhaps around age eight — others argue you should introduce music as soon as possible and with as much variety as you can.
Bring music into the house in the shape of drumsticks (with supervision, of course), hand drums, shakers, and chimes. You can add in miniature stringed instruments, tiny keyboards (or even a piano), and pentatonic flutes or recorders. The more exposure, the better.
Are drum sets safe for a child's hearing? 
Drums can be very loud. That is part of what makes them so much fun to both listen to and play. But because of how loud they can be, they can really damage your little one's ears (and your own). This shouldn't discourage you from following your child's creativity. It does mean that you should protect those ears, though. There are fantastic headphones out there specifically made for drummers. Whether you opt for headphones or simple earplugs, just make sure to properly safeguard your child's hearing.
About the Author
About the Site
Momtastic
Since 2010, Momtastic has provided millions of parents with a complete guide to raising a family in a healthy home by offering our expert advice on everything from car seats for kids to baking supplies for the kitchen. It takes a village to raise a family, and our experts are here to make sure every parent finds a little bit of that village in us.