The Best Drum Sets for Kids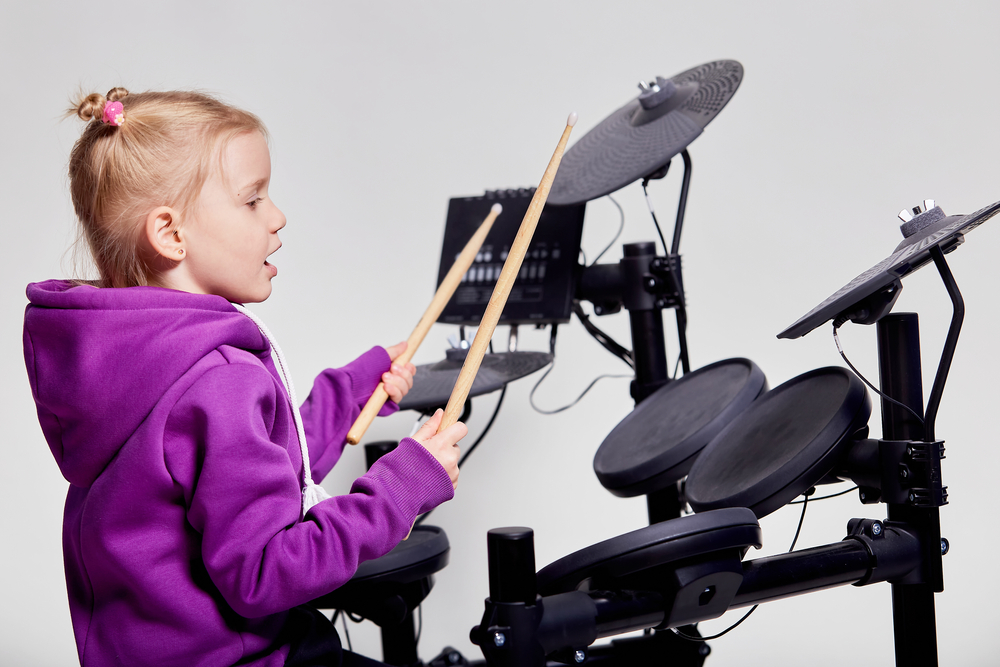 I'll state it loud and proud: I am a drummer. Okay, not literally. But when it comes to music, whether it's live or on the radio, I cannot help but tap along and pretend I'm the one manning the sticks. So it's no surprise that, as I've had children of my own, I've slowly but surely built up their music box to include various types of drums, shakers, chimes, and the like. I put music on and I let them find the beat (or not, but that's part of the fun anyway). Curious to give this a try in your own household? Have a kiddo who just won't stop tapping along to music? There are plenty of excellent options out there for your budding drummer. Here are a few of the best of them.
VTech KidiBeats Drum Set
For true beginners at the toddler level, this is a fun introductory drum set.
If exposure is the key to learning and growing, then this early-learning drum set is exactly what your toddler needs to begin exploring the delights of drumming. Yes, it is basic, but it boasts vibrant, eye-catching colors and play-along melodies that'll have your tot banging along to the beat. To keep your little one's attention, there are four play modes, including a letter and number mode that will help to teach your youngster early math and reading skills through a musical medium.
Pros:
May help with sensory development, as each drum and cymbal has its own sound (parents, don't worry: there is a volume control)
Drum pads and cymbal light up
Has an auto shut-off feature
Cons:
The "freestyle" mode isn't really freestyle, as this set will continue playing music even while your little one is trying to create their own
CubicFun 5-in-1 Musical Baby Toy
This toy is designed to accelerate your baby's mental and emotional development, all while being a whole lot of fun.
Something of a hybrid between a xylophone, piano, and drum set, this magnificent toy from CubicFun is a smart bet for the parents of a newborn. Because music can stimulate the brain in such fascinating ways, toys like this have earned their place in babies' nurseries the world over. What we love about this one in particular is that, aside from the sheer variety of instrumentation it offers, it also comes equipped will all sorts of features to capture your little one's attention. From playing music to counting numbers and playing whack-a-mole and much more, this contraption is truly designed to help accelerate your baby's brain development in the funniest of ways.
Pros:
Excellent value for the cost
Smooth edges to ensure your baby's safety
Sheer variety of features and activities will keep your baby occupied for a long time
Cons:
It is battery-powered, so you'll have to replace those occasionally
Mendini By Cecilio 3-Piece Junior Drum Set
This is a top-quality drum set for the beginner musician.
Taking it back to basics, this three-piece set is ideal for a younger age. It's the perfect set for a new drummer thanks to its simple three-piece configuration and its clear, sharp acoustics. And perhaps the best part is that just because it's designed for kids doesn't mean it's made with cheaper, lower-quality materials that'll bust after a few hits. Instead, this is an authentic drum set like professionals use – but just a smaller size. With hardwood shells that have triple-flanged hoops, mounted drums and cymbal, and a high-quality drummer's throne, this is a great set for your little one to explore beats to the fullest.
Pros:
Ideal for 3-6-year-olds
Multiple color choices to choose from
Small footprint takes up minimal space, so it can fit in a bedroom, basement, or small apartment
Cons:
The foot pedal can be a bit squeaky at times.
Homily Kids Drum Set and Microphone
If you thought being a kid drummer was cool, wait until your toddler becomes a singing drummer.
When we think about the act of drumming, many associate the act with something primal. And drummers know that indeed, the art of drumming is grounded in an intuitive feeling — almost like instinct. But what's perhaps even more instinctual is the act of singing. Give your kid the chance to drum and sing at the same time and watch in amazement just how engaged and expressive that child becomes. No need to worry about jarring, grating noises with this set; because they're not authentic drums, they won't make the loud noises you might expect. Instead, they're designed to electronically produce sounds to make your toddler feel like they're the one creating such magnificent music.
Pros:
Light-up modes encourage your child to play along
Quite easy to assemble
Cons:
More expressive than educational, since your child won't truly be playing
Mendini By Cecilio 5-Piece Junior Drum set
If your kid really takes a shine to drumming, an investment in a quality kit like this can help take their skills to the next level.
Best For Advanced Drummers
Once your child has graduated from the basic, early-exposure drum sets, they're going to need something a little more comprehensive. This five-piece set from Cecilio answers the call expertly. Designed of top-quality materials, each of the five drums is articulate and clear, giving off a tight, resonant sound. The drumsticks are durable, and there's a reactive kick pedal, a cymbal stand, and a stool that round out this first drum set.
Pros:
Wide variety of colors available
Can last a child well into adolescence
Excellent value for the cost
Cons:
You should be prepared for a ruckus, as these drums are the real deal
Frequently Asked Questions
What is the best age to introduce a drum set to a child?
While some say to introduce your kids a bit later — perhaps around age eight — others argue you should introduce music as soon as possible and with as much variety as you can.
Bring music into the house in the shape of drumsticks (with supervision, of course), hand drums, shakers, and chimes. You can add in miniature stringed instruments, tiny keyboards (or even a piano), and pentatonic flutes or recorders. The more exposure, the better.
Are drum sets safe for a child's hearing? 
Drums can be very loud. That is part of what makes them so much fun to both listen to and play. But because of how loud they can be, they can really damage your little one's ears (and your own). This shouldn't discourage you from following your child's creativity; it does mean that you should protect those ears, though. There are fantastic headphones out there specifically made for drummers. Whether you opt for headphones or simple earplugs, just make sure to properly safeguard your child's hearing.