The Best Deep Pocket Sheets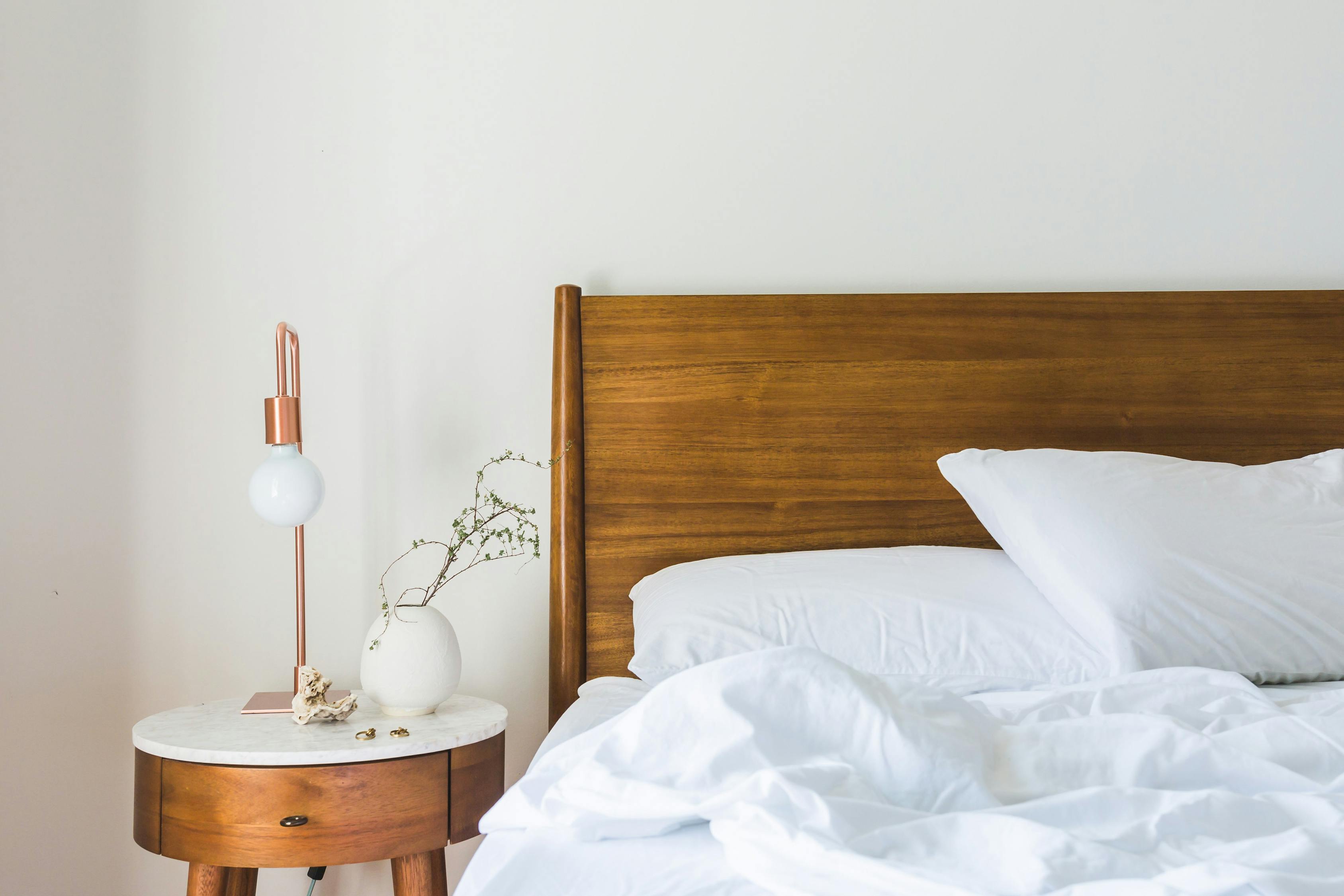 Having a thick and cozy mattress is the perfect way to get an amazing night's sleep, but it can also come with a challenge: finding the right sheets to fit it. If your mattress is too thick for standard sheets and you're struggling to find a set that works for you, look no further. We've rounded up our favorite deep pocket sheet sets to instantly elevate your bedroom and help you sleep soundly every night.
Nestl Luxury Queen Sheet Set
These microfiber sheets give you high-end hotel quality at home.
Made from soft microfiber, this sheet set is more comfortable than even Egyptian or organic cotton. At 1,800 thread count, the sheets are double-brushed on both sides to deliver extreme comfort. The set includes a fitted and flat sheet and two pillowcases, so you'll have everything you need to make a beautiful bed. Plus, the sheets come in 44 beautiful shades so that you can pick the perfect color to match your existing decor.
Pros:
The sheet set includes 4 pieces: a flat sheet, a fitted sheet, and two pillowcases
The fitted sheet is extra-deep, with a 14-16″ pocket, ensuring it fits any mattress
The sheets are made from microfiber for extra softness to deliver the most comfortable night's sleep
Cons:
The microfiber material attracts lint
Microfiber sheets tend to run warmer than cotton sheet sets
Sonoro Kate Super-Soft Microfiber Luxury Bed Sheet Set
This 6-piece sheet set has everything you need for comfort and style.
Designed to be hypoallergenic and stain-resistant, these sheets are made to last. They're also so soft thanks to the high thread count, which will make your feel like you're sleeping on a cloud. Woven with top-notch craftsmanship to make your bedding look sophisticated and stylish, the sheets are machine-washable, so it's easier than ever to keep them clean. Upgrade your linens today to experience what it's like to sleep in luxury every single night.
Pros:
The sheets come in a six-piece set that includes: a flat sheet, a fitted sheet, and four pillowcases
The deep pocket fitted sheet fits mattresses up to 18-24″ deep
The sheets are made from 1,800-thread-count microfiber, so they're super soft
Cons:
These sheets keep you warm, so they are better for cooler seasons or climates
The sheets may run a bit the first time they are washed
wavveUziz Satin Sheets Queen Size
This luxurious material instantly elevates any bedroom.
This polyester microfiber material gives you a satin feel with even easier care. Designed to leave you feeling refreshed and rejuvenated each morning, this sheet set has four pieces to give you a complete look. The silky feel of the sheets will keep you cool, and the smooth and soft feeling will help you relax into an amazing night's rest. Despite the high-quality feel, this set doesn't require annoying maintenance. Instead, the fade- and stain-resistant sheets can be thrown right into the washer and dryer so you can keep them clean and looking like new.
Pros:
The sheet set has four pieces, including a flat sheet, fitted sheet, and two pillowcases so you can transform your entire bed
The sheets are wrinkle-, fade-, and stain-resistant for easy care and high quality
The fitted sheet has deep pockets for mattresses up to 16″
Cons:
The satin finish can cause the sheets to slip off of mattresses more easily
The light and airy texture isn't as warm as wool or microfiber for cooler temperatures
California Design Den 100% Cotton Sheet Pure White Queen
These sheets are a silky and soft staple for your home.
This crisp and clean sheet set is what dreams are made of. The cool cotton fabric is eco-friendly and delivers ultimate breathability, helping you sleep soundly in any climate. Made from 400-thread-count cotton, the sateen weave gives you hotel quality – without the high price tag. Experience luxury in your own home with these fade-resistant sheets that won't pill, shrink, or tear so that you have a sheet set that makes you love crawling into bed every night. Try these ultra-soft cotton sheets for yourself today.
Pros:
The sheets are made from 100% cotton to be very breathable and comfortable in any temperature
The set includes 2 pillowcases, a flat sheet, and a deep pocket fitted sheet
The sheets are resistant to fading, shrinking, tearing, and pilling for long-term use
Cons:
The pillowcases are a bit small for thick standard pillows
The sheets are thick, which creates a rougher texture than higher thread count alternatives
CGK Unlimited Extra Deep Pocket Sheets
These sheets fit extra deep pocket mattresses to deliver comfort and style.
These microfiber sheets are super soft and lightweight to give you a cozy night's sleep. The softer-than-cotton fabric is perfect for thicker mattresses or those with an extra pillow topper, allowing you to accommodate all the extra padding. The durable design also comes in a full four-piece set, so you can add a flat sheet and two pillowcases to complete the overall look. Experience the peak of luxury for yourself with this amazing set.
Pros:
The fitted sheet is designed with an extra-deep pocket to fit thick mattresses or accommodate mattress toppers
The microfiber fabric is super soft and lightweight, making it perfect for any season
The set includes a fitted sheet, flat sheet, and two pillowcases for a cohesive look in any bedroom
Cons:
The deep pocket of the fitted sheet is too large for normal-depth mattresses
While the sheets are wrinkle-resistant, there still may be minor wrinkles when taken out of the dryer
Frequently Asked Questions
What are extra deep pocket sheets?
Most standard pocket sheets will fit a mattress with a depth of up to 12 inches. Deep pocket sheets, on the other hand, can fit thicker mattresses or those with mattress toppers. Deep pocket sheets begin at 15 inches, while extra-deep pocket sheets can reach up to 24 inches in depth.
Can you use deep pocket sheets on a regular mattress?
If you decide to use deep pocket sheets on a regular mattress, there may be excess fabric on your fitted sheet. That is because deep pocket sheets are designed with extra fabric on the sides to accommodate thick mattresses. They can be used on a thinner mattress, but will not achieve a taught fit.
Do I need deep pocket sheets?
To determine what size sheets you need, you'll need to measure the depth of your mattress. Measure from the bottom to the top on the side of the mattress to mark the thickness. If the mattress is 12 inches or less, you can use standard sheets. However, if it is 15 inches, you can use deep pocket sheets. If it is 18 inches or thicker, you'll want to use extra-deep pocket sheets to ensure the proper fit.
Will a fitted sheet fit over a mattress topper?
When measuring your mattress, be sure to include any mattress toppers or egg crates. Use the total depth to choose which sheets are the right ones for your bed.