The Best Cordless Water Flossers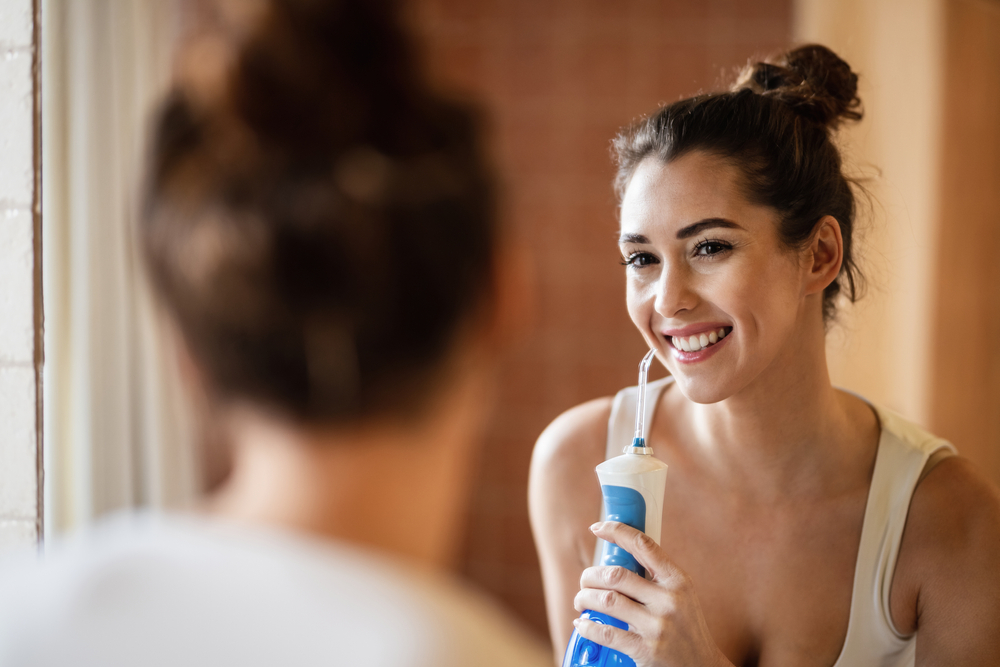 While flossing may be the cornerstone of good oral hygiene, the task can still be fairly irritating. Not only is floss wasteful, but flossing improperly can lead to sore gums and may not get at all the gunk left over after meals. Fortunately, cordless water flossers are effective, reusable, and sustainable. If you want to save some cash and landfill space, our top cordless water flossers can help strengthen gums, flush bacteria, and make plaque buildup a problem of the past.
MosPro Cordless Dental Oral Irrigator
This amazing flosser is a portable powerhouse for long stretches on the road and scheduled morning rituals alike.
The cordless dental irrigator from MosPro is a master of mouth maintenance at home or on the go. While some water flossers can be a bit bulky for small bathroom sinks, this unit is only slightly larger than an electric toothbrush and has a base that sits comfortably with limited space. The reservoir of this unit is large enough for a quick clean and is fully detachable for easy, regular cleanings. In addition to convenient size and capacity, MosPro's irrigator features fully rotatable nozzles, a robust battery, and serious waterproofing that won't buckle in the shower or during drops into fully sink basins.
Pros:
Powerful, long-lasting charge

Three jet settings to accommodate sensitive gums

USB charging cable included
Cons:
It can be very messy for the first couple of uses
Waterpik Cordless Water Flosser
This cordless flosser is great for early morning scrubs while your household is still slumbering.
Waterpik is a hallowed name in oral cleaning tools, and their latest cordless water flosser is proof positive of their superior engineering. This powerful device is handy for a wide range of dental accessories and gum sensitivities, thanks to variable power settings and custom tips. If a regular water jet just won't do for stubborn buildup around crowns or in between braces, this option will excel at breaking up plaque without resorting to overwhelming water pressure. When you just don't have the time or technique down to floss before the morning rush, Waterpik makes quick work of hard-to-reach bacteria.
Pros:
Includes charger, carrying case, and four tips

Whisper-quiet motor up to 75 PSI

Rapid charging speeds
Cons:
The water tank may require a refill for one full use
Fairywill Professional Water Flosser
You don't need to spend a fortune to maintain good oral health.
If you're sick of wasting money on disposable floss but don't want to shell out the cash for a premium irrigator, this pick from Fairywill is a perfect match for your mouth. This unit has the standard 300-milliliter tank found in most cordless flossers and a more powerful motor than some deluxe flossers. Furthermore, the battery boasts an impressive three-week charge and eight replacement heads, meaning you spend less time scouring the internet for replacement parts and more time cleaning. While we'd add a word of caution for those with sensitive gums, Fairywill's flosser is an ideal tool for average gums that don't require specialized care.
Pros:
Over a year's supply of jet tips

Fully waterproof and easy to disassemble

Impressive value for the price
Cons:
No alternative or specialized tips are compatible
AquaSonic Home Dental Center
This mouth cleaning system removes discoloration and plaque from teeth and gums.
When it's time to overhaul your dental routine completely, AquaSonic has you covered. The Home Dental Center is nothing short of a battle station that offers wireless charging for both the flosser and electronic toothbrush included with your purchase. If you want to get serious about oral health, you'll absolutely love AquaSonic's accessories and attention to detail. Overall, if you're looking for a dental deal that pays close attention to overlooked crevices and corners, this toolkit is a great place to start.
Pros:
Auto shutoff timers for both the flosser and brush

Specialized tips for periodontal pockets and orthodontic devices

The dental mirror has an LED for identifying trouble spots more easily
Cons:
Expensive but well worth the cost
Atmoko Portable Dental Oral Irrigator
For hard-to-reach corners and crevices, this device takes the pain out of cleaning.
Atmoko's portable oral irrigator is a fantastic flosser that comes with a head for virtually every gum condition and sensitivity in the book. We love Atmoko's flosser for establishing healthy habits in kids because of its ease of use and versatile tip offerings. While the IPX7 waterproofing allows for shower operation, the splash-proof tip and tongue cleaner is expertly crafted to keep water off your bathroom floor. After you've got a couple of uses under your belt, Atmoko's irrigator is a tool the whole family can appreciate when detailing the edges of teeth, rinsing gums, or removing food particles from brace, bridges, or veneers.
Pros:
The pulse and soft settings are gentle on delicate gums

Includes four color-coded classic tips for hygienic sharing

The water tank accepts mouthwash, salt, and whitening solutions
Cons:
The integrated water reservoir is difficult to clean
Frequently Asked Questions
What's the science behind flossing?
While there is a surprising deficit of peer-reviewed studies concerning flossing, this cleaning method has been recommended by dentists for decades. The biggest reason behind flossing skepticism is the frequency with which people floss incorrectly. Flossing is supposed to scrape the edges of teeth lightly to dislodge food particles; however, many individuals who floss use it in an ineffective, horizontal sawing motion. Regardless, flossing correctly will do little good without proper brushing. Water flossers are a perfect supplement to brushing because they effectively dislodge food without causing undue stress on the gums. This cuts down on inflammation and the spread of bacteria.   
How often should I use my cordless water flosser?
Flossing should be done after any meal where food has become stuck in between your teeth to the point of discomfort. If not properly cleaned, this can develop into interproximal dental plaque, which is a challenging form of build-up to fix. However, as far as specific recommendations go, the American Dental Association states that you should floss once a day and brush twice a day for no less than two minutes each brush. While proper flossing can lead to stronger gums, you should take caution while flossing. Incorrect use can lead to extra bleeding or inflammation, results that can attract bacteria by themselves. It's always preferable to floss before brushing and mouthwash because this ensures any sensitive areas are thoroughly sanitized once you're done.