The Best Copper Cookware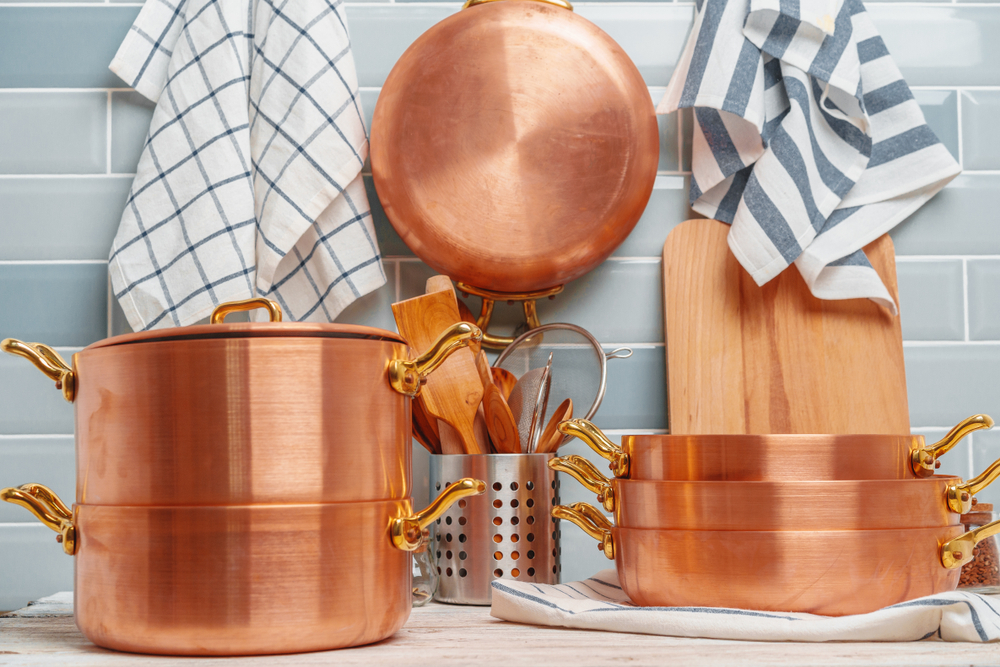 Of all the cookware out there, copper has long been a chef's favorite. Known for its unparalleled conductivity and uniform heating, the shiny metal leaves the modern competition in the dust in many respects. Although it's been used in kitchens for centuries, copper has become increasingly expensive. Scientific discoveries regarding its toxicity have also complicated our relationship with this one-of-a-kind metal. Thankfully, we can minimize cost and safety concerns while reaping all the benefits by plating other metals with copper. We've put together a list of some of the best new-age copper cookware on the market, so read on to find something that stirs up the home chef in you.
Gotham Steel Cookware Set with Nonstick Ceramic Copper Coating
This massive set of copper ceramic-lined cookware is enough to fill a whole kitchen.
You may be familiar with this type of nonstick copper cookware from late-night infomercials or airline magazines, but don't let that detract from its true functionality and astonishing reliability. While Gotham Steel's ten-piece cookware set is aluminum-based for quick heating, the copper-colored ceramic lining is nonstick and reminiscent of true copper cookware. But instead of requiring special attention, these pots and pans are oven-safe up to 500 °F and dishwasher-safe, as well. You can even use metal utensils on the surface without the risk of scratching.
Pros:
Aluminum construction for fast heating
Ceramic lining is incredibly nonstick
Oven and dishwasher-safe
Cons:
Exterior is not copper-colored
Gotham Steel Five-Piece Hammered Cookware with Nonstick Copper Surface
The color of these aluminum pans provides all the class of copper without its fickle requirements for care.
For a classic copper look without the classic copper cleaning regimen, check out this five-piece set from Gotham Steel. While the interior sports Gotham Steel's proprietary, ultra-nonstick, copper ceramic coating, the exterior is made of hammered, copper-colored aluminum. That means the whole set is oven and dishwasher-safe, unlike traditional copper cookware. You won't get the same conductivity as a true copper set, but the versatility and affordability of this hammered aluminum set are hard to beat. Aluminum is also a reasonable rival to copper when it comes to evenly distributing heat, something to keep in mind when trying to delicately fry eggs or caramelize sugar.
Pros:
Copper-colored interior and exterior for a classic look
Nonstick, scratch-resistant ceramic lining
Aluminum body for quick, even heating
Cons:
Coating may wear off over time
Kutime Ten-Piece Cookware Set with Nonstick Ceramic Coating
A copper-colored exterior brings a pop of color to these affordable, ceramic-lined pots and pans.
Even though you might want a top-of-the-line starter set of cookware, you're not always in a position to drop several paychecks on a few pots and pans. For college-age kids, fresh graduates, or folks looking for a value-packed replacement for their kitchenware, this ten-piece set from Kutime is hard to beat. The copper-colored exterior brings a pop of color to your kitchen space, while the dark ceramic-coated interior promises a nonstick cooking surface. Though you can't put any of these pans into the oven because of their plastic handles, you'll be happy to handle them on your stovetop, thanks to their lightweight construction.
Pros:
Affordable price for ten-piece kitchen set
Exterior is colorful and bright
Light-bodied construction for easy handling
Cons:
Doesn't pass for having a copper exterior or interior
Lagostina Martellata Hammered Copper Ten-Piece Cookware Set
The tri-layered construction of this cookware set is capped off with a true copper exterior for superior heating.
Though there is a definite jump in price with this ten-piece set from Lagostina Martellata, it comes with all the benefits of authentic copper-plated cookware. Instead of copper coloring, these pots and pans tout real copper plating with an aluminum core and stainless steel interior. Together, these metals retain copper's high reactivity and conductivity while also being food-safe and significantly more durable. You'll have to take special care of both the stainless steel interior and the copper exterior to prevent staining. Still, if you're looking for Michelin-star kitchen-level equipment, you'll be hard-pressed to find anything better.
Pros:
True copper-plated exterior is highly reactive to changes in heat and very conductive
Stainless steel interior is durable and resistant to rust
Flared edges allow dripless pouring
Cons:
Special care required to maintain the color of copper exterior
Mauviel M'Passion 11-Quart Copper Jam Pan with Bronze Handles
This 100% copper pot is designed for dedicated jam-makers.
It's rare to find cookware that's 100% copper, seeing as there are only a few safe uses for the pure version of the highly reactive metal. Oddly enough, the jam pan has long been a staple of full copper cookware, and we want to highlight the Mauviel M'Passion pan to demonstrate why. Though many fruits contain acid, which creates a toxic reaction with copper in high amounts, the amount of sugar present in the jam is enough to neutralize it. That means you can heat your jam in this 11-quart pan at just the right temperature without burning it. You'll want to hand-wash this before polishing it to ensure it maintains its sheen, but the jars full of homemade jam will make it all worth it.
Pros:
100% copper construction is conductive and reactive to changes in heat
11-quart capacity is plenty for a huge batch of jam
Attractive and functional piece of kitchenware
Cons:
Pricey because of its copper construction
Very specialized kitchen tool
Frequently Asked Questions
Does copper ceramic cookware actually have copper in it?
Copper ceramic cookware does not contain real copper. Some brands do include copper dustings in their ceramic linings to maintain the classic color, but the amount is negligible and doesn't affect the product in any way outside of aesthetics. That being said, copper cookware and ceramic nonstick pans have become synonymous in some ways, so we've included both in our round-up.
Should I get a tin or stainless steel-lined copper pan?
It depends on your specific kitchen needs. While tin naturally binds well to copper and is relatively nonstick, it has a low melting point of 450 °F, so it will wear out over time. On the other hand, stainless steel must be mechanically bonded to copper, but together, they create a much more durable pan that is slightly less conductive than a tin-copper pan.