The Best Cold Brew Coffee Makers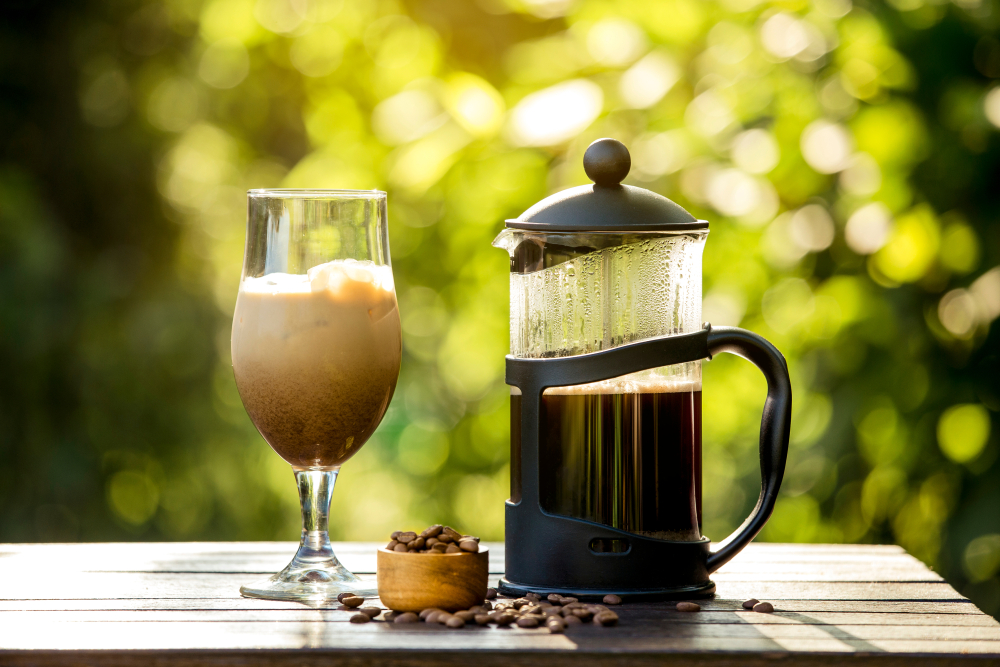 Cold-brew coffee trumps regular coffee, and we're not afraid to say it. During the cold brew-making process, the grounds aren't exposed to higher temperatures, which means that cold brew ends up tasting less acidic and more flavorful than hot brewed coffee. Of course, going to the coffee shop every day to get your fix can get expensive quickly. That's why it's time to invest in your own cold brew coffee maker. Choose from our team's favorites below.
Cafe du Chateau Iced Coffee Maker
Makes the highest-quality coffee every time.
There's no doubt about it: the Cafe du Chateau Iced Coffee Maker is the crème de la crème of cold brew coffee makers, with its superfine laser-cut filter, top-notch stainless steel construction, and near-magical ability to produce the best-tasting cold brew you've ever had, every single time. Although this coffee maker comes with a lifetime replacement policy, you definitely won't be using it.
Pros:
Functionally superior to most other models
Crafted from top-grade stainless steel that's rust- and corrosion-resistant. All the materials surpass FDA and European Commission food safety standards, in fact
Ultra-fine filtration system that allows water to steep coarse grounds, all while keeping bitterness out
Has a dual-layer silicone system that creates an airtight seal (so nothing gets in while your brew is steeping)
Comes with a lifetime replacement policy, for your peace of mind
Cons:
The instructions aren't always as clear as they could be
ovalware Cold Crew Coffee Maker
Why go to a coffee shop when you have this in your kitchen?
The ovalware Cold Crew Coffee Maker makes addictively smooth, flavorful cold brew that tastes infinitely better than the regular ol' coffee shop-coffee you're used to. Thanks to the airtight seal, you can expect your coffee to retain its flavor for up to two weeks. And, this nifty tool is made from the finest medical-grade stainless steel and borosilicate glass, so it's definitely built to last.
Pros:
Locks in freshness and flavor for up to two weeks thanks to the airtight seal
Engineered to fit perfectly on your fridge's shelf
Made from 18/8 rust-free, medical-grade stainless steel and lab-tested borosilicate glass
The non-slip rubber cushion base adds extra stability
Works equally well for loose-leaf tea
Cons:
On the pricey end of the spectrum
Primula Deluxe Cold Brew Coffee Maker
Nobody does it quite like the Primula Deluxe Cold Brew Coffee Maker. Simply designed and wholly practical, this coffee maker brews excellent-quality coffee, tea, and other infused beverages. Crucially, it's easy to use, too. It features a comfy grip handle and durable protective holder, and the specially designed lid provides a smooth, drip-free pour.
Pros:
Made from temperature-safe borosilicate glass with user-friendly features
The specially designed lid seals in freshness for days on end
The fine mesh filter does a great job of keeping grounds out of your coffee
Sleek, compact size
The removable bottom makes it a cinch to clean
Cons:
It's definitely on the smaller side, so if you want to make huge batches of coffee every time, this might not be the ideal product for you
Takeya Patented Cold Brew Coffee Maker
It doesn't get cooler looking than this.
When it comes to sleek designs, the Takeya Patented Cold Brew Coffee Maker takes the cake. This gorgeously constructed coffee maker boasts a leak-proof lid, a superfine-mesh coffee filter, and a stain-proof pitcher body (made from truly top-notch Tritan) that can withstand both boiling-hot and ice-cold temperatures. You'll absolutely love the way this minimal-chic gadget looks on your countertop.
Pros:
Non-slip silicone handle reduces the chance of spillage
The pitcher body is crafted from high-quality, BPA-free Tritan that's both odor- and stain-proof
Chic design looks great on your countertop
Produces four servings of very smooth cold brew, with none of the acidity of regular coffee
Durable and dishwasher-safe
Cons:
Lid isn't totally airtight
County Line Kitchen Mason Jar Coffee Maker
Who doesn't want to drink their cold brew out of an adorable mason jar every morning?
Cute as a button, the County Line Kitchen Mason Jar Coffee Maker would make Joanna Gaines proud. This cold brew maker offers an innovative and fun way to get your caffeine fix. All you have to do is add your coffee and steep it overnight, and then you get to enjoy your bold, flavorful cold brew out of a cute mason jar. And, the durable flip cap lid makes it easy to pour, store, and sip your drink.
Pros:
Get the adorable style and durability of a mason jar, with the convenience of a (leak-proof) flip-cap lid
All components are dishwasher-safe
Is equipped with a heavy-duty stainless steel filter
You can use it to brew tea, infuse water with fruit, or infuse oils with spices
Cons:
It doesn't quite make 64 ounces of coffee (it's more like 58 to 60 ounces)
Frequently Asked Questions
What is the difference between cold brew and regular coffee?
Contrary to what some may believe, cold brew isn't just regular, watered-down iced coffee; in fact, it's actually stronger and more robust in flavor than regular coffee. Cold brew is made by soaking beans in cold water for at least 10 to 12 hours (or longer). After it's been soaked, the grounds are filtered out, and you're left with a flavorful, extra-strength coffee concentrate that you can mix with water or milk.
Is there a higher caffeine content in cold brew coffee as opposed to regular coffee?
Oh, yes. Cold brew isn't for the faint of heart. Of course, you can customize your coffee however you want, but generally speaking, cold brew is usually made with a higher ratio of coffee to water, resulting in a much more caffeinated brew.