The Best Cocktail Shakers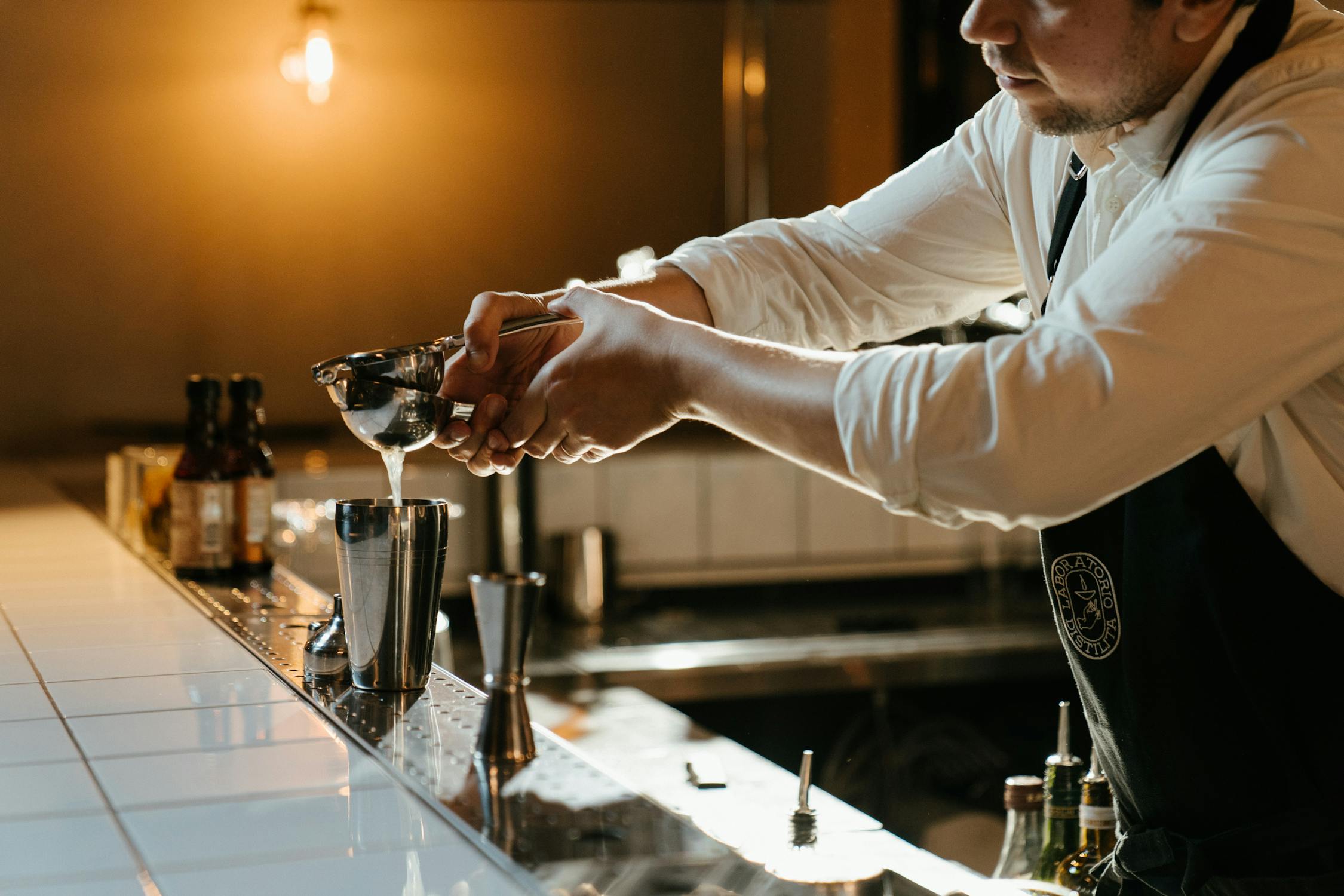 The biggest hurdle to overcome when it comes to the perfect at-home cocktail is getting your hands on the right tools. The most important thing to add to your cocktail-making kit is the right cocktail shaker. The ideal way to mix different ingredients and add the perfect chill to your drink, a cocktail shaker can transform mediocre at-home concoctions to professional-quality drinks that your friends and family won't believe. Check out a few of our favorites to find the right one for you.
Cresimo 24-Ounce Cocktail Shaker Bar Set with Accessories
This 3-piece set has all the tools to make amazing cocktails.
Crafted from durable stainless steel, this set touts a shaker with a built-in strainer, double-size jigger, and twisted bar spoon to elevate your cocktail-making to the next level. The professional-level equipment is durable and functional, but also looks striking in your kitchen thanks to the mirrored stainless steel finish. Perfect for making classics like margaritas, martinis, and more, the convenient set is ideal for both beginners and experienced bartenders alike. Plus, with a two-year, worry-free warranty, you can purchase this set without a second thought, and if anything ever goes wrong, you're totally covered.
Pros:
The three-piece set includes a shaker, double-sided jigger, and stirring spoon to make cocktail making simpler and more professional.
Each piece is made from durable stainless steel that works well and looks great
The stainless steel is designed to prevent rusting or wear, so you can use it for years to come
Cons:
When making sugary drinks, the lid can get stuck on the shaker
It doesn't have the extra tools that a larger set may have
LUCKYGOOBO Cocktail Shaker
This stainless steel shaker blends form and function.
Perfect for those that like to entertain, this shaker is a must-have for at-home bartending. The body is made from 18/8-grade stainless steel to ensure it doesn't leak, rust, or dent for a heavy-duty design you'll love. Dishwasher-safe and food-grade, the shaker is even premium enough for professionals, so whether you want to elevate your at-home cocktails or use it for your bar or restaurant, this shaker will get the job done.
Pros:
Made from 18/8-grade stainless steel with a mirrored finish that prevents rusts and leaks
The set is durable enough for professional environments, allowing anyone to craft premium cocktails
The shaker has a money-back guarantee, so it's a risk-free purchase
Cons:
The shaker doesn't have any accompanying accessories
When using ice cubes, it's possible the shaker lid will get stuck
OXO Good Grips Cocktail Shaker
This non-slip design transforms that traditional shaker.
Made from thick and durable plastic, the shaker is fast and easy to use to make a wide range of cocktails. It's also double-walled for extra insulation that will keep your drink crisp and cold. The shaker cap also functions as a jigger with three different markings so that you can measure out different ingredients easily. On top of that, the lid and cap have a non-slip finish to make the entire shaker easier to handle.
Pros:
The shaker has a double-wall design to keep drinks colder for longer
The cap doubles as a jigger, with 3/4, 1, and 1&1/2 ounce measurement markings
The non-slip finish makes it easier to use the shaker, even when your hands are wet
Cons:
The shaker is hand-wash only
It is made of plastic and not stainless steel like other similar styles
Modern Mixology Bartender Kit with Stand
This bartending set has all the tools you need for at-home concoctions.
This set will instantly make you look like a pro. The leak-proof shaker helps you shake up any kind of cocktail, from martinis to margaritas. Along with the shaker, the set comes with recipe cards, a strainer, tongs, bottle opener, jigger, and stirring spoon so that you have everything you need handy. The sleek black finish gives the entire set a distinct and modern look, and a wooden stand helps you stylishly display the entire set on your bar cart or kitchen counter. Plus, the entire set is crafted from high-quality stainless steel for added durability.
Pros:
The set includes multiple barware pieces for a comprehensive cocktail kit
The black finish is a stylish option that looks modern and sophisticated
The set includes a wooden stand that makes it easy to display the kit out in the open
Cons:
The set is hand-wash recommended to maintain the black finish
The shaker is smaller compared to other available options
Simple Modern Cocktail Martini Shaker with Jigger Lid
This eye-catching design is a modern approach to a classic tool.
Perfect for keeping your cocktails cold for hours, this shaker is double-walled for the ultimate in insulation. It also has a leak-proof lid with a built-in strainer, making cocktails simpler to craft at home with much less effort. Simply throw all your ingredients into the shaker, put on the cap, and shake it up for a delicious, restaurant-quality cocktail. Available in a wide range of marble, ombre, or pastel patterns, the shaker is a unique take on the classic stainless steel style. Add a colorful pop to your kitchen with this accessory that's also practical to instantly up your bartending skills.
Pros:
The shaker is double-insulated to keep cocktails colder for longer
Instead of plain stainless steel, the shaker is available in a wide range of colors and patterns
The shaker is dishwasher-safe, so it's easy to clean up
Cons:
The colors may look a bit different in person than they do online
Hand-washing the shaker may be best to maintain the patterned finish
Frequently Asked Questions
Do cocktail shakers have strainers?
There are different kinds of shakers; some have built-in strainers while others do not. Having a built-in strainer can make your cocktail-making process simpler by making it easier to strain out ice. You can also get a separate strainer and use it for the same purpose as the built-in strainer.
What is a cocktail shaker used for?
Traditionally, cocktail shakers are used to mix alcoholic beverages like martinis. Simply put all of the ingredients into the shaker with ice, put on the cap, and shake it up. Then, strain out the liquid and retain the ice in the strainer to serve a well-mixed and cold beverage.
How many types of cocktail shakers are there?
There are three main types of shakers: French, Boston, and cobbler. Boston shakers are typically used by bartenders, while at-home bartenders tend to use a more diverse mix of all three shaker types.