The Best Clothes Pins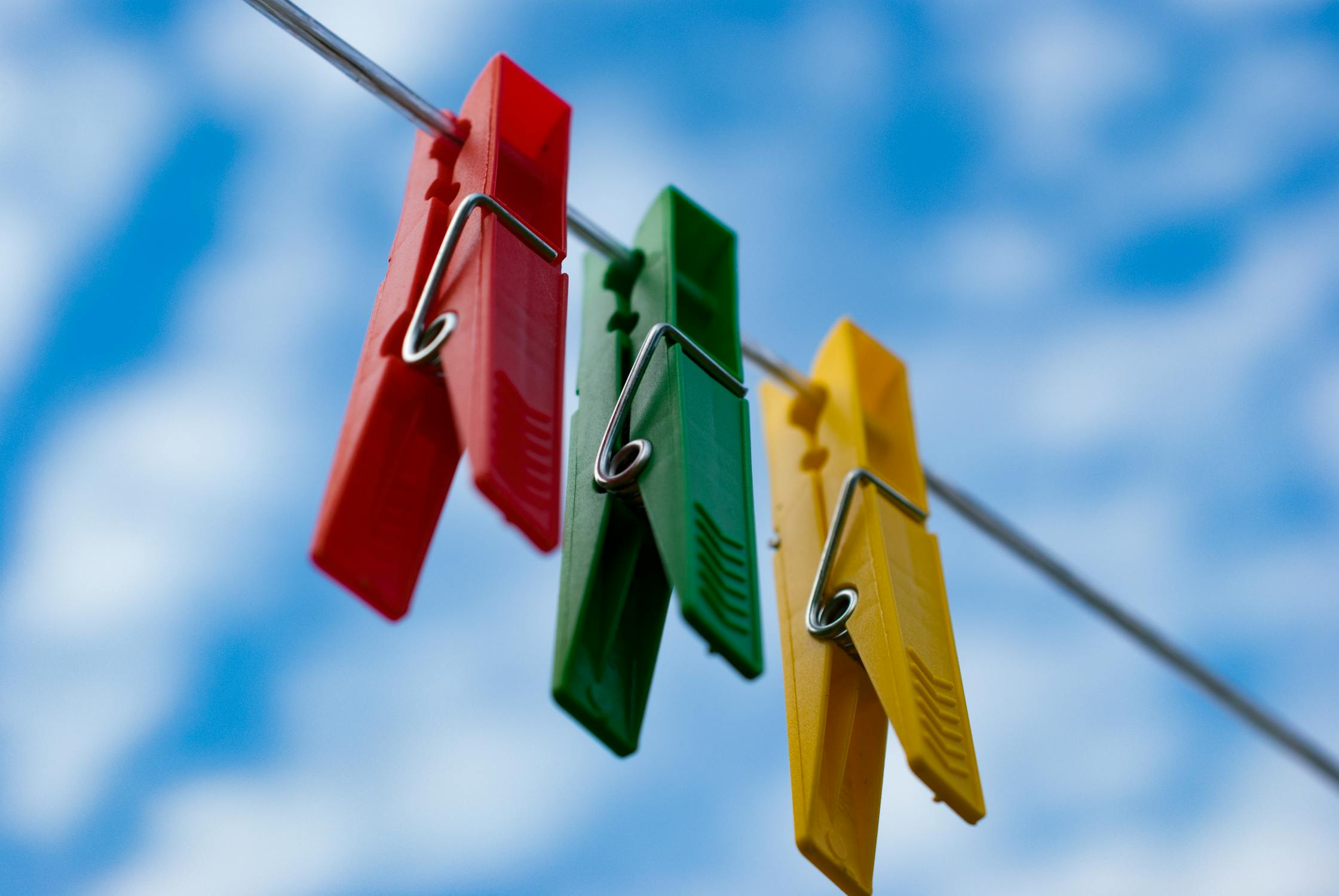 Clothespins are a funny item in our home, mostly because they're one of the most underappreciated pieces in our household. But these tiny clips have a myriad of different uses. Whether you need them to air-dry your favorite clothes after washing them or you're looking to hang some pictures in your living room, clothespins are that versatile piece you never knew you needed. From arts and crafts projects, jewelry made from mini clothespins, and heavy-duty pins to keep your towels and bedsheets right where you want them, this list includes only the best of the best out there.
Home-X Wooden Clothes Pins
These clothespins might be too small to hang a towel, but they're the perfect size to be part of your arts and crafts projects, so don't hesitate to snag a bag or two of them.
I don't know about you, but I feel there's something special about air-drying your clothes. When you do, your clothes retain that fresh-air scent that we all love. Besides, the experience of hanging my clothes is somewhat soothing. These wooden clothespins from Home-X bring back the joy and tradition of having your clothes dry out in the sun. But it's not just about romanticisms; no, these clothespins can help with your budget, too. Fewer clothes in the dryer means you don't have to turn that machine on over and over again when it's laundry time.
Pros:
Made from natural wood material combined with metal springs to be more durable and give you extra gripping power.
Helps you with home decorations, hanging photos, and complete arts and crafts projects.
Cons:
The design is shorter than usual clothespins.
The birchwood isn't water-resistant, making the pins more susceptible to breakage.
Decora Sturdy Mini Wooden Craft Clothes Pins
If you love the rustic-chic aesthetic, then this set of mini clothespins is perfect for all your decoration needs.
Alright, if my whole story about how soothing I find hanging out the clothes outdoors fell short, then maybe this will be more aligned with you. These mini wooden clothespins are the ultimate package to have if you're into arts and crafts. You get a whopping 100 pieces in this tiny package. While they might only be good enough to hang your doll's clothes, they can still work for hanging pictures, home decor, holiday decorations, or to top off a gift wrapping idea. Some people even use these cute mini wooden clothespins to create jewelry pieces like earrings or necklaces.
Pros:
Made from wooden material and non-rusting galvanized stainless steel spring wire that works indoors and outdoors.
The perfect size for arts and crafts projects.
Cons:
The size of the pins is so small that they may become damaged in transit.
Not strong enough to hold cables or heavy items.
Sooneat Mini Clothes Pins
With over ten different shades of color, you're bound to find the perfect clothespins for your arts and crafts project in this set.
If you're looking for something more colorful, these colored pins from Sooneat are your answer. This package gives you the explosion of color you need for all your arts and crafts projects with over ten colors. Made from high-quality wood with non-rusting wire springs, and painted with eco-friendly paint that will not fade quickly, these are perfect. Not only are they very durable, but they are easily reusable, too. They're perfect for party decorations, the holidays, or your latest craft project. But there's more: these are resistant to the sun and the climate, so you can use them indoors or outdoors for whatever project you have in mind – including hanging your clothes outside.
Pros:
Made from high-quality wooden materials and coated with eco-friendly, durable, and odorless paint that's safe to use with kids.
Features non-rusting, heavy-duty springs that will not get damaged easily.
Cons:
The size of the pins is smaller than traditional clothespins.
Not strong enough to hold cables or thicker items in place.
Vida Picks Wire Clothes Pins
If you're tired of your wet towels or heavy jeans breaking your favorite wooden clothespins, then you need this set of heavy-duty stainless steel ones.
Get ready to bring out the big guns. These heavy-duty stainless-steel clothespins are a must-have in your laundry room. Whether you use them to hang your clothes, as room decorations, an art-print hanger, or more, these strong clothespins will deliver. Unlike plastic pins, these won't break without putting up a fight, and their color will not fade away like painted wood pins. These clothespins from Vida Picks have a firmer grip and better flexibility than most other ones out there. Try to make the comparison for yourself, and you'll see how few even come close to the quality and grip these clothespins have to offer.
Pros:
Made from heavy-duty stainless steel that provides a better, longer-lasting grip.
The non-rustic stainless steel material is perfect for hanging out wet clothes after laundry or coming back from the pool or beach.
Cons:
The size of the pins is smaller than traditional wooden clothespins.
Clorox Non-Slip Clothes Pins
The last thing you want when doing laundry is to worry about not being able to grip your clothespins. These ones from Clorox feature a unique non-slip grip design that will make laundry that much easier.
Clorox's non-slip clothespins have non-slip rubber grip ends to help hang slippery items without having to worry about them ending up on the floor after a few minutes. They're perfect for hanging items like towels, clothes, sheets, jeans, and other heavier garments that need strong power to stay steadily in place. They're great to have around when you're doing laundry so that you can quickly hang your clothes to air-dry after taking them out of the washing machine. Plus, they're also great to have in the bedroom or bathroom to hang wet towels or sweaty gym clothes to dry before throwing them in your laundry bin.
Pros:
The design features a heavy-duty non-slip rubber grip to hang onto heavy items like towels and jeans effortlessly.
Made from heavy-duty spring coils that make them easy to open and close without losing their grip.
Cons:
The strong clasp may leave marks on the clothes.
Frequently Asked Questions
How do you clean a wooden clothespin?
Over time, your wooden clothespins tend to get moldy, especially when exposed to the sun, rain, and damp weather. But don't worry – you don't need to replace your pins just yet. All you need is bleach, a bit of water, some time, and a lot of patience. Take warm water, add a bit of bleach, and submerge your clothespins carefully. Let them sit in the water and bleach mix for at least seven hours, or overnight if you have the patience.
If you still see mold, add more bleach and wait a bit longer. You might also use an old toothbrush to get rid of any leftover mold. Then, drain the mixture and let the clothespins air dry. Make sure they're entirely dry before you use them again. If you're in a hurry, you can use a hairdryer to dry your pins; just be careful with the spring coils after as they can get extremely hot and burn your hands. Luckily, most clothespins packages come with at least fifty of them because this entire process can be time-consuming and a bit tedious.