The Best Calligraphy Pens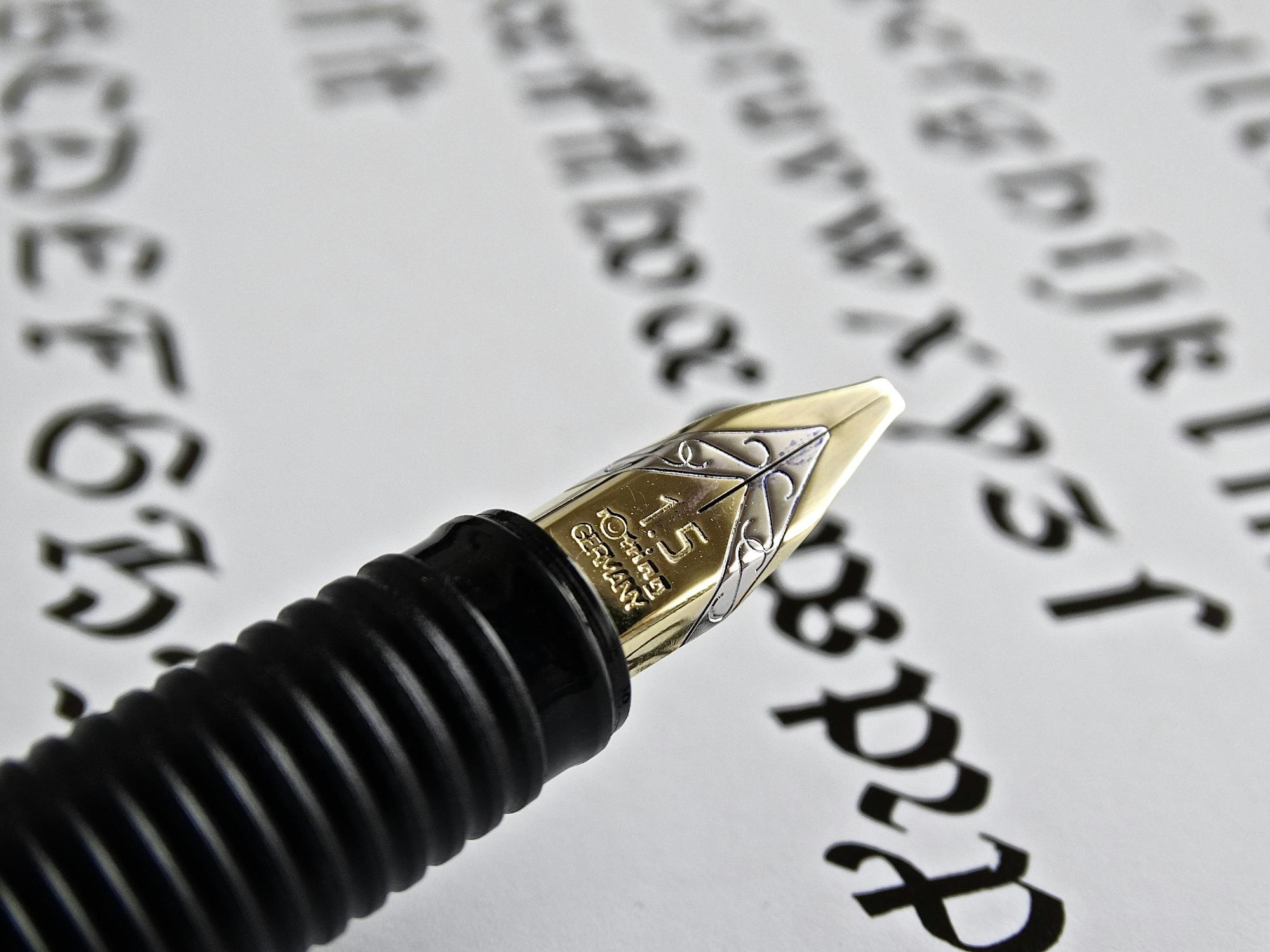 Calligraphy is one of the most relaxing art forms you can engage in. It's also one of the easiest to pick up since all you need is a pen and paper. Of course, as any serious calligrapher knows, the pen you use matters. A quality calligraphy pen can mean the difference between chicken scratch and elegant lettering, so you should pick the right one. Finding the perfect pen can be daunting, so we decided to whittle down the options to the best of the best. Read on to discover our favorite calligraphy pens, from the colorful to the expressive.
Tombow Fudenosuke Brush Pens, 2-pack
Tombow is a trusted name in the world of calligraphy, so it should come as no surprise that they made it onto the top spot on our list.
A fantastic option for both noobies and veterans, this 2-pack of Fudenosuke Brush Pens from Tombow has everything we look for in calligraphy pens and more. For starters, the weight of the pens themselves is light enough to letter gracefully and also heavy enough to control your line thickness. And if you're unsure whether to opt for a hard tip or a soft tip pen, don't worry about it. This set of two pens has both, so you can experiment with different styles and pressures. The soft tip isn't too soft, either, providing the optimal amount of control. Best of all, the price is staggeringly affordable, so it can't hurt to try out a pack of Tombows.
Pros
The water-based, pigmented black ink dries quickly and doesn't smear easily
The preferred choice for calligraphers of all skill levels
Both the hard- and soft-tip pens are easy to control your lettering
Cons
Not the first choice for those that make really fast strokes, since the ink won't dispense quickly enough
Mont Marte Calligraphy Set, 33 Piece
With all the essentials and then some, this 33-piece calligraphy set from Mont Marte has a wide variety of pens and ink cartridges for just about any project.
With 4 pens, 5 different nib grades, 20 ink cartridges, an exercise booklet, and a handy tin to keep everything organized, this set from Mont Marte really has it all. And although it comes at an inexpensive price point, it's anything but cheap. The ink flows smoothly and consistently, the different nibs are all precise and high-quality, and the four pens feel good in the hand. It's also fairly easy to refill the pens with the different ink cartridges and you get a pretty nice range of color options. Of course, half the colors are blue and black since that's the most-used color, but Mont Marte also throws in some brown, green, pink, orange, and yellow inks so that you can truly express yourself.
Pros
Great value for the price
High-quality nibs and sturdy pens
Since it comes with multiple pens and nibs, you don't have to keep swapping out nibs every time you want to change up your nib grade
Cons
The introduction booklet and exercise booklets are pretty thin and leave a lot to be desired
Arteza Real Brush Pens, 48 Colors
Watercoloring artists can fuse their colorful pastime with the art of calligraphy, thanks to this gorgeous set of 48 color pens from Arteza.
It's time to update that crayon box with something a little more sophisticated. This box of 48 soft pens offers all the colors of the rainbow and then some. Each brush pen features a soft tip that provides a surprising amount of precision and control. In fact, the water-based ink can be manipulated to make super fine lines. You can even experiment with dry techniques for a variety of textures and styles. Really, these are like watercolor brushes without the mess or the haphazard spillage. If you want all the colors, go with Arteza.
Pros
Huge variety of 48 colors
You can use them with water to make watercolors or dry to practice traditional calligraphy and painting
Great bang-for-your-buck
Cons
Plotube Calligraphy Pen Set
This handsome gift set has an impeccable style to it and a high-performance pen and nibs to boot.
Calligraphy pens make a great gift. This option from Plotube comes in a beautiful box with a classy presentation. It even has a neat little bow tied to the pen and the box functions both as a gift box and a storage case. Of course, we wouldn't recommend a calligraphy pen set based on looks alone. This option comes with everything a master calligrapher could need, including 11 steel nibs of varying grades, four bottles of different inks, an antique-style pen holder, and a premium wooden pen. Great for beginners, the Plotube Calligraphy Pen Set is the gift that keeps on giving.
Pros
The presentation is beautiful and the box is handsome and fitted
The wooden pen feels good in the hand and is thick enough for beginners
Fairly inexpensive
Cons
The different colored inks have different consistencies, so you'll have to acquaint yourself with each one individually
MisuLove Hand Lettering Pens, 6 Pack
If your ears are still wet in the world of calligraphy, try out this affordable set of 6 from MisuLove.
If you're a beginner in the calligraphy game or just someone on the hunt for an affordable pack of pens, we strongly recommend this option from MisuLove. With six different pens of four different sizes, you'll have plenty of hardware to practice different stroke types and styles. Unlike the disposable junk you used to take notes in school, these brush markers are the real deal. That means you can refill them when they run dry, so they'll potentially remain a part of your arsenal through every step of your journey. Best of all, they come at a bargain price that should fit most beginner's budgets.
Pros
The refillable design extends the longevity of the pens, so they should last for years or more
MisuLove offers a "100% satisfaction guarantee, 1-year warranty"
Cons
If they dry out, they're pretty much toast, so make sure they always have an ample supply of ink
Frequently Asked Questions
Are calligraphy pens refillable?
Gone are the days of quills and inkwells. Well, actually, we won't judge you if you still use a quill and inkwell for your lettering. That's awesome. But if you opt instead for a modern calligraphy pen, it can most likely be refilled with fresh ink. You can check the product listing to determine if your pen-of-choice is refillable.
How are calligraphy pens different from regular pens?
Although there are different types of calligraphy pens, they are generally higher-quality than your typical ballpoint pens. Calligraphy pens allow you to interchange the tip, called the nib, to vary the boldness of your lettering and the grade of your lines. Some calligraphy pens, however, are more like a refillable paintbrush with a soft tip and an angled grade. This latter type of pen is called a "brush marker" but it too falls within the category of calligraphy pens.