The Best Beach Bathroom Decor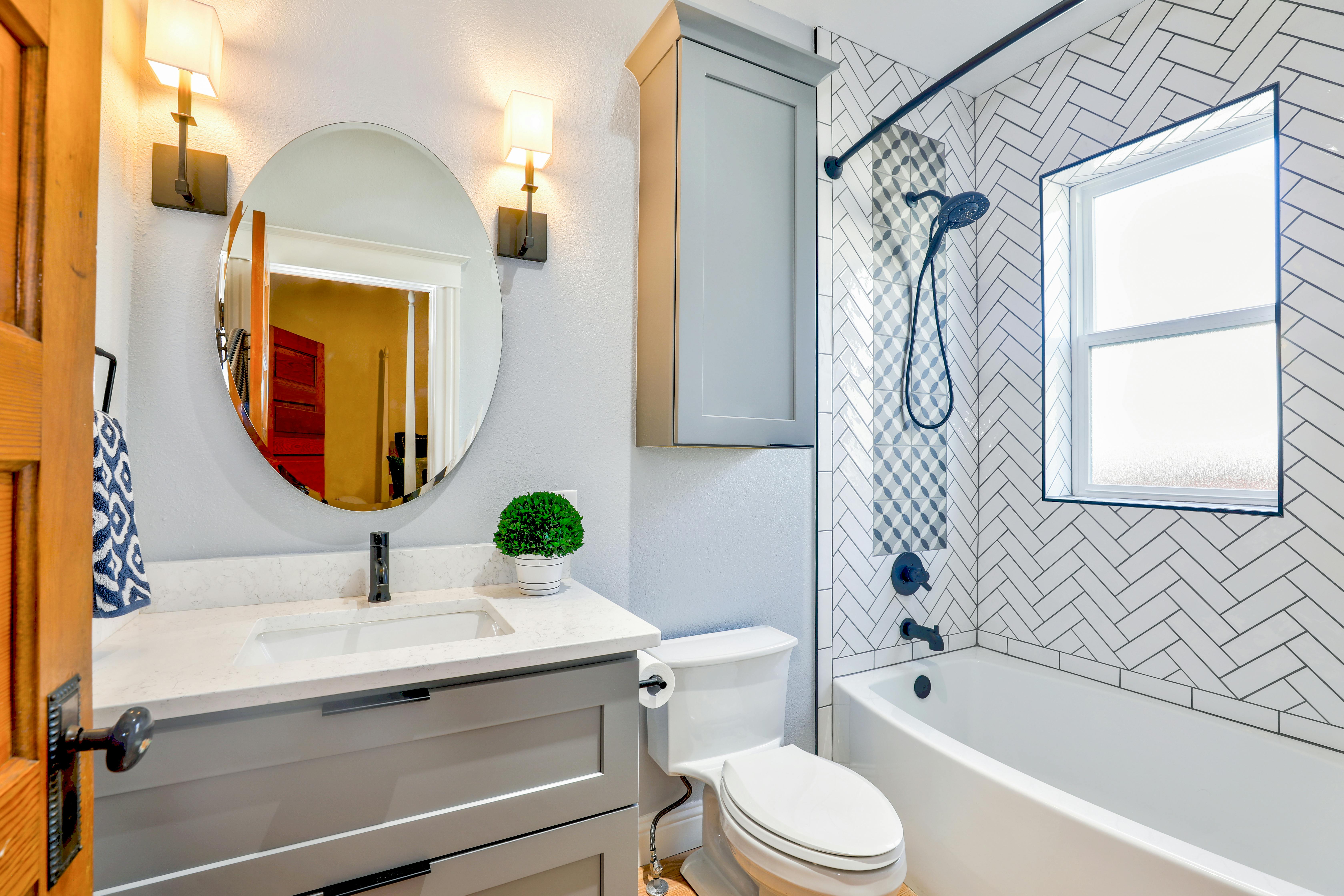 As you step into your beach house's bathroom, it might strike you as funny to be in a room with running water when there's an entire ocean outside. But the pesky sand that sticks to your skin and the salty, briny water make frequent bathing necessary. Rather than allowing your beach bathroom to be a boring old showering station, though, you can further curate the beach theme by choosing charming décor to heighten the experience. If you feel like you're behind in your decoration game, you've come to the right place. These uniquely designed accessories will enhance the look of any bathroom and put you and your guests in a maritime state of mind.
H.Versailtex Shaggy Chenille Bathroom Rugs
These richly textured bathmats are easy to clean and easy on the eyes.
These extra soft bath mats don't just add to the look of your bathroom — they're therapy for your feet, too. The thick chenille surface provides an ideal landing pad when stepping out of the bath or shower. And as you experience the cozy feeling of your feet pressing onto the silky, tufted rugs, you can rest assured knowing that keeping them clean is easy. They're just as moisture-absorbent as they are soft, and they only require a simple cold wash and a tumble dry on low to keep it fresh. It's also worth noting each rug's visual design, which has a compelling texture to complement its comfy feel. With a generous number of different color options available, these mats hit the mark both in terms of style and convenience.
Pros:
Microfiber fabric absorbs moisture and dust with ease
Will stay in place thanks to the specially designed slip-resistant backing
Comfortable for pets
Ideal size for smaller bathrooms
Cons:
Compact rug not ideal for those looking to cover more floor space
Trubetter 3D Butterfly Removable Mural Stickers
If you're looking to get creative with your designs, these 3D butterfly stickers are the way to fly.
This generous assortment of butterfly stickers is a creative decorator's dream. They can be individually placed on your wall or ceiling in whatever pattern you see fit to give your bathroom a touch of whimsy. They're made of PVC material, which makes them durable enough to be a mainstay, but they're easy to stick and re-stick, so they can suit the roving whims of your inner butterfly. We like them for a beach bathroom because they're water-resistant and, of course, cute, but aside from that, we appreciate that they're practical. After all, you can use them anywhere in the house or as party decorations. Each package contains 24 individual stickers in an assortment of small, medium, and large sizes, so you'll have everything you need to create a unique design.
Pros:
They don't damage walls or leave residue when removed
Dust-resistant and easy to clean
Reflects light well
Cons:
Package includes far more small stickers than medium and large
Lighter adhesive to avoid wall damage
Rienar Nautical Wooden Steering Wheel
If your heart is truly with the sea, this creatively designed piece is a marvelous reminder.
This hand-painted wooden ship's wheel makes for a great ocean-adjacent decor piece. We just can't get enough of this sea-themed design: the cute fish on one side and the flying seagull on the other are just two of the lovely artistic touches on this clever piece. The baby-blue and cream-white painted colors are a pleasing combination, and aside from reflecting natural light well, they can also add some brightness to a room that needs it. For the affordable cost, this item is a must for decorating on a budget.
Pros:
Made of real pine wood
Light colors and minimalist design make it versatile to place and match
Cons:
Smaller in size, so possibly not enough to cover a wall's décor on its own
Sweet Home Collection Bathroom Accessories Collection
Practical as it is, this affordably priced accessory set is just as much of a visual accessory for your beach theme.
If you're not already sold on this beach-themed bath accessory set's quaint design and well-matching colors, know that the set is ultra-practical, too. Quite comprehensive, this set includes a soap dish, a lotion pump, a toothbrush holder, and even a tumbler, which demonstrates just how far Sweet Home Collection has gone to bring you an essential kit. You can purchase any of the four items individually, but we recommend the full bundle for the most affordable price. This is the perfect purchase for someone who is looking to make that jump from only buying what's needed to making more design-oriented purchases.
Pros:
Durable and heavily weighted to give a high-quality feel
Lotion pump dispenser can be used for a variety of liquids and creams
Great option for shopping on a budget
Cons:
Not ideal for consumers who want a larger bathroom set with more pieces
AGPtek Decorative Seashell Shower Curtain Hooks
Those with an eye for a subtle aesthetic may find the thread that brings it all together with these decorative shower hooks.
Sometimes it's the subtlest touches that give a room the vibe you're looking for. This 12-piece seashell shower hook set (try saying that five times fast) may not be the first thing you see when you walk into the washroom, but it can really pull the entire beach theme together. To start, the acrylic seashells attached to the front of these hooks are beautiful and tastefully designed. And with three different types of designs — a seashell, a conch, and a starfish — the pieces blend well, elevating the appearance of an otherwise plain shower rod. The metal hooks themselves are anti-rust and detailed with an enamel finish, making them more than just a pretty decoration. Cute, durable, and affordable, these hooks may just be the finishing touch in your beach bathroom.
Pros:
Hook design makes shower curtains easy and safe to install
Muted color scheme makes these easy to tastefully apply in any color bathroom
Cons:
Hooks are on the wider side to accommodate thick shower rods
Frequently Asked Questions
Will colors work best for beach bathrooms?
It's common to utilize a combination of neutral colors and light pastel shades to mirror the color palette typical of the beach. Think of it this way: when you're at the beach, what do you see? Between the sand on the shore, the water at sea, the sky's various hues of blue, and the vivid colors of a setting sun, you'd see shades of baby blue, light pink, cream, sandy beige, and more.