The Best Bathroom Odor Sprays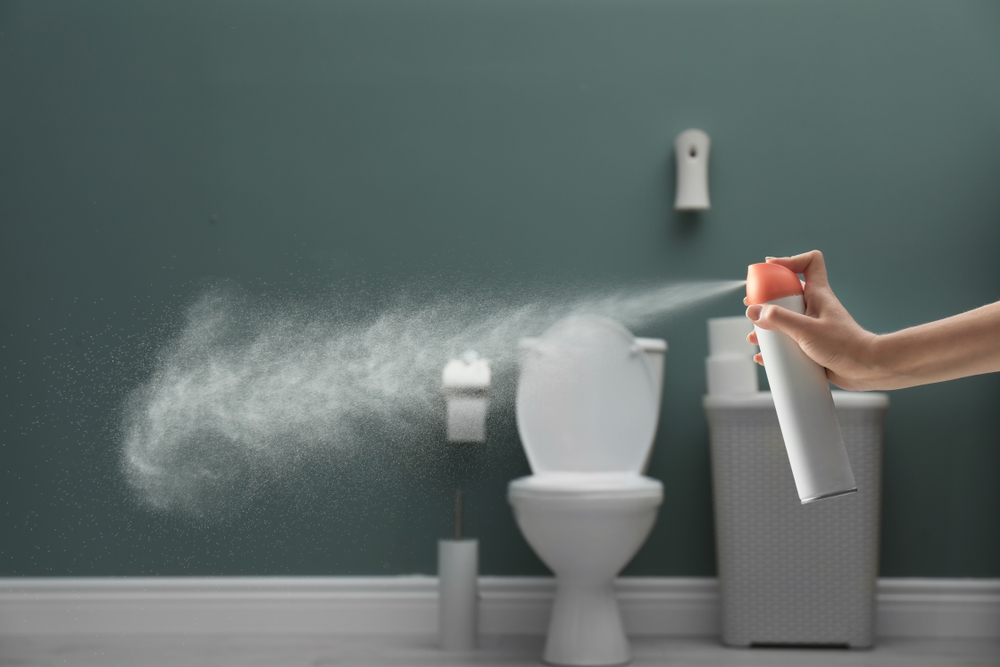 Trips to the toilet can leave a less than refreshing smell, which is why we stock our shelves with bathroom odor sprays. These essential products typically come in a compressed air canister and sport a variety of pleasant aromas. In addition to the traditional option, alternative essential oil-based formulas have been making waves in toilet bowls across the globe. Whether you prefer robust fragrances that overwhelm odors or neutral versions that work quickly to break down airborne organic compounds, check out our recommendations for the best odor eliminators.
Positive Essence Linen and Room Spray
This broad spectrum of soothing scents will bring an air of calm and cleanliness to your home.
When you need to do more than simply mask nasty odors, reach for Positive Essence's Linen and Room Spray. This wholesome spray is easy on the nostrils, leaving fabrics and surfaces coated with a subtle hint of lavender-based scents. Positive Essence offers a vibrant array of unique fragrances from around the world, each only requiring a pump or two to freshen up a room. Options range from tropical coconut and sweet Mandarin orange to floral cuts of tulip or carnation. Best of all, Positive Essence's spray diffuses in the air, unlike heavier formulas. When you're ready to dispense with the sticky floors and crank up your scent profile, make Positive Essence your aroma of choice.
Pros:
Cruelty-free research and testing
Free of parabens, phthalates, and artificial fragrances
Mixed by hand in small batches only
Cons:
The intensity of smell is not equal for all fragrances
Poo-Pourri Before-You-Go Toilet Spray
Avoiding embarrassing interactions on the road is simple and discreet with this spray.
Poo-Pourri is a classic go-to odor eliminator for the bathroom. The Before-You-Go Toilet Spray is their flagship product that stops persistent stink at its source. By applying this toilet spray to the water in your porcelain throne before getting down to business, an invisible, impenetrable smell barrier is created to seal scents to their fate in the depths below. Unlike other odor eliminators with versatile applications, Poo-Pourri has a powerful smell profile that contrasts foul odors with pronounced fruity fragrances and classics such as fresh-cut grass. One of our favorite options comes in the form of their travel-friendly sprayer that discreetly fits into pockets and purses for a clean escape no matter where you are.
Pros:
Made in the USA
Nearly twenty diverse fragrances in total
Devoid of harsh parabens and phthalates
Cons:
Fairly high price per unit for this concentrated formula, but many consider it a lifesaver
Febreze Air Heavy Duty
This value pack delivers months of crisp, controlled aromas from the toilet to the trashcan.
Febreeze's Air Heavy Duty spray is a return to the standard scent-eliminator that's trusty and tested in almost every setting you can imagine. As the name might suggest, this brand from Febreze gives off a light, inoffensive aroma that dissipates in seconds. While Febereze is still a far cry from going the organic route, they have made strides in the right direction. This bottle utilizes a natural aerosol propellant that cuts down on its chemical footprint and doesn't rely on heavy synthetic fragrances. At the end of the day, Febreeze has a job to do, and it accomplishes it at a price point that will make your wallet jump for joy. When you need to contain out-of-control food, pet, and human odors without turning your home into a blooming meadow, this air freshener makes the grade.
Pros:
Superior value for the quantity and price
Great for eliminating stale scents from trash and body odor as well
Twice the air-refreshing power of the original Febreze formula
Cons:
Not safe for use around all animals, namely birds
Fresh Wave Odor Eliminator Spray
This natural air freshener will eliminate your heaviest odors without relying on inorganic fragrances to mask the source.
If you're in search of a neutral air freshening spray with ingredients you can actually pronounce, you've come to the right place. Fresh Wave specializes in safe ingredients that don't cause skin irritation or leave slippery films on furniture surfaces. This plant-based concoction is available in the original blend of cedarwood, clove, and pine, or lavender, although neither scent stays around for long. Instead, the negatively charged molecules from the spray bond with and destroy offensive smells. This spray will be great for stopping outdoor odors at the door, dispersing smoke from meals gone awry, or livening up upholstery without investing time and money into complex cleaning solutions.
Pros:
Safe for use on pet bedding, carpets, and clothing
Top-notch quality assurance team
Manufactured in Indiana
Cons:
No natural or synthetic aerosols means it takes longer to absorb and dissipate
Glade Spray Collection
This odor eliminator pack will keep your space vibrant and fresh with several pleasant formulas included.
Sticking with one scent for too long can stifle your smell receptors. Glade's Spray Collection promises to keep every corner of the house smelling fresh and lively with four unforgettable aromas at one excellent price. This multi-pack sports clean linen, apple cinnamon, Hawaiian breeze, and vanilla lavender blends for a versatile lineup that keeps your nose guessing. We recommend cycling through one scent each week to increase perceived potency and deliver a thorough refresh effortlessly. While the spray diffuses in the air well, the scents linger in the room long after you've pulled the trigger.
Pros:
The scent lingers for around seven hours
Tackles household and bathroom odors easily
Varied smell intensity to fit your need
Cons:
The spraying mechanism is fragile and won't survive falls
Frequently Asked Questions
When were odor eliminator sprays invented?
Odor eliminators, in their modern form, are the product of military and agricultural collaboration. After World War II, the use of pesticides became near-universal because of their ease of use with pressurized cans. The same principles that delivered these chemicals were applied to masking agents, and the modern air freshener was born. It would take over a decade before the novel invention included actual odor eliminators, while the use of the devastating chemical Freon persisted for decades after the original was released.
Is it safe to use air fresheners with little air circulation?
Proper ventilation should always be used with air fresheners, especially if the ingredient list is not complete and readily available. Odor sprays not derived from dried plants can emit VOCs or volatile organic compounds. This doesn't mean that VOCs are necessarily harmful by themselves. While regulators do curb individually dangerous chemicals, other ingredients may start benign but turn hazardous when interacting with the environment. For example, some terpenes found in essential oils react with ozone to create free radicals. The best advice is to always check the ingredient list before buying and be wary of unfamiliar compounds.