The Best Bath Bombs For Women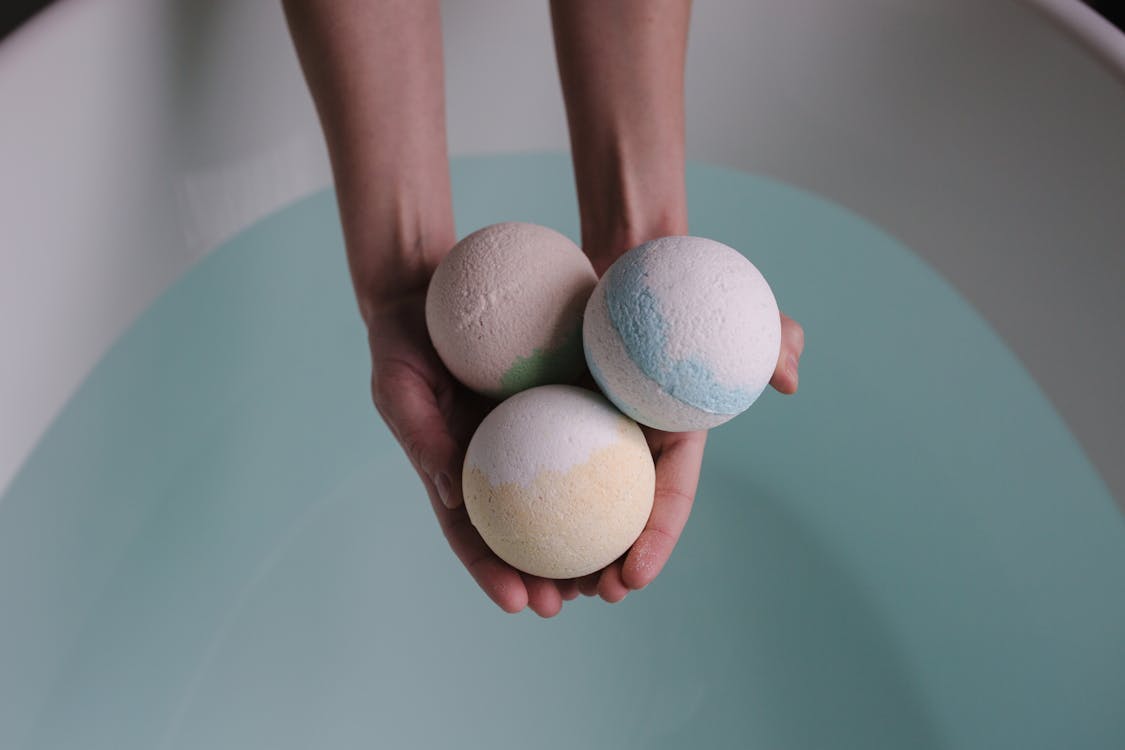 Self-care is one of the most important things you can do for yourself and your loved ones. We can't be the parent, the friend, or the partner our loved ones deserve if we aren't taking time to invest in ourselves. A luxurious bath is a perfect way to unwind, reset, and recharge to get ready for whatever life throws at us. And what better way to elevate a bath than with a heavenly bath bomb? Full of good smells and beneficial skin properties, a bath bomb is an ideal addition to your self-care regimen. Dive into this list of our favorites. You deserve it.
Life Around 2 Angels Gift Set
These bath bombs are swirly and scented for an ideal relaxation experience.
This beautiful set from Life Around 2 Angels contains twelve different bath bombs. Each vibrantly colored bomb is individually wrapped in paper for a beautiful presentation. With moisturizing ingredients and natural ingredients like rose and lavender buds, these bath bombs are sure to leave your skin feeling silky smooth. Sink into the goodness with this glorious set.
Pros:
Twelve unique scents
Handmade from real ingredients
Designed to keep skin hydrated
Cons:
Flowers in bath bombs may clog drain, so be sure to pop in a hair catcher when you're done
Enjoy Your Bath Time 24 Bath Bomb Gift Set
Keep them all or give them away — this set gives you plenty of bath bombs to go around.
Whether you're stocking up on party favors or stockpiling your self-care supply, this set is going to set you up with plenty of high-quality bombs. It contains a whopping 24 bath bombs with six different scents, and each bomb is wrapped so you can gift them individually without making a mess. While they are on the small side, they're affordable enough to use two at a time if you prefer a stronger bath. Get ready to share the love.
Pros:
Contains coconut oil, grape seed oil, and shea butter
Individually wrapped for gifting or personal use
Set of 24 gives you some serious bang for your buck
Cons:
Plastic wrapping may be difficult to remove without damaging the bomb
Bubbly Belle Gift Set
These luxurious bath bombs set you up for a serene experience.
For those moments where you're ready to run away from the world, these bath bombs are the ideal relaxation tool. Each of the 12 bath bombs features a different scent, and at five ounces each, they dissolve slowly so that you can enjoy an extra-long bath session. Plus, each bath bomb contains a self-care message inside to remind you to be kind to yourself. Pour yourself a glass of something tasty, and ease into the bliss.
Pros:
Vegan and cruelty-free for self-care you can feel good about
Extra-large size means extra-luxurious baths
Paraben-free formula
Cons:
PickMora Mini Bath Bomb Gift Set
A little goes a long way with these mini bath bombs.
If you prefer a subtler bath bomb experience or simply love all things miniature, these itty-bitty bath bombs are the pick for you. About half the size of a typical bath bomb, these little fizzers are great for mixing and matching colors and scents. We love these bath bombs for a foot bath — excellent on those days where you don't have time for a full relaxation treatment but still need a little pampering. There are 30 total bath bombs in this set, with six different scents, and the set comes with a scraper to easily remove the plastic wrapping.
Pros:
Miniature size makes them fun and versatile
Included scraper makes it easy to open individual packaging
Infused with grape seed oil, cocoa butter, and shea butter for moisturization
Cons:
May cause irritation for sensitive skin
Beauty by Earth Bath Bombs Gift Set
These natural bath bombs are designed to support your well-being.
For people who bathe with purpose, these bath bombs are a dream. Each of the six large bath bombs in this set is designed to soothe you with its own unique blend of essential oils that scent your bath naturally — no added perfumes here. If you want to give aromatherapy a try or check out a more natural spin on the bath bombs we know and love, this set from Beauty by Earth is a great choice.
Pros:
Made using shea and cocoa butters, Dead Sea salt, Epsom salt, and kaolin clay
Dye-free formula won't stain your tub
No animal testing
Cons:
Dye-free formula means you won't get the colorful water we associate with bath bombs
Frequently Asked Questions
Why don't my bath bombs look or smell good?
First, you should get your water tested to see whether you have hard water. Hard water can affect bath bombs by altering their color, scent, and even their moisturizing qualities. Installing a household filter can help soften your water so you can enjoy a more soothing bathing experience. If your water isn't hard, it could be that your bathtub is either too big or too small for the size of the bath bomb. Make sure to read the directions for your bath bomb before use to make sure you get the most out of it.
How do I get a really strong scent?
If your bathtub doubles as your shower, you can pull the curtain shut while you bathe. That creates a smaller area for the bath bomb's scent to swirl around, which concentrates it more and makes it stronger. Another benefit of keeping the curtain closed is that your bath will stay warmer and steamier for longer. If you have a stand-alone tub with no curtain, you can either add a second bath bomb or light some similarly scented candles while you bathe.