The Best Bacon Grease Containers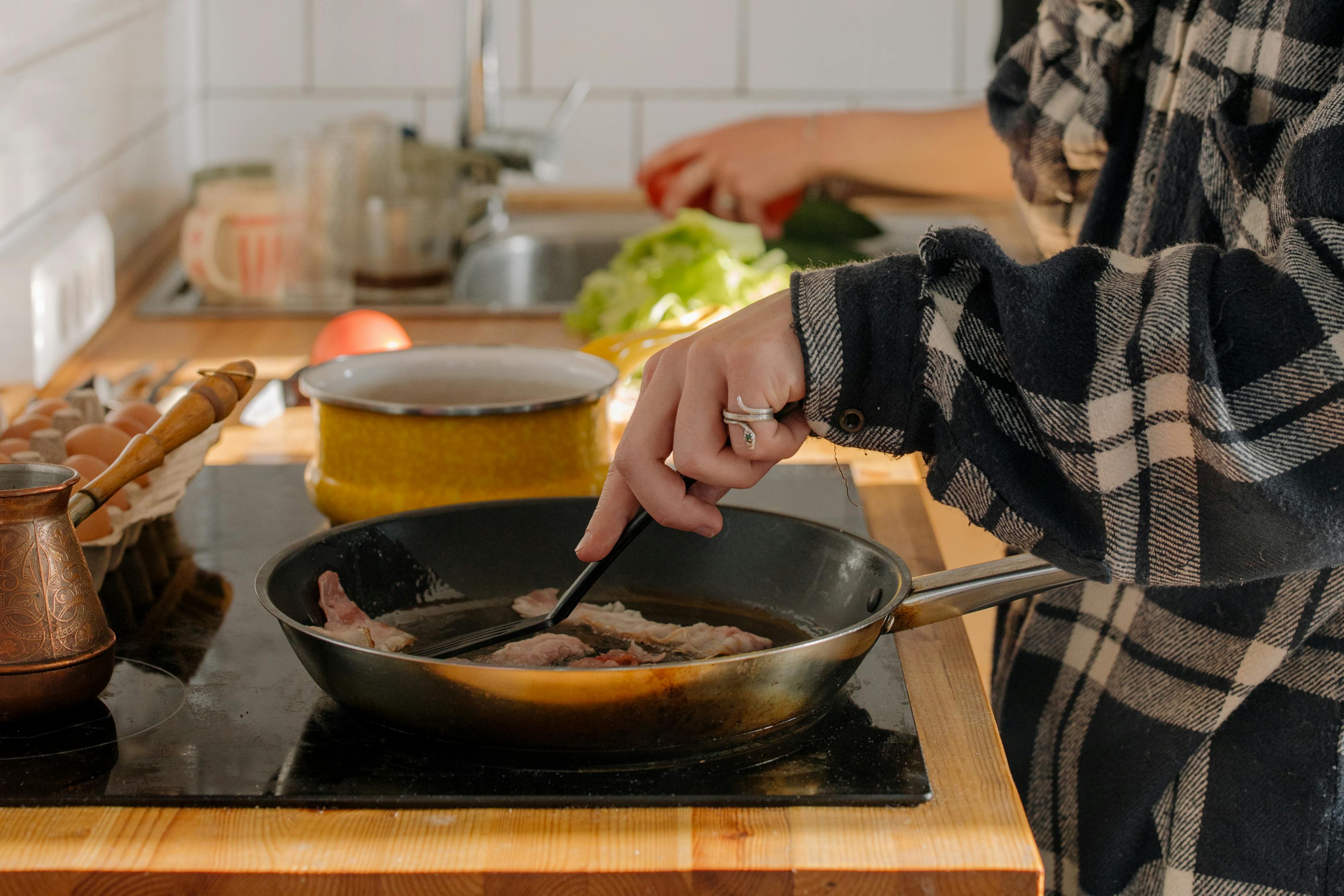 Whether you're environmentally conscious or culinarily creative, saving what would otherwise be described as unwanted food waste can be a fun hobby that saves big bucks down the line. Few animal byproducts are more useful to your kitchen and more dangerous to your community than bacon grease. This innocuous residue can be made into a butter-like spread with little effort as long as you store it properly. If you're looking for an even consistency that doesn't end up clogging your drains, check out our top bacon grease storage containers. These units specialize in handling hot liquid grease with ease, allowing you to focus on cooking when you're achin' for some bacon.
Ayesha Curry Kitchenware Bacon Grease Can
This wholesome holder won't crack under heat or stain with spills, leaving your kitchen spotless and ready for every recipe you can imagine.
Keeping bacon drippings out of the drain is stylish and simple with Ayesha Curry Kitchenware's bacon grease can. This fat receptacle has the feel of an old-school ceramic container without the fragility. Each canister boasts a colorful enamel exterior that has a heat-proof steel exterior. We're a big fan of this design because it means you don't have to wait until the fat has cooled to start the cleaning process. As far as shatter-proof containers are concerned, this can is incredibly easy to use and won't become an eyesore in your kitchen either. 
Pros:
Five color options to choose from

Sturdy lid handle

Disperses heat exceptionally well
Cons:
The lid is not self-sealing or locking
Aulett Home Bacon Grease Container
This grease container sifts solid food products away, leaving you with a pronounced flavor free of impurities.
If your frying frequency is higher than average, Aulett Home's container is the perfect disposal destination for any grease. To start, this device has an old-fashioned feel and neutral steel exterior that will fit in every style of kitchen imaginable. While the included strainer can be irritating to hand wash once fat cools, this part is removed in seconds and can handle the dishwasher with ease. We would recommend this unit to anyone who likes to fry a medley of ingredients together. Overall, this wide-mouth container has a capacity and diameter ideal for large frying pans and resourceful cooks that want to keep their environment clean. 
Pros:
Stainless steel construction 

Excellent quality for the price

Five cups of total storage
Cons:
The strainer does not fit well with the lid
Fox Run Porcelain Grease Container
If your kitchen has a more traditional feel, choose this option for stylish storage that's easy to clean and easy on the eyes.
Fox Run's grease container has a muted look that will blend into the background of countertops and pantries effortlessly. While the fully capitalized labeling will ensure you don't lug a heaping spoonful of fat into your morning coffee, the design is reminiscent of traditional sugar or flower pots. Each vessel comes with a porcelain lid, recessed colander, and over twenty fluid ounces of storage in the main body. We certainly appreciate the more substantial feel of the quality porcelain throughout; however, the strainer is a bit of a gimmick. The holes are not small enough to filter bacon crumbs or large enough to prevent clogging. Regardless, if you want a durable grease can for future fat spreading and aren't too picky, Fox Run doesn't disappoint.
Pros:
Available in black, white, and red

Ventilation hole in lid disperses moisture

Can handle temperatures up to 400 °F
Cons:
No handle can make disposing of hot grease tricky
Talisman Designs Original Bacon Bin
Store grease without singeing skin or shattering glass with this unforgettable container.
When it comes to keeping your hands free of burns, Talisman Designs takes the cake with their Original Bacon Bin. If you're a chef with a sense of humor, this device is a pleasant addition to any prep station and barely takes up any space. The full silicone construction is peerless when it comes to dispersing heat and won't shatter if your clumsy hands miss the mark from time to time. Specifically, Tailsman's bin is the best for long-term storage or quick reheats because of its non-stick, microwave-friendly materials. All in all, the Bacon Bin is a miniature blessing for personal kitchens that want clear drainage and an extra kick to their next fried creation.   
Pros:
The silicone lip keeps the lid firmly in place

Incredibly easy to clean

You can use it with or without the filter
Cons:
The container is not rigid at all
Chihee Oil Strainer Pot
This container will turn the leftover oils from your messy frying feasts into a clean condiment with ease.
Large meals for the whole family don't have to be an environmental disaster with the help of Chihee's oil strainer pot. We love this grease container because it focuses on the minute details that can be missing in some competitors. To start, you'll never have to worry about corrosion, thanks to the stainless steel design throughout. Both the pot's interior and included tray boast impeccable heat resistance, allowing you to pour before fat hardens and giving you years of leak-free storage. As far as functionality, the bottom of the pan has a non-slip honeycomb pattern, the lid fully seals the included spout, and the capacity limits are enough for massive meal preps or commercial operations alike.
Pros:
Available in one or two-liter options

The unit can come in direct contact with stovetops

The included tray allows for accident-free movement
Cons:
Not big enough for deep fryers
Frequently Asked Questions
Why shouldn't you wash bacon grease down the sink?
Bacon grease, while liquid at high temperatures, quickly returns to a solid in normal conditions. Because of this unfortunate chemistry, this animal byproduct will most likely solidify before emptying with other liquid waste. Furthermore, bacon grease is not water-soluble, meaning no dilution will keep it in liquid form. Lastly, even solid bacon fat is exceptionally sticky. While it would take an enormous breakfast to clog your piping with bacon grease alone, it will cause other food waste to adhere to the side of your plumbing. Clogs due to grease can cost hundreds of dollars in repairs and cleanings, not to mention the dangerous chemical required to dissolve the buildup if all else fails.
Can bacon grease cause damage to the community or environment at large?
The answer to this question is a resounding yes. Disposing of bacon grease in the outdoors or your home improperly will negatively affect both wildlife and your municipality. First, community sewer lines can just as easily become clogged by bacon grease as your home plumbing. For example, in 2013, a borough of London was required to clear a 15-ton mass of food oil from its municipal street system after years of accumulation. While the blockage was cleared without sewage flooding, the costly repair process took around three weeks. Furthermore, grease dumped outside will likely seep into the groundwater or sewage system if it's not consumed by wildlife, which will be harmed by preservatives just as well.