The Best Baby Doll Strollers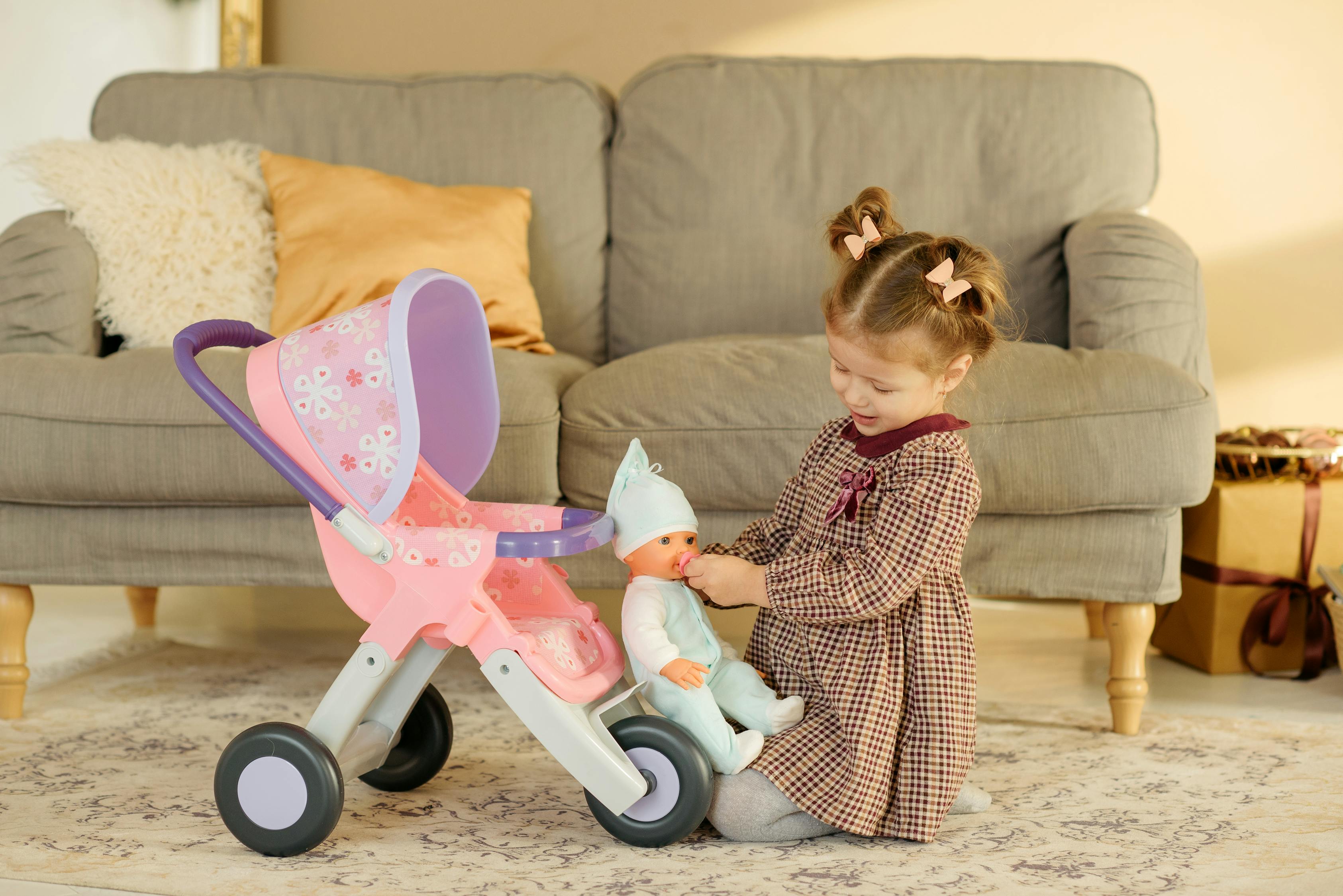 Dramatic play is one of the very most important aspects of childhood development. Not only can it help to develop social skills, empathy, and compassion, but it can give children a safe space for processing their feelings. Because children act out what they experience, by giving them toys for their dramatic play area that specifically speak to their experiences, you're allowing them the space to process their experiences. This can be especially helpful if your child has gone through something life-altering, such as a new sibling, a big move, or any other big changes in their life. Dolls can be a huge part of dramatic play for boys and girls. And just like dolls are modeled after babies and children, so are their mini accessories. In fact, dolls and their accessories make up a market that is saturated with fun, adorable options. Case in point? These adorable little doll strollers.
The New York Doll Collection My First Doll Stroller, Hearts
This darling mini stroller for dolls is the cutest addition to your child's pretend play area.
This darling little umbrella stroller is exactly what your doll-loving kiddo has been dreaming about. With a bright pink background and all-over white heart pattern, this stroller will fit dolls up to 18″. It has a sturdy basket tucked under the seat for all of the doll essentials, and a hood to protect your little love's own little love from the elements. Each wheel, both front and back, has a double wheel feature for a more solid ride and added stability.
Pros:
Compact fold for easy storage or portability.
3-point belt buckle for safe-keeping of your little one's dollies as they ride along.
Hood is foldable and adjustable.
Cons:
There is no locking mechanism in place once the stroller is open.
The New York Doll Collection My First Doll Stroller, Denim
Sure to make a fashion statement with this cute denim stroller, your youngster will be the talk of doll-town with this doll stroller.
This one is exactly like the stroller above, except it touts a durable (and totally adorable) denim fabric. In fact, for extra durability, there's even a double folded, quilted edge on the seat and edges, which means that the fabric can withstand some serious play and just won't tear. Standing 20.5″ high, it's the perfect height for 2+-year-olds with a tiny tag-along baby doll. And it's also perfectly safe, as all of the materials used have been rigorously tested to meet USA safety standards.
Pros:
Small and lightweight enough for kiddos as young as toddlers, but age-appropriate enough for preschoolers as well.
Secure canopy with a decorative frill around the edge.
Super cute design and fabric.
Cons:
Again, as with the stroller above, there is no locking mechanism in place for when the stroller is fully open.
Mommy & Me My First Baby Doll Stroller
Your youngster will delight in taking this doll stroller with them wherever they (and their dollies) go.
The perfect little umbrella stroller, this one arrives fully assembled and ready to go. With a vibrant hot pink with black accents, this stroller has a hood, seatbelt, and a basket on the bottom for all of the dolly essentials. The size is ideal for a doll up to 16″, and the stability, durability, and height is appropriate for toddlers and preschoolers. The double wheels on both front and back mean that this stroller can go from the living room to the yard to the playground. Your mini mama or daddy will be absolutely, positively thrilled.
Pros:
Folds to an ultra-compact size for easy storage and portability.
Safety tested to be lead-free as well as meeting other safety regulation standards.
Extra crossbar across the front legs for added stability.
Cons:
The wheels do not swivel.
Doll Strollers Pro Deluxe Doll Stroller
Complete with a bottom carrier as well as a diaper bag, your little one will be thrilled with this stylish doll pram.
This adorable little pram is styled after the Bugaboo Stroller, and your mini Mama or Daddy will totally obsess over it. With a bottom basket, an adjustable handle that switches for either front- or rear-facing, and a closing hood to protect the dolls, this pram is perfect for new little baby dollies. To top everything off, there's a matching carriage bag for mini diapers, bottles, and a change of clothes. Easily foldable and compact, the stroller can come along in the car for the park or walks around town.
Pros:
Fabric is removable and totally machine-washable.
Completely tested for safety.
Wheels are sturdy enough for outdoor play as well. Plus, they swivel.
Fits up to an 18″ doll.
Cons:
The zipper over the bassinet could stand to be a bit stronger.
Badger Basket Trek Double Jogging Stroller
Does your little one have more than one favorite dolly? This two-seater is the jogger for them.
Okay, I'm totally geeking out over here on this double jogger doll stroller. How can you not? It's got all the bells and whistles of a regular twin jogger, but in a mini size meant for dolls or favorite stuffies. Just like a real jogger, there is a storage basket underneath the seat, a comfy rubber grip handle, and a mini footrest over the wheels for the comfort. For sunny days, there is even a sun shield to protect any precious passengers.
Pros:
For dolls or stuffed animals up to 16 inches tall.
Easy to spot clean the polyester fabric. For bigger spills, the seat and basket are completely removable for hand washing.
3-point harness seatbelts.
Cons:
The stroller is on the short side, which is a bummer. And related to this, the basket can not hold much before it hangs on the ground.
Frequently Asked Questions
What's the point of a doll stroller?
Well besides the obvious, which is, of course, for your little one to push their little one in a stroller that fits their doll, a doll stroller is a wonderful tool for dramatic play. Children love to play out what they see happening in their world around them. It helps them to process, learn, and grow. So providing toys for their dolls is a fantastic way to build upon their imaginative play. Play is, after all, one of the most important aspects of childhood development.
Are doll strollers universally fit to hold all dolls?
No, unfortunately, not all doll strollers will fit any doll. In order to find the proper size doll stroller for your needs, you'll want to double-check the size of your doll, and then cross-check the specs for the particular doll stroller that you're looking at. Make sure that the sizes match up, and then go for it. There are all kinds of doll strollers out there, from joggers to prams to umbrellas, so you'll definitely find one that works for you.
As a general rule of thumb, it is best to go a bit bigger. If you measure by the biggest doll your child has, then your kiddo will be able to use their doll stroller for every single doll or stuffy they own regardless of their measurements.
How do you clean a doll stroller?
As stated above, there are all kinds of doll strollers. Some don't have removable fabric, others do. We recommend looking at the fabric's care instructions. Typically, spot cleaning is all you will need to do to clean your doll stroller. However, because these are toys, you will find that many feature completely removable fabrics for machine-washing.