The Best Potty Training Toilets for Your Tot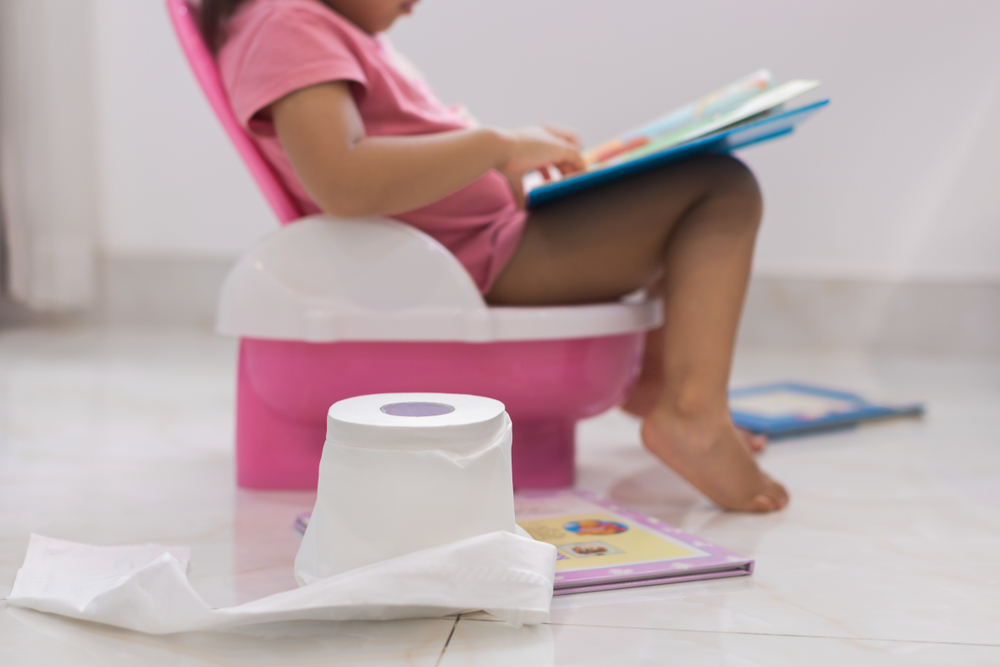 It can be so exciting to realize that your toddler is ready to start potty training. However, it can also be daunting to try and choose the perfect potty training toilet for them. Each child is unique, and each family will have different needs. Say goodbye to diapers and hello to independence with one of these potty training toilets. Get your kiddo started on the right track by choosing from one of our favorites on this list.
Summer My Size Potty
The potty training toilet that has it all — including an unbeatable price.
The Summer My Size potty is the most realistic potty training toilet you can get for your child. It also hosts a couple of extra features, too, like upper storage space and an interactive handle. The flush sound is totally realistic, so your child will already be used to the sound instead of being fearful of it as they transition to the full-size toilet.
Cleaning is often an issue when it comes to potty training toilets, but not with the My Size potty. Wiped clean in a jiffy, this option sports a splash guard and a removable bowl for deep-cleaning.
Pros:
Looks sleek and fits in right in the bathroom
Realistic sounds and feel
Easily cleaned and doesn't hold smells
The top has a built-in wipe dispenser and can hold books and other distractions
Cons:
The top storage container doesn't lock onto the toilet so inquisitive youngsters can remove it fairly easily
Nuby My Real Potty Training Toilet
Keep your tot motivated by providing them with this fun potty designed to imitate the real deal.
Kids learn best through imitation and repetition. If you place one of these training toilets from Nuby right next to your real toilet bowl, your youngster will figure out how to sit down and do their business in no time. That's because this option features a flush button that imitates the sound of a flushing toilet with surprising realism. It's also designed just like an adult toilet — well, except for the pink color. Nuby offers their training toilet in ceramic grey as well, but we think pink is the only way to go.
Pros:
Features a wipe dispenser for quick cleanups
Sports rubber feet for a non-slip grip
Available in both ceramic grey and pink
The smooth basin is super easy to clean
Cons:
There's no handle for lifting out the basin when you want to change it, so you have to grip it by the sides
The First Years Disney Potty Training & Transition Seat
Kids love anything with colorful cartoon characters, which is why they'll be thrilled when you get them one of these potty trainers from The First Years.
This option from The First Years has a fantastic design that your kid will love. For starters, it's available in three styles: Mickey Mouse, Minnie Mouse, or Paw Patrol. Each option also comes with stickers so your youngster can customize their throne. Looks aside, this option features a really nifty seat that can function on the potty itself or as a transition seat for your actual toilet bowl. Simply pop the seat off of the training potty and place it on your adult-sized toilet seat so their little butts can do their business like the grownups.
Pros:
The multi-purpose seat can be used on both the potty and full-sized toilets
Great value for the price
The flusher has two buttons, one that produces a flushing sound and the other that produces cheers to let them know they did a good job
Cons:
Since it doesn't lock down, the back portion can be lifted off by inquisitive kids
Summer Infant Step by Step Potty
For all stages of potty training, get this versatile option from Summer Infant.
Make one purchase to last your child years when you get the Summer Infant Step by Step potty. This potty starts off as your basic baby and toddler potty training toilet but can separate into a toilet seat and step stool combo that helps your child adjust to the big leagues. In addition, it has a toilet paper holder and a flushable wipes holder so that you may ensure your child learns to stay clean while learning to use the potty.
The Step by Step potty is available in three different color patterns and styles. The splash guard is removed easily and most importantly so is the bowl. That allows you to clean all of the pieces quickly and easily.
Pros:
Transitions to a potty seat and step stool
Bowl and splash guard can be removed and washed
Holds wipes and toilet paper to emphasize hygiene
The seat is soft and comfortable
3 designs to choose from
Cons:
It can be a little difficult to separate the seat from the stool
BabyBjörn Smart Potty
This traditional training toilet gets your child started down the road of independence without breaking the bank.
This pick from BabyBjörn is an ergonomically designed potty training toilet that has been designed by experts in Sweden. It is BPA-free to keep your baby safe from excess chemicals. Furthermore, it has s sturdy base that works to keep your child safe as well. The seat is wide and comfortable enough for your child to use often.
The design is simplistic and yet it has a sleekness to it you won't notice elsewhere. Remove the inner part of the bowl for easy cleaning. It takes very little space and is very uncomplicated.
Pros:
Simple design with no complications
Affordable
Ergonomic and comfortable
BPA-free
Sturdy and strong
Cons:
No fun features
Can be too small for larger toddlers
Frequently Asked Questions
At what age should I begin to potty train?
This will be specific to our child. A good sign that your child is ready to start is simply an interest in the toilet. Sometimes they will remove their own diaper as well.
Are there any specific training toilets that work best?
Again, each child is different. However, some universal things to look for include ease of use, ease of cleaning, and of course, whether or not your child shows interest in it.
How do you potty train a child?
There are several methods, although the most common seems to be the pants-free method. For the pants-free method, you simply let your child run around without pants and keep the potty available. Give frequent reminders.