The Best Potty Training Toilets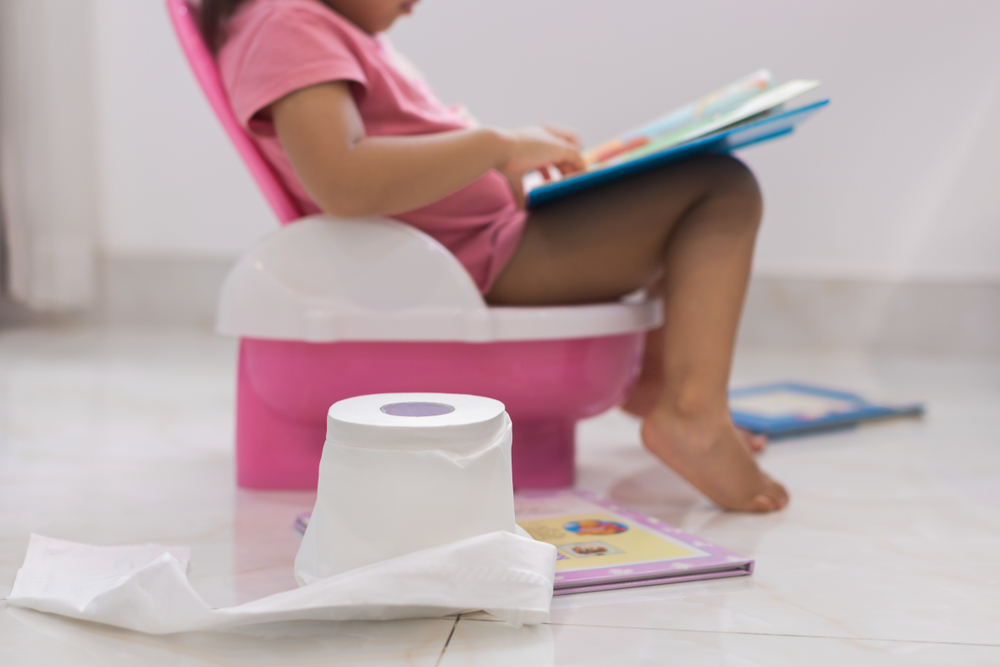 Potty training is an exciting time for both toddlers and parents. For toddlers, using the toilet is the first step toward becoming a "big kid." For parents, potty training signals the long-anticipated end of the diaper era. To make sure the transition is smooth, we recommend getting a quality potty training toilet. These products help make learning the ropes of toilet time easier. However, with so many options on the market, it can be hard to find the right one. That's why we decided to do the research and find the best of the best.
What to Look For
During our search, we looked for potties with three main features: an easy-to-clean design, a comfortable seat for our tots, and a fair price. Our favorite was the My Size Potty from Summer, which features realistic flushing sounds for encouragement and a removable bowl so it can be cleaned out easily. We also loved the Mickey Mouse-themed potty from The First Years since it gives an extra boost of encouragement for the more stubborn learners. There's a lot to consider, so read on for our in-depth reviews of the best potty training toilets.
Summer My Size Potty
This potty training toilet has it all, including an unbeatable price.
The Summer My Size potty is one of the most realistic potty training toilets you can get for your child.  The flush sound is totally realistic, so your child will already be used to the sound instead of being fearful of it as they transition to the full-size toilet. It also hosts a couple of extra features, too, like upper storage space and an interactive handle. Cleaning is often an issue when it comes to potty training toilets, but not with the My Size potty. Wiped clean in a jiffy, this option sports a splash guard and a removable bowl for deep-cleaning.
Pros:
It's easy and mess-free to clean since all you have to do is remove the inner bowl and dump its contents into a real toilet.
It may seem gimmicky to an adult, but the realistic flushing sounds really do encourage toddlers and they'll love feeling like a grown-up.
We appreciate that the splash guard does a good job of keeping "spray" contained.
Cons:
It's pretty lightweight, so a strong toddler could tip it over if they wanted to.
Nuby My Real Potty Training Toilet
Keep your tot motivated by providing them with this fun potty designed to imitate the real deal.
Kids learn best through imitation and repetition. If you place one of these training toilets from Nuby right next to your real toilet bowl, your youngster will figure out how to sit down and do their business in no time. That's because this option features a flush button that imitates the sound of a flushing toilet with surprising realism. It's also designed just like an adult toilet — well, except for the pink option. Indeed, Nuby offers their training toilet in pink as well.
Pros:
It really does have the appearance and shape of an adult toilet, so your toddler will get accustomed to the real thing and your bathroom will still look good.
We were glad to learn that the smooth surfaces are easy to wipe down for quick cleaning and sanitizing.
Cons:
There's no handle for lifting out the basin when you want to change it, so you have to grip it by the sides.
The First Years Disney Potty Training & Transition Seat
Kids love anything with colorful cartoon characters, which is why they'll be thrilled when you get them one of these potty trainers.
This option from The First Years has a fantastic design that your kid will love. For starters, it's available in several different styles, including Mickey Mouse, Minnie Mouse, Paw Patrol, Baby Shark, and more. Each option also comes with stickers so your youngster can customize their throne. Looks aside, this option features a nifty seat that can function on the potty itself or as a transition seat for your actual toilet bowl. Best of all, the price is a bargain, especially considering how much Disney-themed merchandise typically costs.
Pros:
It's ideal for stubborn or anxious kids who need extra motivation to use their potty since the cartoon themes make potty training more fun.
We were thrilled to discover that the seat can fit on an adult-sized toilet to help toddlers practice on the real thing without falling in.
Cons:
Since it doesn't lock down, the back portion can be lifted off by inquisitive kids.
BabyBjörn Smart Potty
This traditional training toilet gets your child started down the road of independence without breaking the bank.
This pick from BabyBjörn is an ergonomically designed potty training toilet that has been designed by experts in Sweden. It is BPA-free to keep your baby safe from excess chemicals. Furthermore, it has s sturdy base that works to keep your child safe as well. The seat is wide and comfortable enough for your child to use often. The design is simplistic and yet it has a sleekness to it you won't notice elsewhere. Remove the inner part of the bowl for easy cleaning. It takes very little space and is very uncomplicated.
Pros:
The wide variety of color options means that you can match your bathroom theme with your kid's potty.
We appreciate the simplified shape because it makes the potty easier to wipe down, clean out, and sanitize.
Cons:
It doesn't have any fun features like fake flushing noises.
Frequently Asked Questions
At what age should I begin to potty train my child?
This will be specific to your child. A good sign that your child is ready to start is when they show an interest in the toilet. Sometimes they will remove their own diaper as well.
Are there any specific training toilets that work best?
Again, each child is different. However, some universal things to look for include ease of use, ease of cleaning, and of course, whether or not your child shows interest in it. It's possible that finding the right toilet may require some trial and error, so be prepared to employ your patience.
How do you potty train a child?
There are several methods, although the most common seems to be the pants-free method. For the pants-free method, you simply let your child run around without pants and keep the potty available. Give frequent reminders of where they should go when it's time.
About the Author
Why Trust Us
Since 2010, Momtastic has provided millions of parents with a complete guide to raising a family in a healthy home by offering our expert advice on everything from car seats for kids to baking supplies for the kitchen. It takes a village to raise a family, and our experts are here to make sure every parent finds a little bit of that village in us.