The Best Rope Baskets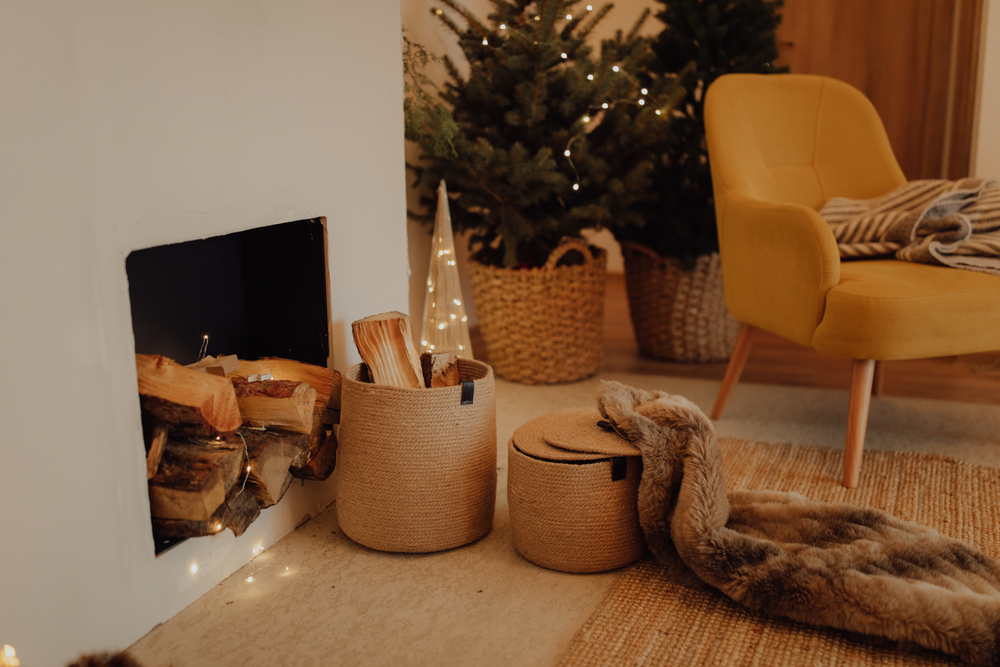 A rope basket makes a great addition to any room. They give you a place to store different items while helping to keep the room from looking cluttered. You can use a rope basket as a laundry hamper or to store toys, books, or towels. The possibilities are endless, so just imagine all the ways you could put a rope basket to work in your house. Not only are they handy, but rope baskets also complement almost any décor. They're sophisticated and sleek and look great sitting on the floor or on top of a shelf or dresser. If you're looking for another rope basket for your home, here are some of our favorites on the market.
Indressme XXXLarge Cotton Rope Basket
You can keep so many things inside of this XXXL rope basket.
If you're looking for a large rope basket for storage, this is a great option. Handmade from 100% organic cotton rope, this basket is durable and high-quality. There are handles on each side to make it easy to move it when you need to. The whole thing folds when you aren't using it, too. When you're ready to fill it up, you simply unfold it and set it down. The rope is soft, but it's sturdy enough to stand on its own when it's unfolded and full. The neutral colors look great in any room.
Pros:
This basket has some of our favorite color combinations out there, so we highly encourage checking them out. We think there's an option for any style — the hard part is choosing just one.
Even though it's a jumbo-sized basket, the handles are sturdy enough to support whatever load you're carrying. That's more than can be said for many competing baskets.
Cons:
The sides flop a bit when the basket is empty.
Goodpick Large Cotton Rope Basket
This rope basket features a neutral color design so it's a great addition to any room.
This rope basket is firm and sturdy. It's made from 100% cotton rope without any chemicals, and the eco-friendly materials are kid-safe. The woven basket is soft to the touch and won't scratch items it rubs against. It's a large size, measuring over 15 inches around and 13 inches high. The handles are comfortable to hold, so it's easy to move from place to place. The neutral brown and white colors make a nice addition to your room. This basket can fit on a closet shelf, be placed on the floor, or sit on a large bookshelf.
Pros:
If you love the look of rope baskets but need more structure from your storage, this pick is your best bet. The sides are more rigid than the average rope basket while still giving you the look you're after.
We love the integrated design of the handles. Rather than looking tacked on, they're incorporated into the basket itself, which gives it a more streamlined aesthetic and a sturdier build.
Cons:
It arrives flattened, so it takes a bit of time to get back to its normal shape.
Everlove Creations XXL Premium Cotton Rope Basket
Aside from its beautiful design and its large storage capacity, the strong handles on this beauty offer supreme portability and convenience.
Soft, stylish, chic, and collapsible, this basket from Everlove offers pretty much everything you'd want from a rope basket — and more. Aside from the extra-thick rope construction and the lovely two-tone neutral colorway, Best of all, the sturdy handles allow you to transport this basket from room to room to suit the needs of your lifestyle. Using the basket to store extra blankets and pillows in the guest room? No problem. Decided you want to use it as a hamper on laundry day? Easy. Carry it out and dump the clothes in. Storing the kids' toys inside it? Great. Move it to their bedroom during playtime and into the common area when it's bedtime. The handles really allow this basket to do it all.
Pros:
We think this basket is the perfect pretty-yet-practical gift for a loved one's housewarming — it's the kind of thing that everyone will use.
The design has a bit more detail than the average rope basket. We especially like the braided trim along the top that adds some extra dimension and texture.
Cons:
This pick may not hold its shape with heavy use as well as other baskets.
Goodpick Tall Woven Laundry Hamper
With a wide variety of colorways to choose from, this lovely basket is ideal for those looking for a laundry hamper.
Who says laundry has to be all dirty jumpers, wrinkled shirts, and stinky socks? If you're looking to introduce some elegance into laundry day, Goodpick's got the perfect selection for you. Made of jute and cotton weaved thread rope, this basket's just the right size for laundry. It's not so big that it takes up a huge amount of space, nor is it so small that it's impractical; rather, it has just enough capacity to hold about a week's worth of clothes. The best part? It does it in style.
Pros:
We never thought we'd be praising a hamper for its elegance, but here we are. We're huge fans of this design, especially because the different colorways accentuate the unique shape.
This hamper may be taller than the average rope basket, but the integrated handles make it easy to tote to the laundry room.
Cons:
Since it's still a rope basket, the piece may not retain a perfectly symmetrical shape.
OrganiHaus XXL Cotton Rope Basket
This colorful rope basket is available in several different color combinations.
If you prefer a colorful rope basket, check this one out. You can select between seven different three-toned color schemes, any of which would make a stylish addition to any room's decor. You can select between two different sizes for this basket — one tall, one short — both of which are quite large. Both sizes have tall handles that make the basket extremely easy to move around. The basket is made from 100% natural cotton, which is a renewable resource. The basket is free from hazardous ingredients, additives, or coatings.
Pros:
We love this pick for carrying bulky loads of laundry since the tall handles make it easy to carry, even when it's filled to the brim.
The colorful designs make this basket a great option for kids' rooms or any space you'd like to add an extra pop of color.
Cons:
The wider basket of the two options is shorter than the "large" size, so make sure to check the dimensions.
Frequently Asked Questions
What can I put in my rope basket?
Rope baskets can hold all sorts of things. Many people enjoy using them as a laundry basket, as they look nice compared to a plastic hamper. Other people use them to store extra blankets or pillows. They make a great addition to a nursery to hold extra diapers and wipes. You can use them to store toys or games. Once you decide where to place your rope basket, you can get a better idea of what you should put inside it.
How do I get rid of the creases from shipping?
The downside of ordering a rope basket online is that there will be creases from where it was folded up to ship. To help get rid of these, you have a couple of options. First, you can try filling it with something soft like blankets or pillows. You want to fill it and gently shape the basket as you stuff it. Then, leave it for a few days to help encourage the creases to disappear. You can also try ironing the creases out. To do this, first, open your basket and shake it out. Then, put it on your ironing board and cover it gently with a towel. Use your iron on low heat and gently iron the creases out.
Can I put my rope basket into the washing machine?
While cleaning instructions vary from basket to basket, typically rope baskets are not machine washable. Instead, you can spot clean them with a wet rag. If that doesn't work, you can often hand wash them in warm water. Then, let your basket air dry. You want to make sure it's completely dry before you use it for storage again. Some baskets can be dry cleaned, so read the care instructions for yours to see if that's a possibility.
About the Author
About the Site
Momtastic
Since 2010, Momtastic has provided millions of parents with a complete guide to raising a family in a healthy home by offering our expert advice on everything from car seats for kids to baking supplies for the kitchen. It takes a village to raise a family, and our experts are here to make sure every parent finds a little bit of that village in us.