The Best Garment Bags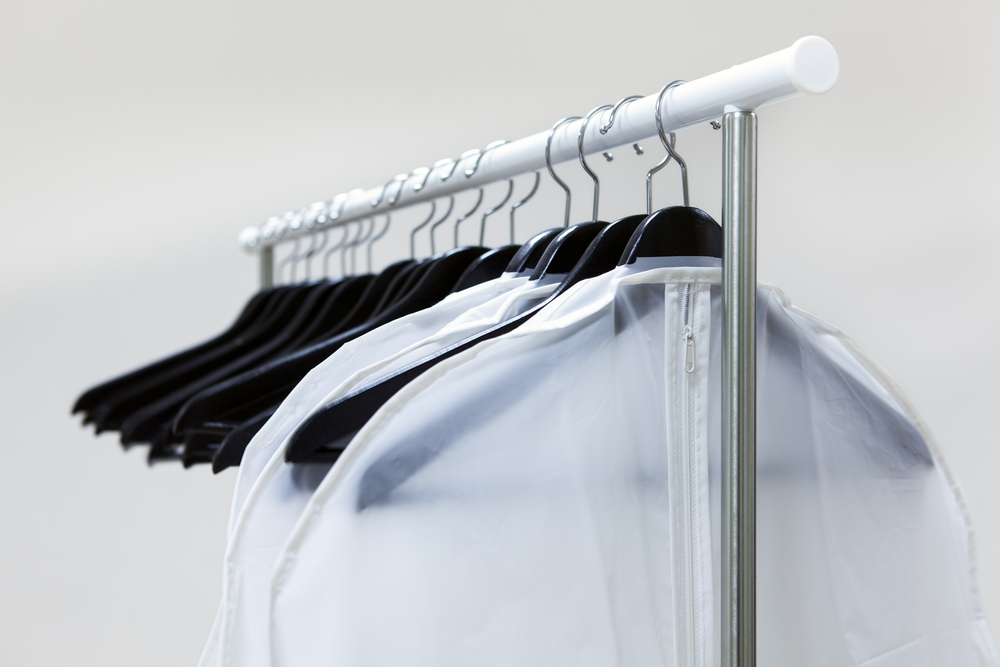 If you've ever sat down for an interview and realized with dismay that your pants looked like they got into a street fight, you're not the only one. Wrinkled clothing may not be a sin, but it can be hard to ignore. Rather than obsessing over such trivialities, there are tools you can use to help keep your clothes fresh, clean, and unwrinkled. That way, you can get back to kicking butt with confidence. Garment bags are the ideal solution for keeping your suits and dresses in tip-top shape. That's why we did the research and found the best of the best. Here, you'll find a list of our favorite garment bags, from the premium pick to the best on a budget.
Perber Hanging Garment Bags
Those in the market for affordable, effective, and translucent garment bags need look no further.
Whether you're looking to protect your garments from dust, odors, insects, or moisture, this bulk-buy option from Perber is a great bet. Sold in ten-packs and offered in a wide variety of sizes, these are ideal for anyone who wants to protect a bunch of clothes without breaking the bank. Thanks to the translucent design, you can easily see what's inside each bag, so there's no need to search through every single bag one by one to find the article of clothing you're looking for.
Pros
Affordable price
Formaldehyde-free construction
Also includes two shoe bags
Cons
Because they're so thin, they're not the best for traveling
HomeClean Garment Bags
Rather than spending all your money on garment bags, get yourself a value pack like this one.
Offered at a magnificent price point, this multi-pack of garment bags is our favorite value purchase. With six bags in total, this bulk buy will probably provide enough storage for multiple suits, dresses, costumes, and formal outfits. That being said, it's not ideal for lengthy travel, so if you intend to hit the road with your clothes in tow, you may want to consider something a little more travel-friendly.
Pros
Many size options available
Super affordable
Clear material, so you can see what's inside each bag
Cons
Simple Houseware Translucent Garment Bags
Considering their shockingly low price, the quality of these garment bags will likely surprise you.
Much like a champion fighter, just because these garment bags are lightweight doesn't mean they're weak. Designed to be supremely affordable yet rugged and durable, this set of five garment bags is ideal for those who want to protect their clothes but don't want to dish out the big bucks to do so. Sure, they might get ripped if they get banged around in a suitcase during a travel excursion, but if you're mostly using them at home, we're betting their quality will surprise you.
Pros
Excellent value for the cost
Great at preventing dust from building up on rarely-used clothes
Cons
Zippers aren't the most durable
Univivi Garment Bags
This five-pack is ideal for traveling professionals or tourists looking to stay sharp on vacation.
Those that travel frequently and need to have fresh-pressed clothes at the ready will need to invest in something a little more robust. That's why these garment bags are worth every penny. Not only will they keep your suit or dress looking fresh through the ordeals of a plane ride, but they can also carry a number of other items and accessories with ease. Fashionable and durable, these garment bags are ideal for globetrotters who need to keep things professional during their travels.
Pros
High-quality polyester oxford fabric
Can be washed
Durable
Cons
All the bags are the same size
B&C Home Goods
We spend a whole lot to own a good-looking suit — doesn't it make sense to spend a tiny bit more on garment bags that will keep them in tip-top shape?
If you own suits and you're looking for garment bags to protect them, you probably don't need us to explain why it's worth the investment. But humour us anyway. Water-resistant, breathable, and easy to transport, these bags keep moisture out and freshness in. Rather than letting humidity and the like wrinkle your suit, you can keep it in perfect shape until the big day with a garment bag from B&C Home Goods. Thanks to the clear window, you won't have to open the bag up to see which suit is which, either.
Pros
Durable reinforced zipper
Metal eyehole through which you can hook a hanger
Breathable despite its thickness
Cons
May have some quality control issues
Sleeping Lamb Garment Bag
If you're looking for a garment bag that can handle a complete suit or long dress, this option will do the job with room to spare.
When it comes to garment bags, too big is always better than too small. This option is spacious and voluminous, with plenty of room for multiple gowns, dresses, suits, or pants. It's extra-long, too, at 60 inches in length. Of course, we wouldn't recommend a garment bag based on dimensions alone. It's a great overall choice, with two large zippered pockets and handles for transportation. The zipper is durable and the material is tough. It even has a window so that you can tell what's in there without breaking the seal. To those looking for a large bag that will preserve and protect your most valued garments, this is it.
Pros
Fair price
Strong materials
Long enough for dresses
Two handles for carrying
Cons
Probably not hardy enough for extended travel
Frequently Asked Questions
Can I bring my garment bag on a plane?
We found that most airplanes will allow you to carry on a garment bag as hand luggage, so it may end up riding with you in the seat. After all, you probably don't want your clothes subjected to the beating that goes on in the overhead luggage compartment anyway. That being said, if you do invest in a durable, travel-friendly garment bag, you can probably get away with counting it as your carry-on luggage. Airlines are picky with such things, though, so we recommend that you research your airline's policies to find out for sure.
Will my garment bag keep my clothes wrinkle-free?
While they are also great for keeping off dust, shading clothing from light exposure, and keeping bulky clothes nice and compact, garment bags are most often used for keeping clothes fresh and wrinkle-free. In fact, they can even keep wrinkles out of freshly-pressed fine linens. What they don't do is iron your clothes. If you put in a wrinkled item of clothing, it's not going to come out pressed and fresh.
For an extra degree of protection, you can stuff the garment with tissue paper to avoid any wrinkling that could occur during your travels.