The Best Electric Kettles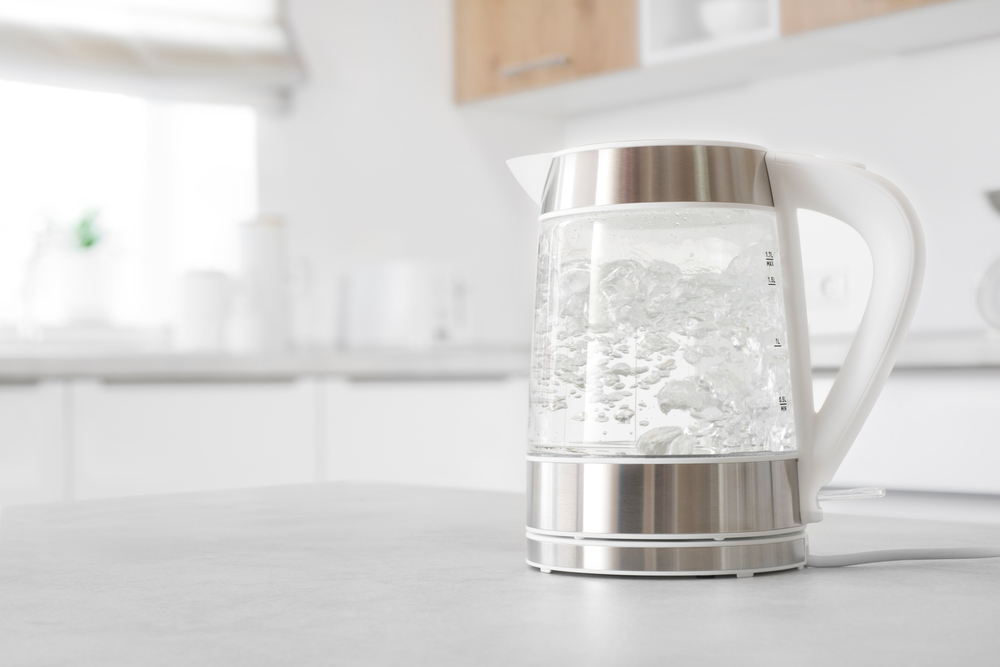 Who has time to sit around waiting for a kettle to start whistling on the stove these days? Compared to their stovetop brethren, electric kettles are faster, safer, and more convenient. The catch is that there are so many different models on the market that it may be hard to find just the right one. To help you in your quest to find that perfect electric kettle, we've done the research and whittled down the list to the best of the best.
Mueller Austria Premium Electric Kettle
This one offers the quality of a high-end kettle at an affordable price.
This electric kettle from Mueller is an affordable unit with high-end design features. The British Strix Thermostat shuts the kettle off automatically once the water comes to a full boil. There are safety features to prevent it from dry-boiling, and the handle is heat-resistant and anti-slip. The borosilicate glass is scratch- and scuff-resistant, and any plastic used is 100% safe and BPA-free. Also, this kettle offers the fastest boil of almost any other on the market, which is surprising when you consider the price point.
Pros:
The price is affordable
There are several features that keep your family safe
It boils water quickly and efficiently
Durable, high-quality materials
Cons:
The lid can be tough to open
Ovente Electric Kettle
Though it is inexpensive, this energy-efficient kettle is anything but cheap.
If you have a need for speed, Ovente heeds the call. With this 1100W kettle, you can boil nearly two liters of water in just a few minutes. With a BPA-free construction, auto-off and boil-dry safety features, and a sleek exterior, it's easy to see why this kettle is so affordable. Top that off with a price tag that'll make you do a double-take and it's a winning combination.
Pros:
Available in many colorways, including neutral and vibrant hues
Removable filter is easy to clean
Very easy to use
Cons:
Not the most durable unit on the market
Hamilton Beach Electric Kettle
Get with the times and ditch the cord — your kettle certainly doesn't need it anymore.
While there's no denying the convenient nature of an electric kettle, you have to admit that the electric wire typically connected to such a kettle seems a bit contradictory. After all, as far as convenience goes, nobody wants to be tethered to a power cable or worry about electrocution. With this beauty from Hamilton Beach, you can kiss the cords of the electric kettles of yore goodbye. Able to boil water faster than a microwave, this cordless unit is perfect for offices, dorm rooms, and kitchens of all stripes. It features some standard features, such as a drip-free spout and auto shut-off feature, as well as more standout features, like a push-button lid and a water level window. These little details make it one of our absolute favorites.
Pros:
Large capacity
Excellent cost value
Unique red color
Cons:
Lacks some of the features of higher-end competitors
Willow & Everett Gooseneck Electric Kettle
Aside from looking as sophisticated as a kettle possibly could look, this one's gooseneck also offers practical advantages.
As far as kettles go, nothing is more iconic than a gooseneck model. While its sleek and curvy design is certainly eye-catching, the gooseneck is not just good-looking, but functional, too. The long neck allows you to pour your water precisely where you want it. Perfect for fans of pour-overs and French presses, the gooseneck design is so popular for good reason, and this particular kettle from Willow & Everett is one of the best out there.
Pros:
High-quality stainless steel design
"Keep warm" function memorizes your previously selected settings
Very easy to fill without making a mess
Cons:
Cosori Electric Kettle
This kettle is specially engineered to provide you with a bevy of convenient features.
This kettle from Cosori is easy to use and super versatile. The carafe is made of high-quality glass that is resistant to scratching, scuffing, and more. Meanwhile, the very few plastic pieces that are used to make this kettle are BPA-free and will not contaminate your water. In addition to the high-quality materials utilized, this kettle features Strix Temperature Technology, dry-run protection, and quick-boil technology, just to name a few.
Pros:
Sleek, aesthetically pleasing design
There are many safety features built right in
The safety features keep you and your family safe
Cons:
The outside is not heat-safe
It costs more than average
Frequently Asked Questions
What safety features are a must?
It is important that your kettle shuts off automatically when the water is boiling or when the water reservoir is almost empty. You don't want to dry-boil or you may shatter the carafe and a fire may break out.
How many cups does a liter translate to?
One liter is equivalent to 4.2 cups.