The Best Bathroom Rugs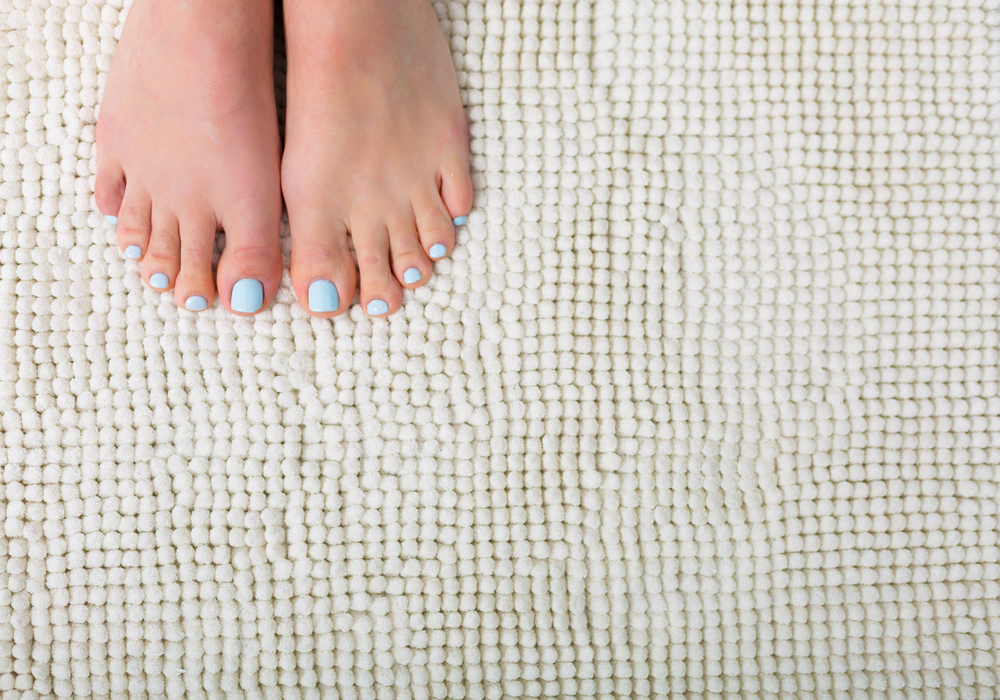 Bathroom floors can be cold, to put it mildly. To help mitigate that icy chill, many people choose to use bathroom rugs. In addition to giving your feet something warm and comfortable to perch your feet atop while using the toilet or after bathing, bathroom rugs can also complement your bathroom decor. These rugs come in many different sizes, colors, and shapes, so you're sure to find one that looks great in your bathroom. If you're ready to purchase a new bathroom rug, here are a few of the best ones on the market.
Genteele Memory Foam
Once you've stood on a memory foam bathroom rug, you may never go back to mere fabric.
This bathroom rug is made from soft memory foam covered by cozy microfiber. It feels like you're standing on velvet, which is amazing if you have sore feet. It's a thick rug that absorbs any water drips well. You can throw this rug in the washer and then either dry it on low or let it air dry while flat. It holds up well to multiple washings, and won't fade. The PVC dots on the back help keep it from skidding around on your floor.
Pros
So soft to stand on
Non-skid
Doesn't fade easily
Cons
It feels different from typical bath rugs and may take some getting used to
Gorilla Grip Original Luxury Chenille Bathroom Rug
You can't put most bathroom rugs in the dryer, but this one is dryer-safe.
The backing on most bathroom rugs disintegrates in the dryer. But, this rug features a durable TP rubber backing that will hold up in the washer and dryer. The ultra-plush shag material gives your feet a soft place to stand. It's made from a chenille fabric that will absorb a lot of water and keep your floors dry. These rectangle shaped rugs come in several different sizes.  And with over 30 designs available, you're sure to find the perfect one for your bathroom.
Pros
Several sizes available
Machine dryable
Soaks up a lot of water
Cons
Slides a little on the floor, especially if you put it on a damp floor
H.VERSAILTEX Non-Slip Thick Shaggy Chenille Bathroom Rugs
Need two rugs in your bathroom? Give this non-slip set a try.
Is your bathroom large enough for two rugs? This set has amazing non-slip backing made from SBE/Hot-melt spray that keeps your rug firmly in place. You don't have to worry about it moving underfoot. The ultra-thick chenille fabric is thick and bushy, which makes the rug really soft. This material really sucks up water, which keeps your bathroom floor from getting wet. These rugs are easy to clean. You can wash them in cold water in a load by themselves. Then, tumble dry on low or let air dry. You can select from nine different colors of rugs to match or complement your bathroom.
Pros
Non-slip material
Absorbent
Good color selection
Cons
Thickness of the rug may prevent your bathroom door from closing properly.
Yimobra Original Luxury Shaggy Bath Mat
With a huge variety of sizes and colors available, this ultra-absorbent rug has something for everyone.
If you've got a ton of kids or relatives in the house, you'll likely know this dreaded phenomenon: the after-shower wet step. For some reason, some of our precious and adored family members seem to think it's a good idea to step out onto the tiled bathroom floor sopping wet without first toweling themselves off after getting out of the shower. If that's the case, you'll definitely want a bathroom rug like this one. Why? Simple: it gives your housemates a place to stand while they towel off after a shower. It dries super quickly, too, so if you have a bunch of people bathing on a daily basis, no problem – it'll dry in between uses. We say hop on this magic carpet while you can.
Pros
Incredibly soft and cushy
Huge variety of sizes and colors available to meet the needs of your bathroom and your personal tastes
Cons
Doesn't like being vacuumed very much
LuxUrux Luxury Chenille 2-Piece Bathroom Rugs
Quick to dry, available in a huge variety of colors, and affordable to boot, this is a steal of a deal.
Available in more colors than you'd find in a rainbow, this set from LuxUrux is an easy pick for those looking for a two-piece configuration. Whether you're tired of having to step on those cold bathroom tiles late at night, or you simply want something to stand on after a shower or while using the toilet, this set's got you covered. Quick to dry, easy to wash, and backed by a money-back satisfaction guarantee, we don't see much of a reason not to buy this one.
Pros
Plenty of color options available
Considering the quality, it's a good cost value
Cons
The backing grip could be a bit better
Frequently Asked Questions
Should I put a rug in my bathroom?
To rug or not to rug? It's an important question. Rugs can add softness to your otherwise cold bathroom floor. They give you something soft and warm to stand on instead of cold tiles. There are many colors and patterns available, so they can complement your bathroom design. Bathroom rugs have some great pros. But, there are things that happen in a bathroom that can make your rug gross. This is especially true if you have little boys who don't yet aim well. Washing pee covered rugs isn't a lot of fun. And even if you aren't dealing with potty accidents, your rug will need to be cleaned fairly regularly. Only you can decide if a bathroom rug is right for your space.
What color bathroom rug should I pick?
Bathroom rugs come in so many different colors and patterns. When you're trying to decide which one, take an honest look at your current bathroom design. What colors dominate this space? What sort of feel does it have? You want your bathroom rugs to fit into this space. As you find a color you think might be it, close your eyes and imagine it in your bathroom. Does it look good in your mind? If yes, you might have picked the best color.
How should you wash bathroom rugs?
You want your bathroom rug to last a long time, which means you need to care for it properly. While the washing directions on your particular rug may vary, here are some basic directions. First, wash your bathroom rugs together, in a load without anything else. Keeping them separate will prevent damage from other clothing items, especially those with zippers or buttons. Always wash your rugs with gentle detergent and cold water. This combination works well. Remove your rug from the washer, and let it air dry. You can either hang it up, or let it sit flat. Once it is completely dry, put it back in your bathroom. But always make sure you put it on a dry floor. Otherwise, your rug can move and become a tripping hazard.