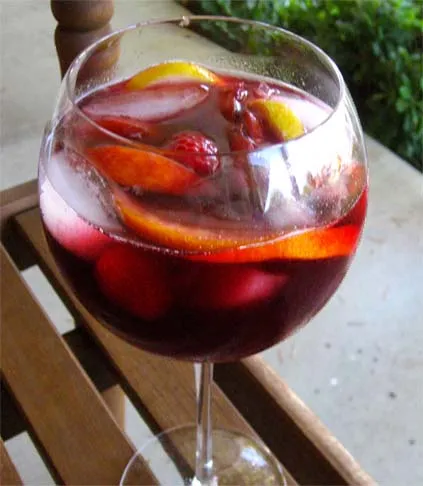 What better drink to celebrate summertime than sangria? This Indian Summer Rasberry Peach Sangria is the perfect entertaining cocktail for BBQs, patio parties, or to sip in the afternoon (or with dinner!) . And, best of all, this recipe is perfect throughout the sunny season, even when it begins to leech into the fall. 
If you've never whipped up some homemade sangria, you're really missing out! Not only is it delicious, it's super easy to make. Sangria is just wine, fruit and juices—that's it! The ideal way to prepare sangria is to allow the fruits to sit in the liquid overnight to soak up the alcohol and flavor. However, you can also make it a few hours before you are going to serve it if time is an issue.
The traditional red wine used in Spain for sangria is Rioja, but you can make sangria with white wine as well.  I use a Tempranillo wine, which is a Spanish red wine similar to Cabernet Sauvignon. The overall taste you're going for in sangria is slightly sweet and you can easily adjust recipes to fit your taste.
Whenever making sangria, try to use fresh, seasonal fruits. Raspberries and peaches are juicy and delicious this time of year which is why my Indian Summer Raspberry Peach Sangria is currently my go to sangria!