Halloween desserts are my favorite treats to make. There are so many fun options, based on witches, spiders, pumpkins, ghosts, and more. So I've been on the lookout for new spooky (and sweet) ideas to celebrate the season — and I've uncovered an amazing round-up of Halloween treats for kids!
Whether you're throwing a party or simply making a festive after-school treat, these frighteningly simple Halloween desserts are sure to please the crowd. And here's the thing: Many of these sweet ideas are so easy to make that you can whip them up using store-bought goodies, if you're short on time.
Like what you see? Don't forget to Pin it!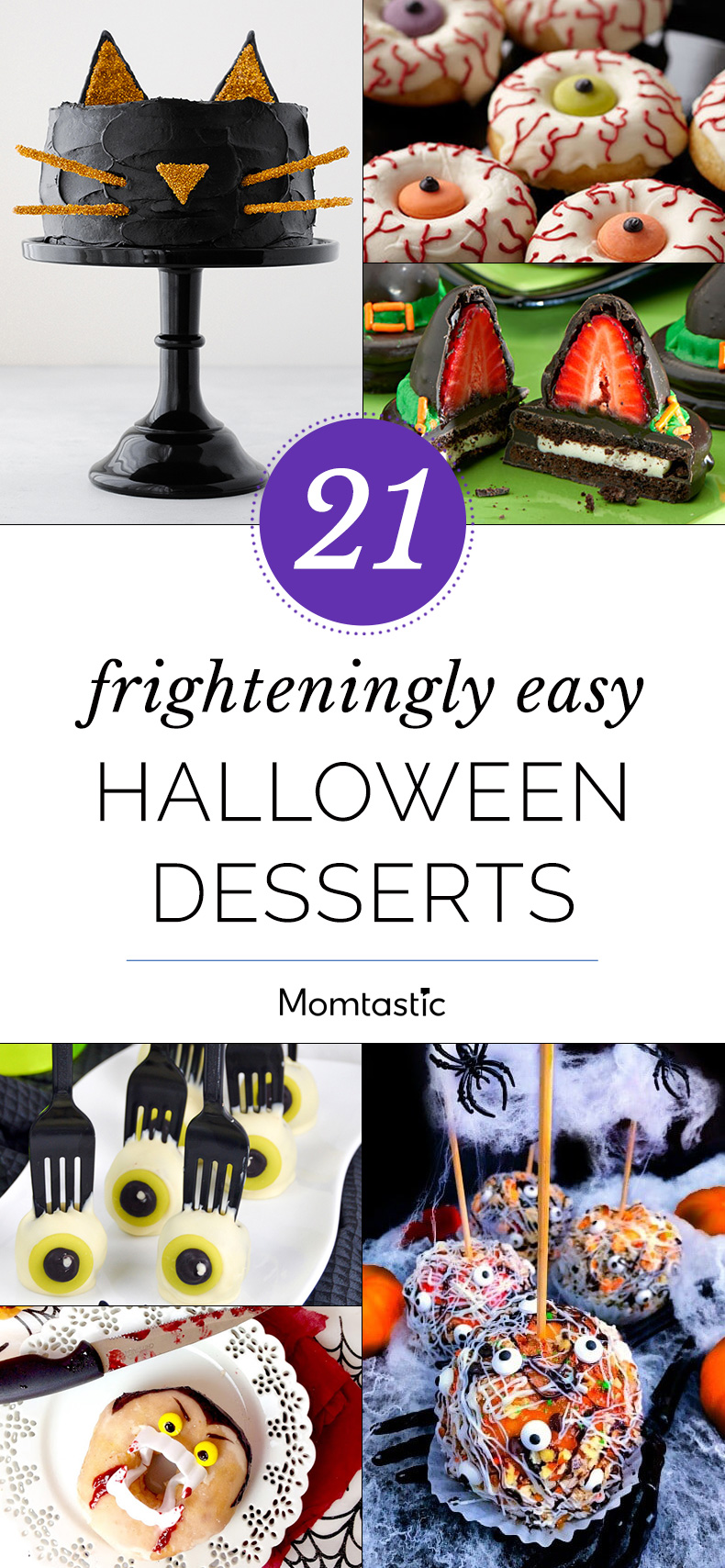 21 Halloween Desserts for a Spooky Holiday
Frankenstein Marshmallow Pops

These monstrous marshmallows combine sweet and salty goodness and look so cute!

Photo and recipe: Just a Taste

Chocolate Halloween Cupcakes With Cream Cheese Frosting

Making your cupcakes look like pumpkins is as easy as a swirl of orange frosting with mini pretzel sticks for the stems and green icing for the leaves.

Photo and recipe: Just a Taste

Creepy Eyeball Cake Pops

These creepy eyeball cake pops are even creepier when served on a fork! Filled with your favorite flavor of cake, they taste delish. 

Photo and recipe: Club Crafted

Black Cat Cake

For a less spooky approach to Halloween, this black cat cake is the way to go. You can also decorate a store-bought cake for a super simple shortcut.

Photo and recipe: The Cake Blog

Bloody White Chocolate Apples

They're like candy apples but A LOT creepier. Drip chocolate covered apples in candy blood for a terrifying treat.

Photo and recipe: Wonky Wonderful

Monster Jolly Rancher Lollipops

Melt jolly ranchers into cute, colorful monsters and add sticks and eyes to make Halloween-themed lollipops!

Photo and recipe: The Decorated Cookie

Eye Scare You Halloween Doughnuts

Do EYE scare you? Give doughnuts a creepy makeover with frosting so they look just like eyeballs. 

Photo and recipe: Wilton

Vampire Doughnuts

These scary vampire doughnuts will make kids shriek with delight! 

Photo and recipe: Lindsay Ann Bakes

Halloween Rice Krispie Treats

Turn classic Rice Krispie treats into Halloween-themed shapes, like mummies and candy corn, in a few easy steps.

Photo and recipe: RecipeChatter

Frankenstein Cupcakes

Who would be afraid of monster cupcakes that are THIS cute?! Use Reese cups to achieve the perfect look.

Photo and recipe: Your Cup of Cake

Halloween Brownie Pizza

This Halloween-inspired brownie pizza looks wicked good covered with chocolate, candy eyes, and candy corn. 

Photo and recipe: The Baking Chocolatess

Halloween Chocolate Bark

Even good 'ol candy bark can get a Halloween makeover with white swirls that look like ghosts!

Photo and recipe: Blommi

Spiderweb Chocolate Tart

Make a spooky holiday a lot sweeter with this spiderweb chocolate tart. Bonus: It's no-bake.

Photo and recipe: Life, Love & Sugar

No-Bake Sugar Wafer Frankenstein Cookies

Making edible Frankensteins is so simple with wafer cookies and some chocolate.

Photo and recipe: Shaken Together Life

Halloween Spider Cookies

These creepy crawly cookies have a caramel filled spider topping that's both freaky and festive. 

Photo and recipe: Mama Loves Food

Jack-o'-Lantern Candy Pops

Go for all-chocolate candy pops decorated like pumpkins, complete with jack-o'-lantern faces. 

Photo and recipe: The Decorated Cookie 

Wickedly Wonderful Witch Hat Cookies

Turn plain Oreos into tall witch hats with chocolate covered strawberries and some cute decorations.

Photo: Evite

Pumpkin Patch Brownies

These chocolatey treats begin with a batch of brownies or a box of store-bought snack cakes.  

Photo and recipe: Mom Endeavors 

Halloween Pretzels, 3 Ways

Give pretzels a cute Halloween makeover by dipping them in chocolate and adding simple decorations.

Photo and recipe: Butter with a Side of Bread

Graveyard Candy Apples

These candy apples are covered with a little bit of everything, but it's the candy eyes that add a spooky twist.

Photo and recipe: Easy Cooking with Molly

Spooky Boo Brownies

Boo! Top your brownies with ghosts using marshmallows and chocolate. 

Photo and recipe: Betty Crocker