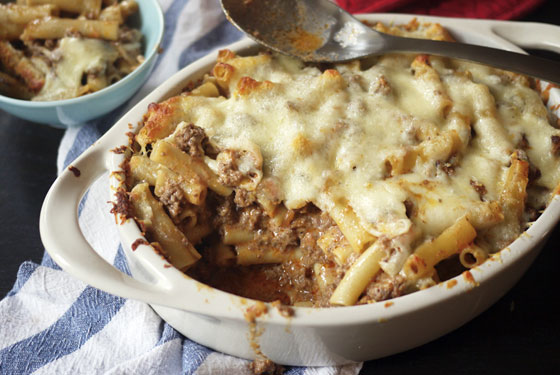 As coronavirus continues to spread and anxieties continue to grow, this baked ziti is exactly what we want to eat right now. It's cheesy and hearty and super-simple to make. Plus, you can customize it according to what you have or don't have in your pantry. Not only does it stretch easily to feed a crowd and bless you with amazing leftovers, but it's also a dinner that is downright comforting.
If you know that you will be short on time, prep your baked ziti ingredients ahead. Pre-cook the pasta (check out the great how-to!) and make your sauce up to two days in advance. Then all you have to do on baked ziti night is assemble and pop it in the oven. Otherwise, you can put this together all in one shot: make the sauce while the pasta cooks, assemble, and bake. If you're going to make the whole thing in one shot, but don't have time to cook a sauce from scratch, brown meat with onions and garlic and add a high-quality, all-natural jarred sauce—it will cut cooking time in half. Or skip the meat altogether if you don't have it on hand,
However you make this baked ziti, it is sure to be a crowd-pleaser: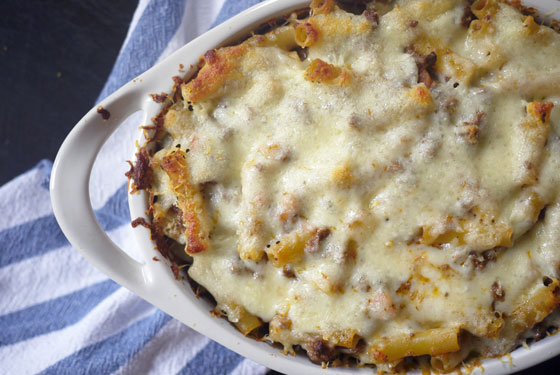 Nobody can resist baked ziti… any way you make it, any time of year, any kind of weather.
Classic Baked Ziti
Serves 6
Ingredients:
1 tablespoon salt, plus more to taste
1 lb of ziti or a similar pasta you have on hand
Your favorite meat sauce (I love this Sausage Bolognese or lighter Turkey Meat Sauce; see note above for shortcut ideas)
1 cup ricotta cheese (fresh ricotta will give you the best flavor)
1 egg
1 cup grated Parmesan cheese
1 cup shredded mozzarella (fresh mozzarella will give you the best flavor)
Directions
Step 1. Preheat oven to 400 degrees and butter a 2-quart baking dish. In the meantime, bring 1 gallon of water seasoned with 1 tablespoon of salt to a boil. Add pasta, stir and cook until pasta is very al dente (this should take about 4-5 minutes fewer than the time directed on the package). Drain, saving ½ a cup of the cooking water, and set aside. If you are cooking your pasta ahead of time, get further directions here.
Step 2. Combine pasta with meat sauce and ¼-½ cup of reserved cooking water, depending on how thick your sauce is. (The pasta cooking water contains starch that helps the sauce cling to the pasta. You don't need a lot, so use it sparingly; you don't want to water down your sauce or make it too thin.) Set aside.
Step 3. Combine ricotta, egg, ¾ of the Parmesan and ½ of the mozzarella.
Step 4. Pour pasta in your prepped baking dish and dot with ricotta mixture. Sprinkle with remaining Parmesan and then with remaining mozzarella. Place baking dish on a rimmed baking sheet and bake for about 20 minutes, until sauce is bubbling and the cheese is golden brown.
More Easy Dinners to Cook With Pantry Staples: