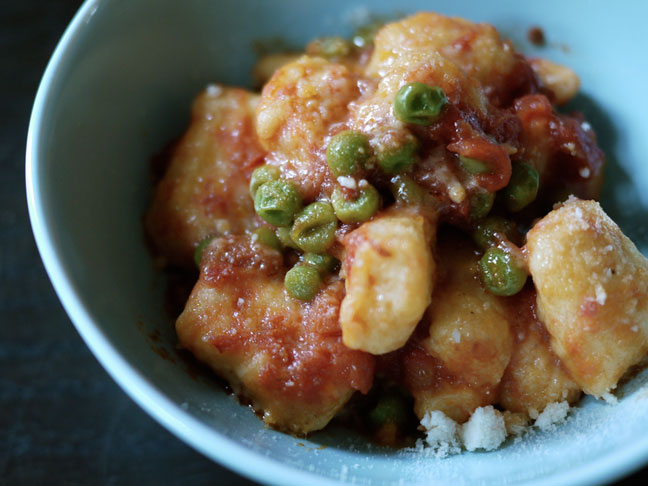 So many kitchen projects for cooking with kids involve baking sweets. And with good reason. Flour and sugar, measuring and mixing, kneading and scooping are much more more kid-friendly than onions, chopping, sautéing and boiling.
Though baking with kids is fun, they already love sweets and it's a shame to have to indulge in cupcakes every time we want to bring the kiddos into the kitchen. This recipe activity for homemade potato gnocchi is a great way to get kids involved in savory cooking.
While this is not the way to make gnocchi like an Italian grandma, it turns out a fun and wholesome dinner that the whole family can share. And, because kids are more likely to eat something they've helped make, load the sauce with delicious, fresh veggies. It's a win-win, and fun to boot.
Ingredients:
1 lb potatoes (about 2 large), cooked through, peeled & cut into 1-2" chunks
3 egg yolks
1/4 tsp nutmeg
1/2 tsp salt
1/4 tsp pepper
1/4 tsp baking powder
up to 1 c flour, plus more for dusting
Preparation:
Start by getting your tools ready. A big work surface–I like using my largest cutting board—and a fork or ricer. Technically, a ricer is the better tool but, if you don't have one, a fork will work just fine. (And, honestly, using a fork is more fun for the kids!)
Prep and measure your ingredients. Combine nutmeg, salt and pepper in one bowl. Mix together baking powder and flour. It's best to do this before bringing kiddo into the kitchen so that she isn't waiting around between steps.
Start mashing the potatoes. It's best to do this while the potatoes are still hot which, obviously, isn't practical when working with small children. Warm will have to do. And, really, mash is a strong word. You are trying to get fluffy potatoes with an even consistency, which won't happen if you vigorously mash. That said, your little one is very likely to vigorously mash and that's okay, too!
If you're using a ricer, put the potato in and have your kiddo help press.
Once all of the potato is broken down, form a mound and create a well in the center. Place eggs, salt, pepper and nutmeg in the well.
Mix eggs and spices in!
Add half of the flour. You don't want to knead at this point, but rather fold the dough in on itself, over and over. When most of the flour is incorporated, add remaining flour. Keep scraping and folding. Finish with a very quick, very light knead to make sure that the flour is fully incorporated.
You're trying to get a moist and slightly sticky dough that's firm, but gives a little. Bring it together in a mound, and voila!
Set dough aside and move or clean your work surface (and hands!). Place dough on a new or cleaned work surface that's been lightly floured. Pat down and break into four sections. 
Break each section in half–one for you, one for your kiddo–and roll into logs about 1/2" thick.
Cut off pieces every 3/4 of an inch (or so). Big kids can use a butter knife. I give my almost 4-year-old a "baby" knife that came as a set with a baby fork and spoon.
Once all of your gnocchi are cut, roll each piece under the tines of a fork. You want the gnocchi to give a little under your fork so that it takes on a slight "U" shape that helps catch sauce.
Lightly flour each gnocchi as it's completed. When you're done, you'll have a big bowl that looks like this. Not the prettiest or most perfect gnocchi, but gnocchi made with love and in good fun!
You're ready to cook your gnocchi! If you have the time, it's good to let the gnocchi sit for a little while (under a fan would be great) to dry out. This also gives you and kiddo time to clean up together. Otherwise, get cooking right away. Bring a pot of salted water to a boil. Cook the gnocchi in batches, dropping in as many as will cover the bottom of your pot with ample space between them. And, yes, you read correctly: the bottom of your pot. Uncooked gnocchi sink, slowly making their way to a float as they cook. Looks something like this:
Take each gnocchi out of the pot, one at a time, once they've been floating for about 10 seconds.
Toss with your favorite warmed sauce or pesto or browned butter. Season with salt and pepper and grated cheese, and dinner is on.