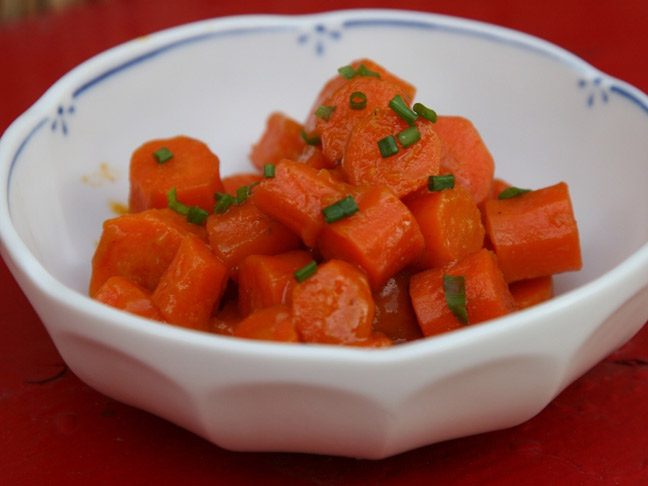 While I love to snack on raw veggies, I've always preferred my carrots cooked.
These cooked carrots really make my case!  They are so tender and sweet, that they almost taste like dessert.  They are wonderful over rice or served with a nice savory meat or poultry.  They can act almost like a sauce.  Though the cooking time is about 30 minutes, you can just get everything in the pan and let it go, then get the rest of your meal together. Simple!  And yes, they do have quite a bit of butter and sugar, but remember, the main ingredient is healthy carrots.  Kids and parents alike will be very pleased!
Ingredient
8 large carrots (approximately 2 1/4 pounds)
3 cups vegetable broth
1/3 cup unsalted butter, cut into 1/2-inch cubes
1/4 cup granulated sugar
Salt
chopped chives (optional)
Preparation
Serves 6 to 8
Peel and cut the carrots into 1/2-inch round slices.  Put them in a large sautŽ pan and pour the broth over them.  Distribute the butter evenly on top and sprinkle with sugar and about 1/2 teaspoon of salt.  Place the pan over high heat and bring to a boil.  Reduce the heat to low and simmer until the carrots are tender and the liquid has reduced almost completely, approximately 30 to 45 minutes. The carrots should be carefully turned a couple of times with a rubber spatula during cooking.  Season to taste with salt and/or sugar.  If desired, garnish with finely chopped fresh chives.