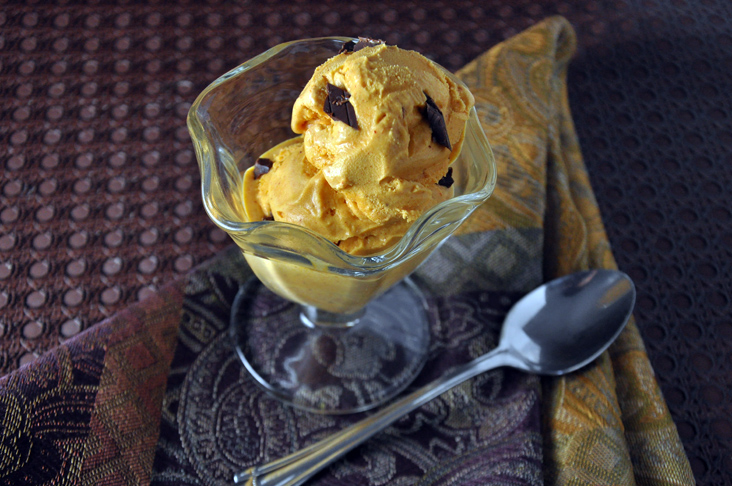 Pumpkin
ice cream is my new obsession! It may seem strange to crave
ice cream
in the
fall
, but I assure you, the warmth of the
pumpkin pie
spice adds just the right touch to this cold and creamy
dessert
, making it the perfect
recipe
any time of year. And the
chocolate
chunks? They just make everything better!
serves: 4
prep time: 15 minutes
cook time: 8 – 10 minutes
total time: (including freezing in machine): 45 minutes – 1 hour
Ingredients:

¾ cup fresh or canned pumpkin puree (not pumpkin pie mix)
1 teaspoon vanilla extract
2 cups heavy cream
¾ cups brown sugar
5 egg yolks
1 ½ teaspoons pumpkin pie spice
¼ teaspoon salt
½ cup dark chocolate chips or chunks
Preparation:

Step 1: Place pumpkin puree into the refrigerator to chill while you make the rest of the ice cream base.
Step 2: In a medium saucepan set over medium heat, combine 1 ½ cups of heavy cream and half of the brown sugar. Whisk mixture and cook until milk just beings to bubble. Remove from heat.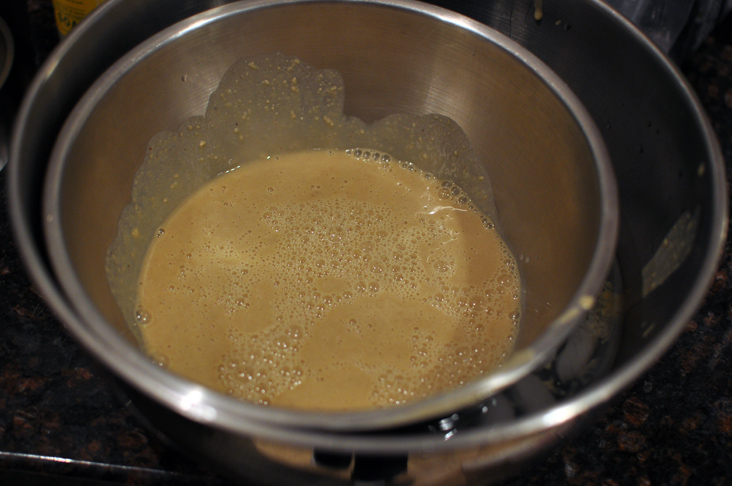 Step 3: In a large bowl combine egg yolks, pumpkin pie spice, salt, remaining cream and remaining brown sugar. Whisk until smooth.
Step 4: Gradually whisk 1/2 cup of the hot cream mixture into the egg mixture and continue to whisk until smooth. Pour the egg mixture back into the saucepan and cook over medium-low heat until it is thick enough to coat the back of a wooden spoon. Do not bring to a boil.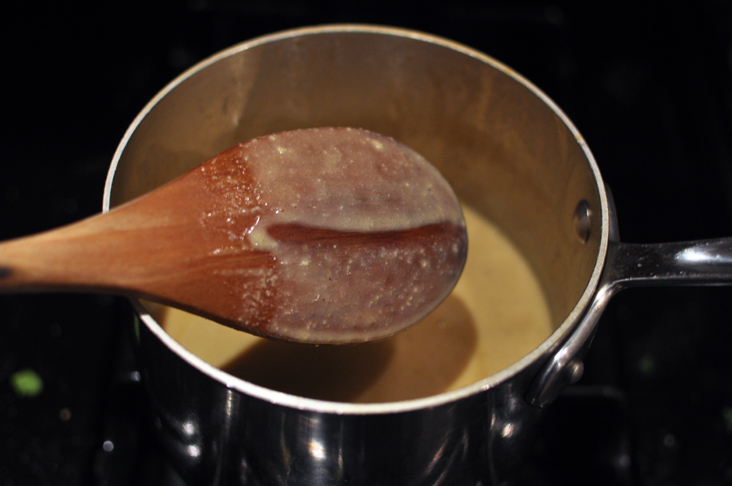 Step 5: While the mixture is cooking, make a ice bath. To do this, fill a large metal bowl with ice water and set a smaller bowl inside of it. When cooking mixture has thickened, slowly pour it into the smaller bowl and stir mixture with a wooden spoon until it is cold. Whisk cold pumpkin puree and the vanilla extract into the custard.
Step 6: Strain mixture into your ice cream maker and churn according to your manufacturers directions, typically about 20 minutes. Right before the ice cream is done churning, add in the chocolate chips. If you prefer a more firm ice cream or plan on serving the ice cream later, pour ice cream into a freezer safe airtight container and freeze in your freezer until ready to serve. This can be made up to 5 days in advance if frozen in an airtight container.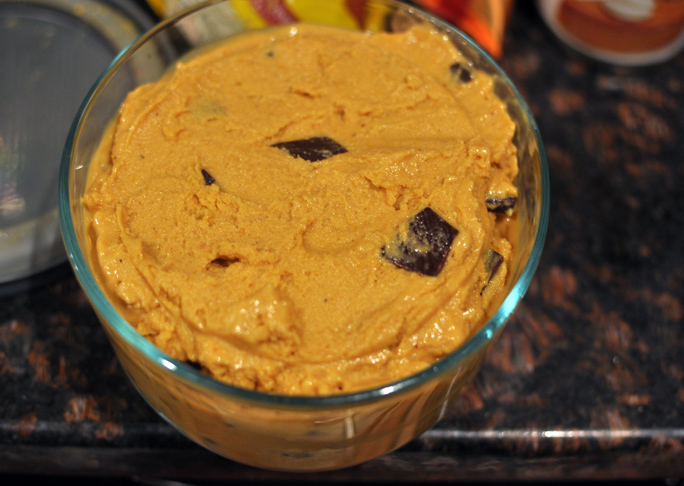 Want more Pumpkin Recipes?