It's inevitable, from October through December you're tempted with sweets at every turn. Instead of feeling guilty when you do indulge in a trick or treat (or two, er, well let's be honest, four), which we all do, load your weekly meal plans with up with these fall salads that are full of seasonal flavors.
These salads offer autumn-fresh ingredients that your kids may not be familiar with (yet!) but they are an easy way to introduce them to these flavors. We understand that salads can sometimes be intimidating when you have kids, but be brave and try a couple out. The whole family be surprised and one or more of these autumn salads may become a recipe that is on your weekly dinner rotation.
Like what you see? Pin it!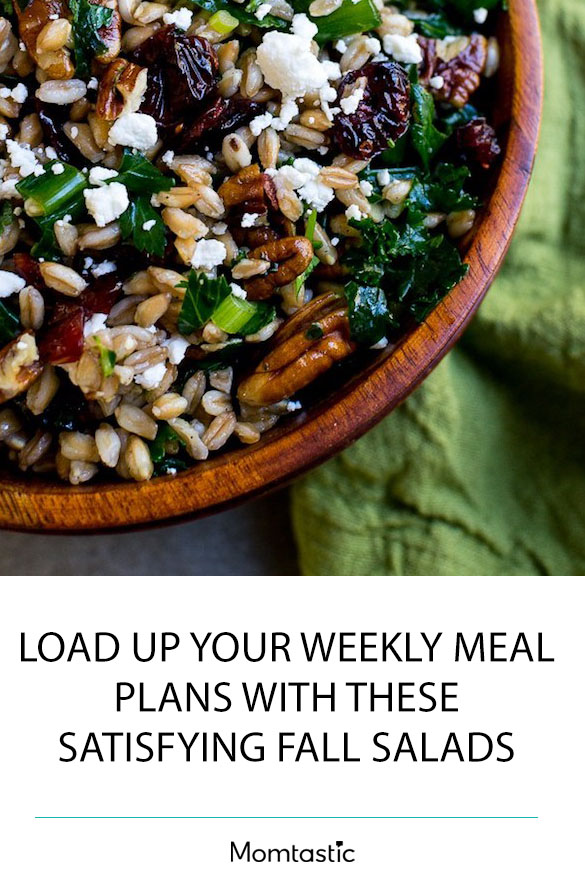 fall salads
Chopped Autumn Chicken Salad

Seriously, who doesn't love a chopped salad? Well, here is one, but with an autumn twist that is loaded with cranberries, pecans, feta cheese and chopped pears. Be prepared it will be constant rotation this fall.

Source: Natasha's Kitchen

Autumn Spinach Pasta Salad

This satisfying and fresh pasta salad is full of seasonal ingredients like, oranges, apples and cranberries. Drizzle on a poppy seed vinaigrette dressing and you'll be good to go.

Source: Chelsea's Messy Apron

Fall Superfood Detox Salad

This colorful salad, full of beets, carrots, avocado, walnuts, is loaded with vitamins and nutrients. It's a delicious meal for when you're feeling you need a bit of a detox.

Source: Viktoria's Table

Kale and Cranberry Farro Salad

This hearty and healthy salad is loaded with fall flavors like kale, cranberries and toasted pecans. The crumbled goat cheese is a rich addition that your family will love.

Source: Stuck on Sweet

Cranberry, Persimmon and Burrata Salad

Here is a salad that captures all of the colors (and flavors) of autumn. All you need is persimmons, kale, pepitas, walnuts and fresh burrata cheese. Top it with a cranberry balsamic dressing and you have the perfect seasonal side.

Source: Half Baked Harvest

Roasted Brussels Sprout Salad

If you love brussels sprouts, you're going to love this salad, which also features bacon, edamame and a Greek yogurt and basil dressing. (You're going to want to double this recipe, because everyone is going to ask for seconds.)

Source: Sweet Caramel Sunday

Kale, Butternut and Chickpea Salad

Who says salads have to be raw? Simply toss some roasted butternut squash and chickpeas with kale, and candied pecans with a homemade tahini dressing and what you get is a seasonal side salad that is simply perfect.

Source: Foodie Crush

Bourbon Roasted Pear Salad with Gorgonzola and Candied Walnuts

Here is a sweet salad you won't be able to pass up. Top your favorite greens with bourbon-glazed pears, gorgonzola cheese and pomegranate arils. Then drizzle on a dressing with apple cider vinegar and oil with fresh herbs.

Source: The Suburban Soapbox

Roasted Carrot Lentil Salad Tahini Dressing

This filling salad is full of fall flavors. Mix roasted veggies with cooked lentils and tasty lemon tahini dressing. It's easy and nutritious!

Source: A Beautiful Plate

Apple Cranberry Almond Coleslaw

Here's a hearty and healthy side to share with your family every day or special occasions like Thanksgiving. Made with carrots, shredded cabbage, apples, almonds and dried cranberries, this yogurt-based dressing salad will soon become a family favorite.

Source: Cooking Classy

Fall Spinach Salad

Here's an autumn twist on everyone's favorite spinach salad. Toss together candied walnuts, granny smith apples, dried cranberries, bacon crumbles and gorgonzola cheese with loads and loads of spinach. Then top it with a to-die-for maple syrup and apple cider dressing.

Source: Tee Pee Girl

Kale and Brussels Sprout Fruit and Nut Salad

Here is a sweet and savory salad that doesn't require a dressing, but will pump your family up with vitamins. All you have to do is top kale and brussels sprouts with chopped apple, dried cherries, pistachios and feta. It's so tasty!

Source: Edible Perspective