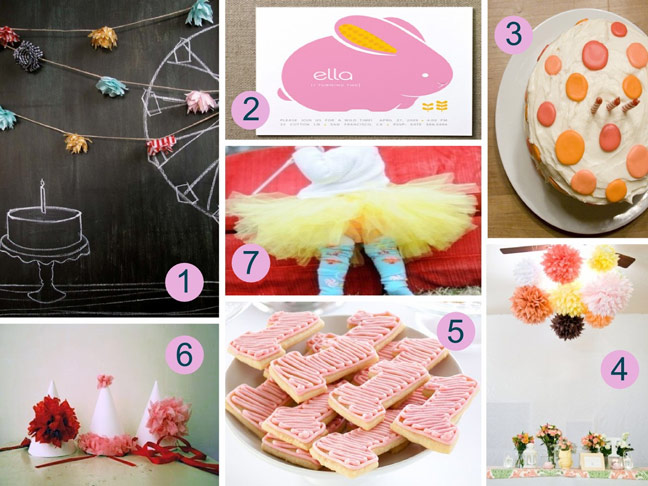 Easy, girly ideas to help celebrate your little girl's first birthday in style.  Think pink, pretty, and poufy!
4.  Pretty table from D+K Buckmaster
5.  1 cookies from One Charming Party
6.  DIY party hats from Oh Happy Day
7.  Tutu from Paisley and Posies
Your baby girl is still your baby girl, but her first birthday marks a milestone that you'll want to celebrate in a special way.  And, since you've likely got lots and lots of friend-packed parties ahead of you in the years to come, make her first one a simple event for close friends and family.  An adorable invitation sets the girly-themed tone for the day, and handmade garlands and paper pom-poms make your space festive (use them to decorate your little one's room post-party!)  Pop flowers inside simple containers and place on the food table, and voila: simple, pretty party décor at its best.  Add an easy birthday cake and fun cookies, and you've got yourself a birthday party!  Have DIY party hats at the ready for guests to don, and don't forget a statement piece for the birthday girl herself: a tutu!