My neighbor recently renovated her kitchen, knocking out a wall and creating the sort of dream room that I thought only exist on Pinterest boards. Inspired by how flawlessly she put together a modern kitchen without disrespecting the inherent charm of her 1920's home, I got to thinking about eclectic spaces and the importance of details. Like the kitchen backsplash.
Playing around with color and texture is daunting, but that's why a kitchen backsplash is so important. It can create a subtle pop in a neutral kitchen, or add to an already bold room with very little work on your part. It doesn't matter if your dream kitchen is rustic and cozy, or modern and sleek. The kitchen backsplash alone can change the way your entire kitchen looks because it will become the focal point of the entire room. Your backsplash will add to the atmosphere while also making it easier to clean than a wall, which is very important when it comes down to the place you're cooking in.
Whether you prefer a traditional look or something more modern, these kitchen backsplash ideas go far beyond basic white, ranging from natural stones to metallic tiles. Here are some of my favorite kitchen backsplash ideas now trending for the modern kitchen:
Like what you see? Don't forget to Pin it!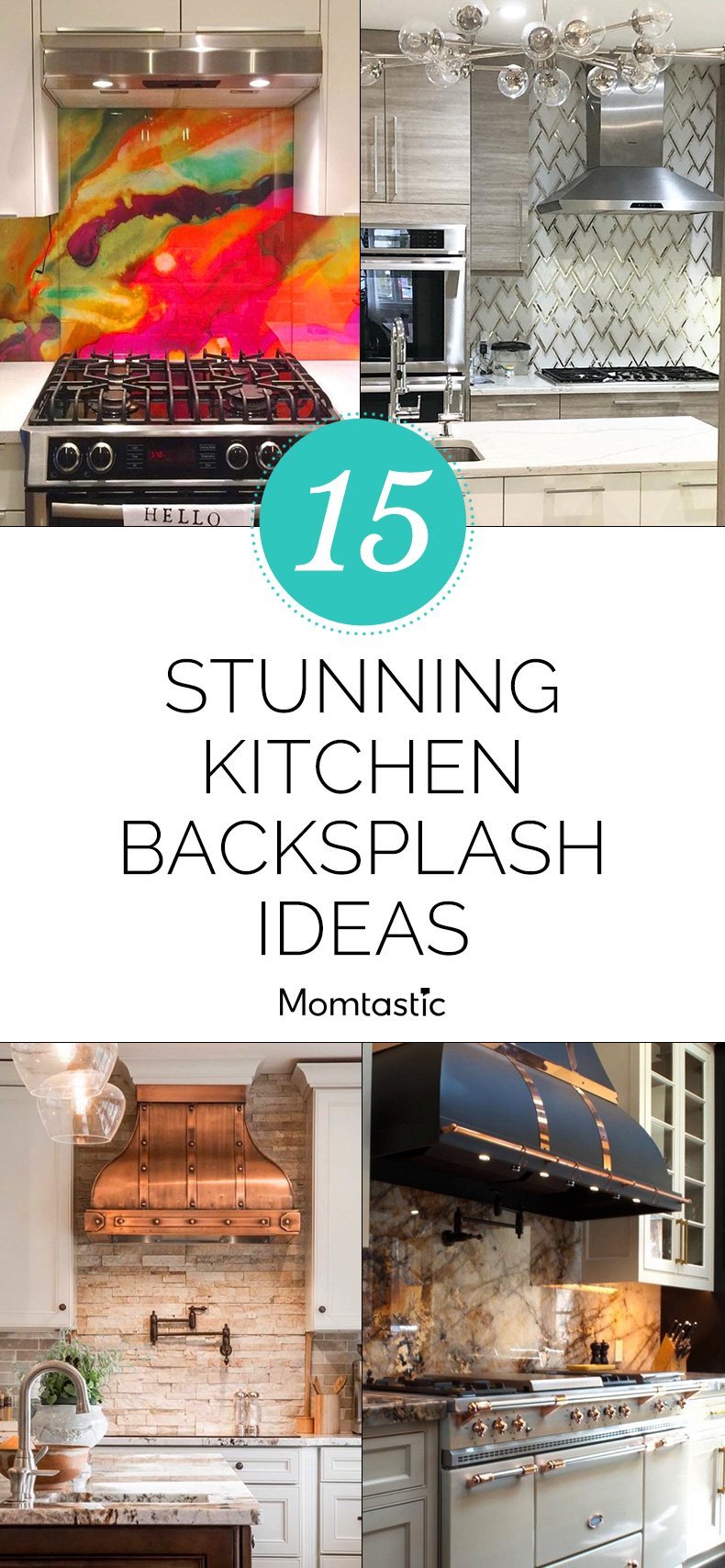 15 Stunning Kitchen Backsplash Ideas
Mod Triangles

This funky look would be divine in a midcentury modern home, but would add an eclectic edge to any overall decorating scheme.

Photo: Instagram/ayaarquitetura

Contemporary With a Twist

It's hard not to love the cool, clean lines in this modern yet classic kitchen. The "stripes" of contrast tile warm up the space and look gorgeous against the simple cabinetry.

Photo: Instagram/rnlhomes

Marbleized Rainbow

It might not be for everyone, but this bold departure from standard kitchen colors is mesmerizing. It's this type of design element that brings major fun to any space, even if you keep the rest of the room neutral.

Photo: Instagram/lizfuckyeah

Subway Tile

It's all the rage right now, and with good reason. When in doubt, take this route to kitchen chic.

Photo: Instagram/atthehelm

Black Elegance

I can't get enough of a dramatic, shiny black tile scheme. Especially against pale wood cabinetry. It's sophisticated, it's modern, it doesn't show dirt — a win all around.

Photo: Instagram/hugos_tile

Deco Metallic

This look is defined by a geometric pattern and a hint of metallic shine. Blingy, fun, and sophisticated at once, this is the backsplash of a major #girlboss.

Photo: Instagram/ViDesigns

White Marble

Another classic that will never go out of style -- white marble reigns supreme on countertops but can be just as alluring as a backsplash option. 

Photo: Instagram/dvirainteriors

Deep Marble

Then again, brown marble creates a totally different mood with the same material. This is stunning for the modern space and would add some flair to an older home as well.

Photo: Instagram/lacanche_us

Pearlescent Tile

A white shimmery tile look brings an ethereal quality to your kitchen decor. They can brighten an already light and fun cooking space.

Photo: Instagram/lacanche_us

Neutral Stone

Old-world charm speaks volumes in the form of a rugged, pale stone backsplash.  Pair it with copper and pale neutrals for a wholesome yet chic look.

Photo: Instagram/duchess.of.design

Distressed Brick

For the lover of full on rustic charm, this backsplash takes the (unfrosted, hipster-fabulous) cake.


Photo: Instagram/jarsofclayco

Metallic Tile

Don't underestimate the wow factor of adding some shine to your kitchen. Metallic tiles maximize light and complement stainless steel appliances.

Photo: DesignPinn.com

Wood

Another take on a rustic kitchen, but this look is also quite grand. A gray wood backsplash makes a major style statement in your kitchen and pairs perfectly with similarly hued finishings, as seen here.

Glossy Grays

Horizontal lines and a high-shine monochrome effect make this modern backsplash the perfect centerpiece to a contemporary kitchen.

Photo: Instagram/erikabonnell

Ice Blue Tile

This stunning kitchen has a classic quality, but the pop of color keeps it from being staid and predictable.

Photo: Instagram/bonddawsdesign