Finding a decent, inexpensive Pinot Noir is not easy. Believe me, I have tried plenty.
Many inexpensive Pinot Noir wines are too fruity and don't have those earthy undertones that I love so much. For me, a Pinot needs to be medium-bodied, smooth, and earthy with a slight spicy kick at the finish.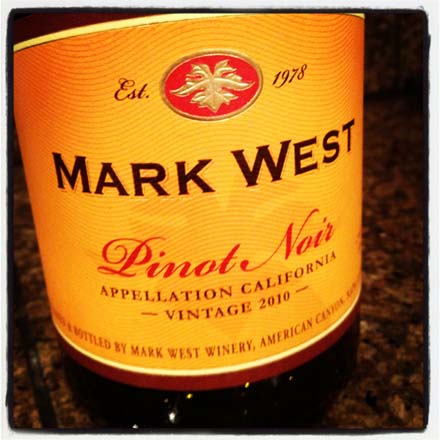 One of my favorite inexpensive Pinot Noirs that meets the above criteria is Mark West Pinot Noir. For about $10 a bottle, it stands up nicely to some other Pinots that are in the $20-$25 price range. The nose on this Pinot is earthy with cherry tones, as well as strawberry notes. I love the medium-body of this wine. To me, there is nothing worse than a thin wine. The oak aging gives this wine its body. I love the dark black fruits, vanilla and pepper on the palate. The slight spicy kick at the finish rounds out this wine for me, making it a weeknight go-to.
Mark West Pinot Noir is affordable and delectable, making it a terrific crowd pleaser. It is perfect entertaining wine as well as a weeknight Pinot Noir to pair with your favorite dishes. This wine goes nicely with my Chicken, Tortellini & Spinach Soup! This wine also pairs nicely with baked or grilled chicken, mushrooms (think Portobello), salmon, and even pork tenderloin with a rosemary rub.
So, what are you waiting for? Click over to check out my perfect soup pairing to have with this wine; Chicken, Tortellini & Spinach Soup and grab a bottle of Mark West Pinot Noir!
You can also find Rachel Voorhees here and on Facebook and Twitter.