What do you need to know about this warning issued to parents from the CPSC?
From toddlers to teens, the incidents of children swallowing these magnets are increasing in numbers and the consequences can be severe. Therefore, it is of the utmost importance to educate parents and make them aware of the potential danger with this magnetic adult desk toys, to both children and teens alike.
"We want parents to be aware of the danger associated with these innocent looking magnets," said CPSC Chairman Inez Tenenbaum. "The potential for serious injury and death if multiple magnets are swallowed demands that parents and medical professionals be aware of this hidden hazard and know how to treat a child in distress."
Although the risk scenarios differ by age group, the danger is the same. When two or more magnets are swallowed, they can attract one another internally, resulting in serious injuries, such as small holes in the stomach and intestines, intestinal blockage, blood poisoning and even death.
Reports of incidents involving these high-powered ball-bearing magnets have increased since 2009. Specifically, CPSC received one incident report in 2009, seven in 2010 and 14 through October 2011. These 22 incidents have involved children ranging in age from 18 months to 15 years old. Of the reported incidents, 17 involved magnet ingestion and 11 required surgical removal of the magnets. When a magnet has to be removed surgically, it often requires the repair of the child's damaged stomach and intestines.
High-powered magnets and magnet components that are of a size that can be swallowed are prohibited in toys for children younger than age 14. The reported incidents involve magnets that are marketed as desk toys and stress relievers for adults who use the magnets to create patterns and build shapes. Often, they are sold in sets of 200 or more magnets in stationery, office supply and gift stores, and also on the Internet.
CPSC has received reports of toddlers finding loose pieces of magnets or magnets left within reach. It can be extremely difficult for a parent to tell if any of the tiny magnets are missing from a set. In some of the reported incidents, toddlers have accessed loose magnets left on a table, refrigerator, sofa or the floor.
With tweens and teenagers, how the product is being used has resulted in magnets being unintentionally inhaled and swallowed. CPSC is also aware of instances where the magnets were swallowed intentionally. To mimic body piercings, the older children are placing two or more magnets on opposite sides of their ear lobes, tongue and nose.
"We sell our magnetic desk toy product, Nanospheres,® on Amazon.com for adults only. As the Amazon product description and warning labels on the product itself state, these products are hazardous if ingested and are not appropriate for young children," said Dan Taggert, CEO of Kringles Toys and Gifts, manufacturer of Nanospheres.®
"High-powered magnets, such as Buckyballs,® are products for adult use only and should be kept away from all children," said Craig Zucker, CEO of Maxfield and Oberton, the manufacturer of Buckyballs
.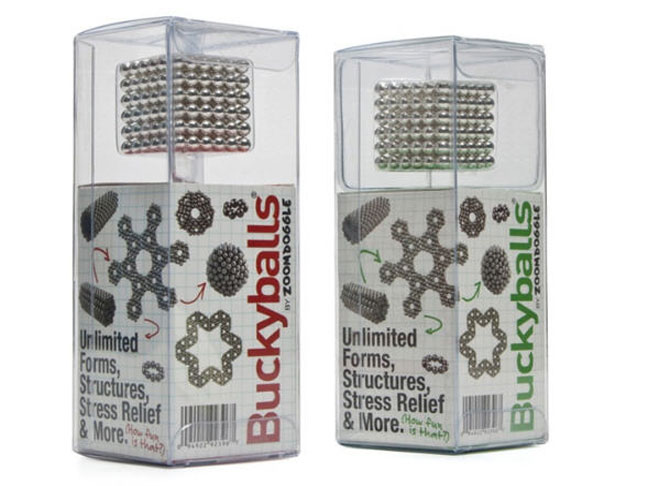 Although this is CPSC's first product wide public warning about high-powered ball-bearing magnets used in adult products, the agency has issued safety alerts previously about the dangers of powerful magnets falling out of children's toys. In April 2007, CPSC issued a warning about the possibility of high-powered magnets detaching from children's toys, such as building sets, causing injuries and death. At that time, CPSC was aware of the death of a 20-month-old child and of 33 incidents involving children who had swallowed magnets. Of these 33 incidents, 19 children required surgery to remove the magnets. Since 2008, CPSC has received more than 200 reports of children swallowing magnets and at least 18 of those children required emergency surgery to remove the magnets.
What should you do if you own any of these products and you have children in your home?
CPSC, Kringles Toys and Gifts (Nanospheres) and Maxfield and Oberton (Buckyballs) are urging consumers who have purchased magnet sets for children younger than 14 years of age (or households with children under 14 years of age) to remove access to the sets by children immediately and contact the firms for a refund.
Based on the number of incidents involving young children accessing magnets intended for adults, as well as the growing number of teenagers misusing the product, CPSC again has been prompted to launch a magnet awareness campaign. This multipronged initiative includes a grassroots effort with public safety partners, public service videos targeted for parents and teenagers, along with social media outreach. CPSC is warning parents and medical professionals about the extreme danger facing children who swallow multiple magnets.
CPSC offers the following tips to avoid magnet ingestion injuries and advice on what to do if you suspect that your child has swallowed magnets:
Keep small magnets away from young children who might swallow them.
Look out for loose magnet pieces – and regularly inspect toys and children's play areas for missing or dislodged magnets.
If you suspect that magnets have been swallowed, seek medical attention immediately.
Look for abdominal symptoms, such as abdominal pains, nausea, vomiting and diarrhea.
Note that in x-rays multiple magnetic pieces may appear as a single object.