The weather is finally warming up, and I'm anxious to keep the kids outside for as long as possible. I was looking for a kid-friendly gardening project for this spring when I discovered fairy gardens. These customizable container gardens offer kids a mini planting playspace of their own with endless opportunities for creative play.
Look, there's a small window of time when kids willingly believe in the magical world of the unseen. My girls are still in that window, but I know my older ones will lose interest soon. This coming spring seems like the perfect time to let each of my daughters design and create their own fun fairy garden. Their personalities are so different, I can't wait to see what different elements they choose to add to their creation.
Even the least crafty of us can put together a magical fairy garden that will entertain the kids for hours. Let one of these fun fairy garden ideas for kids inspire you.
If you loved these fairy garden ideas, you may also like:
Like what you see? Don't forget to Pin it!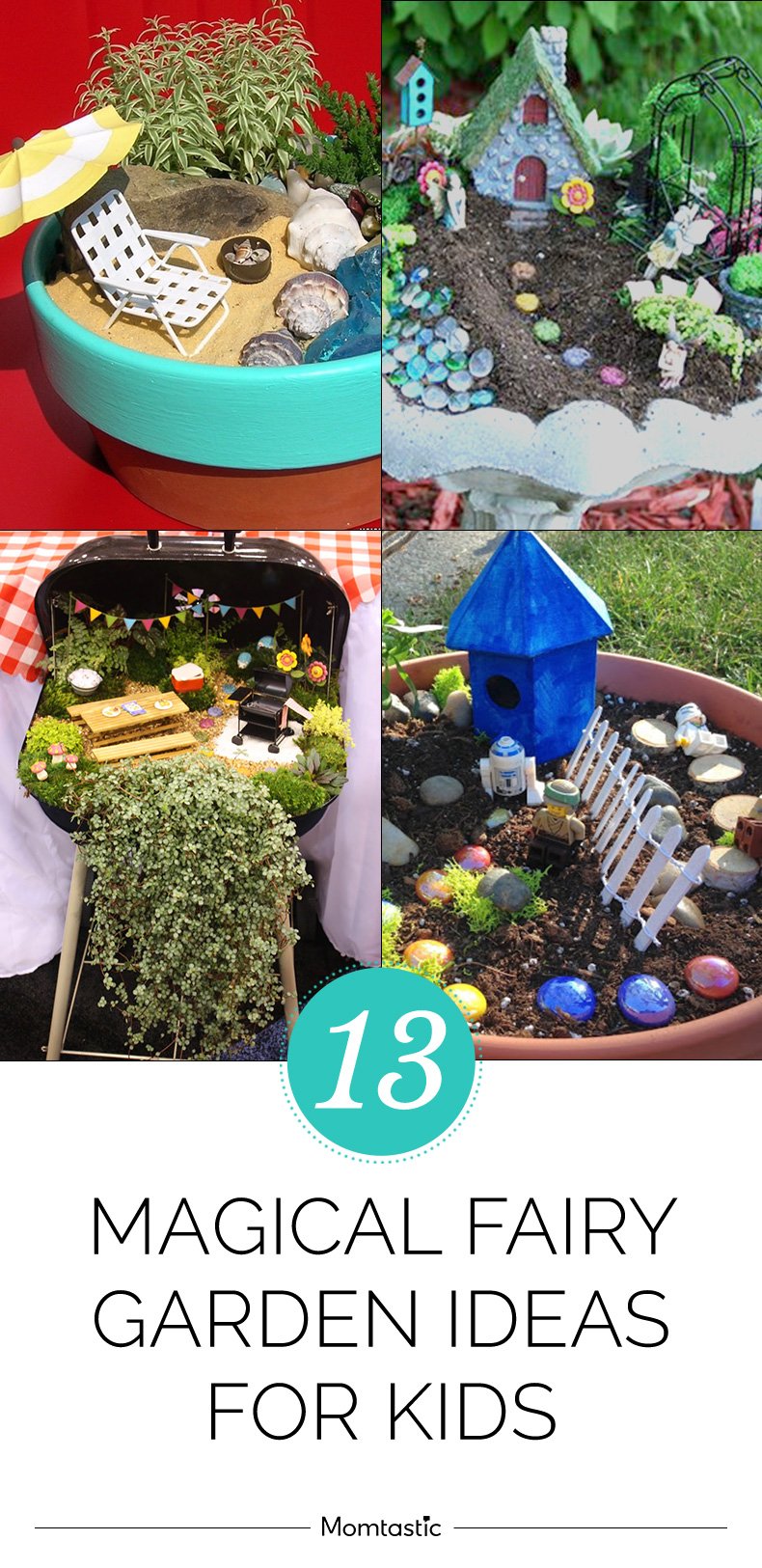 13 Magical Fairy Garden Ideas For Kids
Beach Fairy Garden Idea

Add tropical flair to your fairy garden by using sand as your base and adding sea shells, a mini paper umbrella and a small beach chair.

Source: Miniature Garden Shoppe

Bird Bath Fairy Garden Idea

An old bird bath is another great spot for a fairy garden. Make sure you drill holes into the bottom of it so water can seep out gradually and it won't overflow.

Source: Curly Crafty Mom

Birdhouse Fairy Garden Idea

Have your little ones paint (or even build) a birdhouse or two to customize it to their liking before you assemble your fairy garden. 

Source: 1 Pure Heart

Dinosaur Fair Garden Idea

Have a dinosaur-lover on your hands? Plant a variety of textured or spiky shrubs, then add some small rocks and pebbles, a few pieces of wood and a set of toy dinosaurs.

Source: The Imagination Tree

Circus Themed Fairy Garden Idea

Bring a big-top vibe to your child's fairy garden with a friendly clown and ferris wheel.

Source: House of Hawthorn

LEGO Fairy Garden Idea

Encourage creative play with your kids by adding LEGO figurines to your fairy garden. 

Source: Toddler Approved

Grill Fairy Garden Idea

Recently upgrade to a new grill? Keep the old one around to create a fun fairy garden.

Source: Garden Thyme with the Creative Gardener

Popsicle Stick Fairy Garden Idea

Turn the trash from this summertime treat into a sweet afternoon project.

Source: The Magic Onions

Colorful Trail Fairy Garden Idea

Your child's fairy would love a bright walkway to lead it to its tiny home every night.

Source: 1001 Blocks

Fish Bowl Fairy Garden Idea

Fish don't last very long, but you can repurpose the fish bowl that used to house your kid's dearly departed pet to create a terrarium for an immortal fairy friend.

Source: Be a Fun Mum

Wicker Basket Fairy Garden Idea

Create a portable fairy garden in a basket, so your child's little friend can get a change of scenery.

Broken Flower Pot Fairy Garden Idea

Don't ditch your broken ceramic pots just yet. Fill and stack them to help your kiddo create a fairy garden apartment.

Source: dornob

Fairy Garden Warning Sign

Protect your kiddo's fairy garden with a clever sign to keep other curious passersbys from disturbing the scene.

Source: New Hopetoun Garden Centre