Sure, Kool-Aid is meant for drinking (I should know; I swigged my fair share of it as a kid). But let's explore the powdered packets' full potential, shall we? I'm talking DIY Kool-Aid crafts for kids. With minimal supplies—and ones you probably already have on hand—you and your kids can create some amazing, colorful, and delicious crafts that put Kool-Aid in a whole new light.
Want to try out some new, colorful uses for Kool-Aid? You'll love these 22 DIY Kool-Aid crafts for kids, including lip balm, temporary hair dye, frosting, and more.
Like what you see? Don't forget to Pin it?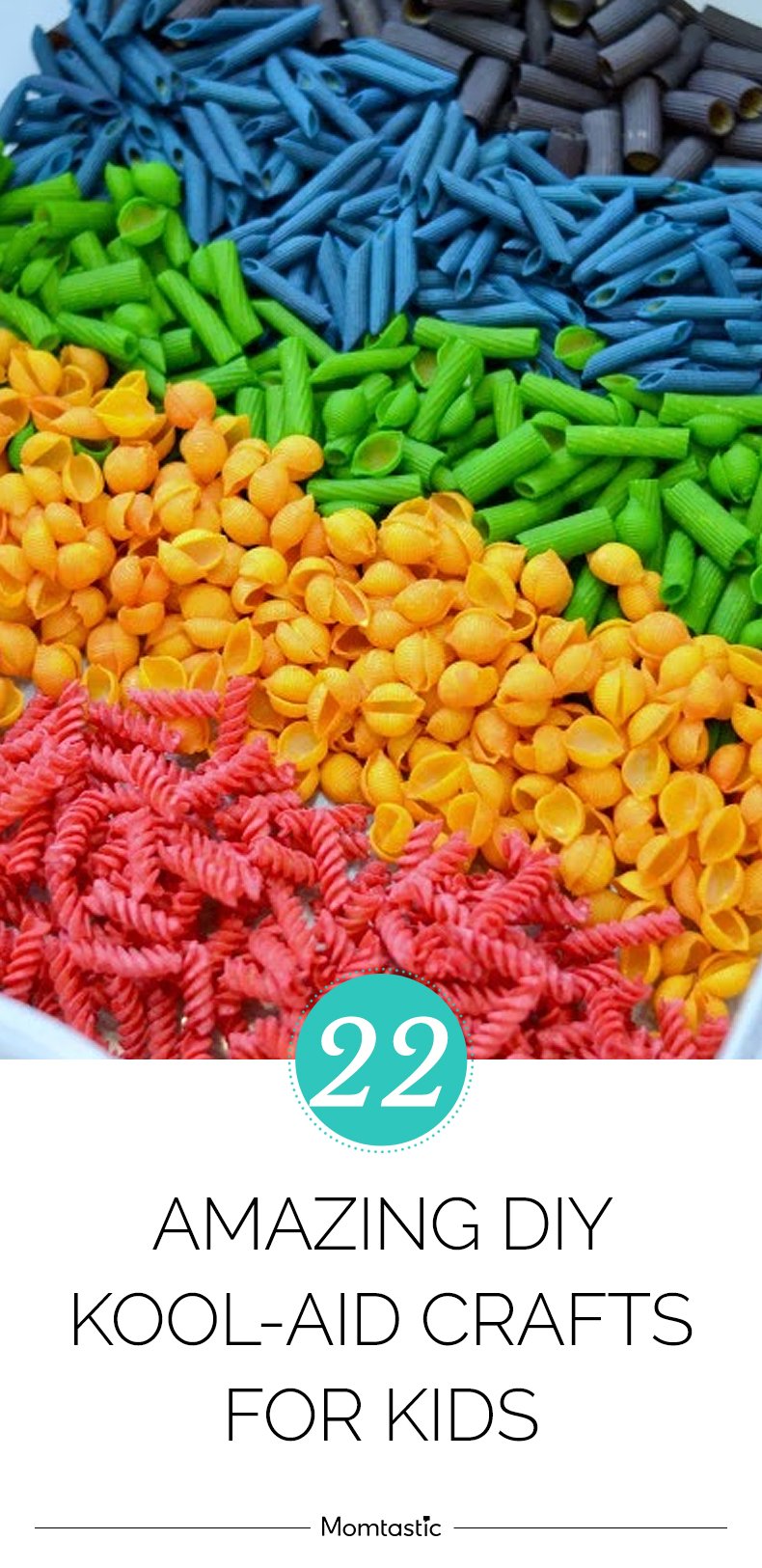 Things to Make with Kool-Aid
Kool-Aid Dip Dyed Muslin Bags

Give cloth treat bags or other fabrics a quick dip in Kool-Aid for a pretty watercolor look.

Photo and DIY: Momtastic

Easy Kool-Aid Sherbet

This delightful dessert requires just three ingredients—and very little culinary know-how. Simply stir, freeze, scoop, and enjoy!

Photo and recipe: Butter with a Side of Bread

Kool-Aid Dyed Pasta

Whether you want to craft pasta necklaces or use dry noodles for sensory play, you can easily dye dried pasta any color with Kool-Aid.

Photo and DIY: Growing a Jeweled Rose

DIY Kool-Aid Puffy Paint

Make 3-D puffy paint using Kool-Aid. Not only will kids have lots of colors to play with, but it smells good too.

Photo and DIY: Learn ~ Play ~ Imagine

Homemade Kool-Aid Taffy

Whip up a batch of taffy using your favorite flavor of Kool-Aid for a sticky homemade treat.

Photo and recipe: Skip to my Lou

How to Dye Hair with Kool-Aid

Is your kid begging you for hot pink locks? There's no need to buy dye when you can use Kool-Aid to give hair a bold, funky, and—maybe most importantly—temporary shock of color. 

Photo and DIY: Double Duty Mommy

Rainbow Kool-Aid Foam

Kids will love playing with this colorful, scented foam. Made with Kool-Aid, it's a fun sensory activity for kids to try, and you can mix it up with supplies you probably already have in the kitchen. 

Photo and DIY: Growing a Jeweled Rose

Kool-Aid Dyed Yarn

Customize your next knitting or crochet project by dying yarn with Kool-Aid. Dye it all one color, or mix hues to create multi-colored skeins of yarn. 

Photo and DIY: Knit One, Blog Two

No-Bake Kool-Aid Pie

This gorgeous no-bake dessert is as easy as, well, pie! It calls for only three ingredients, plus the crust. 

Photo and recipe: Dinner, Dishes and Desserts 

Kool-Aid Lip Balm

This lip-softening salve takes only 15 minutes and two ingredients that you probably already have around the house. It's a fun project that doubles as an even cooler (or should we say Kooler?) gift.

Photo and DIY: I Don't Have Time for That 

Sweet Grape Body Scrub

This Kool-Aid infused sweet grape body scrub smells so good you'll be tempted to eat it.

Photo and DIY: Savvy Naturalista 

Kool-Aid Play Dough

This homemade play dough smells better than any store-bought version because it's colored and scented with packets of Kool-Aid.

Photo and DIY: The 36th Avenue

Fruity Kool-Aid Frosting

Give your favorite cake or cupcake recipe a vibrant, fruity flourish with Kool-Aid frosting.

Photo and recipe: Smart School House

Dyed Kool-Aid Rice

Rice makes a great addition to sensory bins, and it's easy to dye it a rainbow of colors using Kool-Aid.

Photo and DIY: Kiwi Co

Homemade Kool-Aid Snow Cone Syrups

Make your own flavored syrups for topping snow cones with Kool-Aid. Since it takes only three ingredients, you can make it in every flavor for a well-stocked snow-cone bar. 

Photo and recipe: Hoosier Homemade

Tie-Dye Kool-Aid Easter Eggs

Skip the store-bought kits and dye your own Easter eggs with Kool-Aid this year.

Photo and DIY: Kraft

Colorful Kool-Aid Slime

Make a Borax-free, completely edible slime that's dyed with Kool-Aid. It's colorful and tasty.

Photo and DIY: Growing a Jeweled Rose

Kool-Aid Yogurt Pops

Give classic yogurt pops a twist by adding flavor and color with packets of Kool-Aid. 

Photo and Recipe: In Katrina's Kitchen

Kool-Aid Marshmallows

Give marshmallows a punch of color and flavor with Kool-Aid.

Photo and recipe: Shauna Sever

Kool-Aid Popcorn

Satisfy your sweet tooth with this Kool-Aid dusted popcorn.

Photo and recipe: Tasty Kitchen

Kool-Aid Snow Paint

Brighten up a winter day with snow paint. Simply mix Kool-Aid and water in a plastic squeeze bottle, and you're ready to create a frosty masterpiece.

Photo and DIY: Growing a Jeweled Rose

Kool-Aid Candy Dot Strips

This three-ingredient, no-bake candy recipe will delight the kids for hours.

Photo and DIY: This Grandma is Fun