It's hard to avoid the phenomon that is Pokemon GO. I trialled the app first before deciding my son Max could go for it, and he hasn't stopped since. Last weekend he clocked up 21kms of walking while he played (and I probably clocked up a $21K data bill, but let's not think about that). Max has loved Pokemon for pretty-much his whole life, so we are embracing the new life that Pokemon GO has brought to his obsession.
If your child has been recently introduced to Pokemon via the app, it might be a nice idea to bring the game into the real real world with a few fun Pokemon GO activities and crafts. I am a huge supporter of anything that will get boys crafting and off screens. My girls, on the other hand, need no excuse whatsoever.
The internet is alive with Pokemon activities and craft ideas and we've rounded up the best of them. I'm going to start with the Pokemon party that we put together for Max's birthday a few years ago. I'm amazed at how similar our narrative for the party was to the way Pokemon GO is actually played. Uncanny, actually. Perhaps I should move into software development? At least then I'll be able to pay my inflated mobile phone bill!
Pin for later: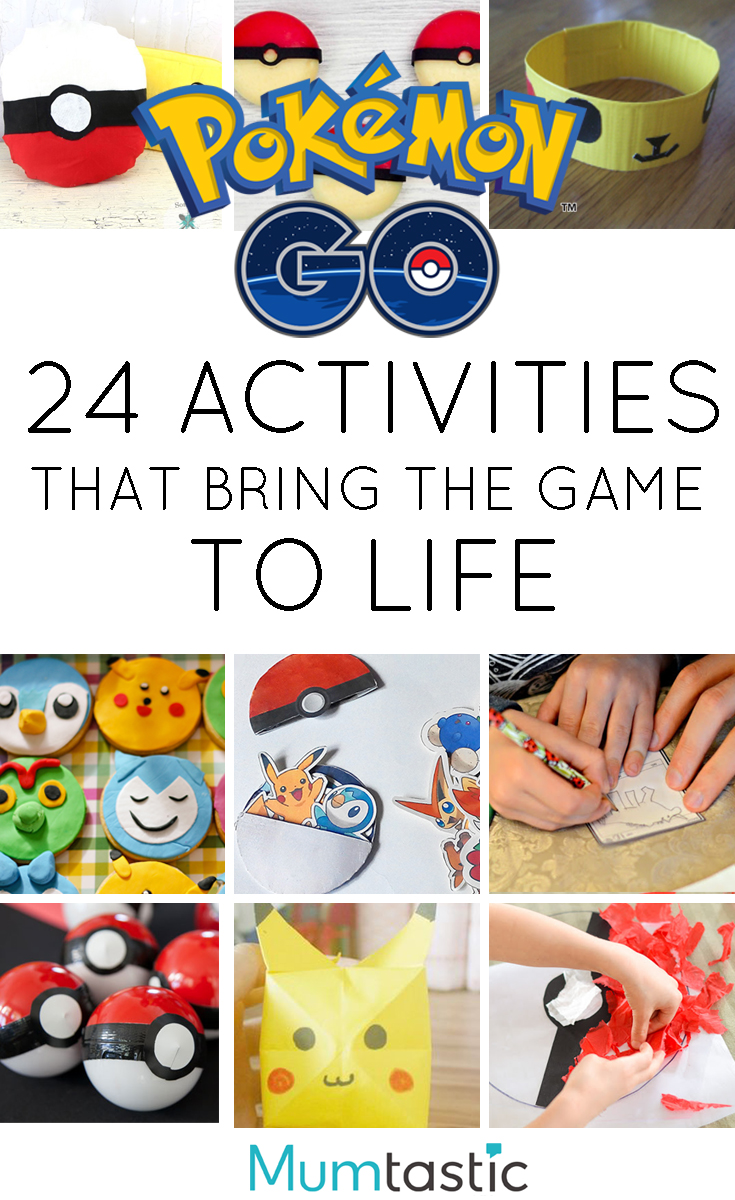 Check out our guides to kids online:
Save
Save
Save
Save
Pokemon GO Activities and Crafts - AU
Throw a Pokemon Party

We hosted an incredibly fun Pokemon party that even three years later is still known by Max's friends as the 'best party ever'. With a treasure hunt and a running narrative around training and battling Pokemon, you can see why this was such a hit. Grab onto the Pokemon GO craze and host a party in the backyard 'just because'.

Image: Maxabella Loves

Make Your Own Pokemon Cards

Make Your Own Pokemon Cards

Download the free printable template from And Next Comes L and get the kids bringing their own Pokemon monsters to life. This is a terrific art activity for reluctant drawers plus it's a fun way for kids to imagine their own Pokemon world, not just the world on their screen.

Image: And Next Comes L

Craft a Pokemon Loom Band Bracelet

It's time to break the loom bands out again. I know you've got a stash somewhere in the house that the kids haven't looked at since the loom band fad faded as fast as our enthusiasm for vacuuming up the little blighters. Well, sorry, but this easy idea from Rose's Notes has got to be done, right? There's no instructions, just the picture, but I think that's enough for Pokemad kids to go off…

Image:  Rose's Notes

Have a Pokelaugh

Pop a Pokemon lunch box joke from Mom Has Cooties into your kid's lunch box to make them smile. Not a craft or an activity exactly, unless you get the kids to cut them out?

Image: Mom Has Cooties

Make an Oddish Softie

This plushie looks complicated to make, but it's surprisingly easy when you follow the tutorial on Crafting, Tutorials and Lifestyle. I think this tutorial will be the perfect introduction to sewing for 12-year-old Max. Oh, and the character is called Oddish… it's not that the softie is weird!

Pokemon Maths Activity

Use Pokemon Power to get your kids interested in Maths questions via The Mathematics Shed. There's a set of Pokemon cards with simple Maths additions to work through. Genius!

Image: The Mathematics Shed

Printable Pokemon Colouring and Activities

It should come as no surprise by now that there is an entire blog devoted to Pokemon Colouring with free printable colouring in pages, mazes, activity sheets. You name it. A great way to occupy the kids on a day too rainy for Pokemon Go action.

Image:  Pokemon Colouring

Pokeball Suncatcher Craft

Another good idea from And Next Comes L, these suncatchers are simple to make but will keep the kids occupied (and off their screens) with busy work for an afternoon.

Image: And Next Comes L

Have a Game of Pokemon Bingo

You can create all kinds of Bingo games at DTLK's Growing Together, and Pokemon is just one option. You select the kind of bingo game you want, then you select the theme (in this case, Pokemon!), then you opt for B+W or Colour, then you download your bingo game and print it out. There is a separate download and print for the calling cards. It's so simple.

Image:  DTLK's Growing Together

Make some Edible Pokeballs

Add a little Pokemagic to your child's lunch box by crafting some Babybel cheese into Pokeballs like Mum in the Madhouse. There's a step-by-step how-to, so I reckon most bigger kids would be able to make these cuties by themselves.

Image: Mum in the Madhouse

Build some Pokemon from LEGO

How cool is this idea from Frugal Fun for Boys and Girls? They have built a Pikachu, Squirtle and a Pokeball using LEGO. Such great inspiration for your own little LEGO builder.

Design Your Own Pokemon Cards

Fair enough, it's still a screen-based, but this activity from My Pokecard are just too cute not to include.  Kids visit the website to upload a photo and make themselves into a Pokemon. Making a card for each of their friends is a nice idea and might inspire a new offline Pokemon game!

Image: My Pokecard

Bake Some Pokeball Biscuits

A simple sugar cookie recipe can be turned into some cool Pokeballs using red, white and black fondant icing. You can buy the icing in most supermarkets then it's just a matter of cutting and assembling.

Image: Maxabella Loves

Fold a Pikachu Bookmark

One for the bigger kids (or you), an origami Pikachu bookmark might be just the thing to get your kids reading rather than screening. There's  a very clear step-by-step tutorial on Instructables.

Pokemon Cut Out Action Figures

You can download and print a set of free action figures at Merry Printables. The kids will enjoy cutting out the figures (so good for cutting practise) and then they can use them for imaginary games, to stick on their school book covers or to decorate their bedroom.

Image: Merry Printables

Pokemon Writing Activities

Children's Books and Reading has some good ideas for encouraging kids to write and create using the power of Pokemon. Writing their own Pokemon Guide is one of the suggestions.

Image:  Children's Books and Reading

Build Your Own Pokemon

Get all the scraps you've got – cardboard, sticks, googly eyes, fabric, you name it – and lay it out on a table. Add some sticky tape and glue and challenge the kids to create a new Pokemon or two. Such a simple idea but one that should keep them happy for hours.

Image: Maxabella Loves

Tell a Fortune or Two

Download and Print the Pokemon Fortune Teller from Some of the Best Things in Life Are Mistakes. There's cutting and folding to do then lots of fun telling unsuspecting friends and family their Pokefortune.

Pokemon Memory Game

Memory is such a simple game, but it's been played for generations for a reason: it's challenging and fun. This Pokemon version from Memozor is free to print and an excellent screen-free activity for kids of all ages.

Image: Memozor

Draw a Pokemon

The drawing lessons from Hello Kids are online, but the activity is all paper and pens. These tutorials will show your kids how to draw 180 different Pokemon characters. Some are simple, some are worthy of a gallery.

Image:  Hello Kids

Pokemon and Hama Beads Projects

If your kids are just as crazy for Hama Beads as they are for Pokemon GO, they will love this YouTube tutorial by Sarita Alwaays. She shows them (in double-quick time, but hit the pause as often as you need) how to hama a Squirtle. Click on other tutorials for Jolteon, Flareon, Eevee, Vaporean… pretty much every Pokemon you can catch.

Image: YouTube screenshot

DIY Pokeballs

The kids can whip up some actual Pokeballs using clear (or white) balls. Perfect for staging a full-on Pokemon hunt in the backyard (they will just have to use their imaginations!). The full tutorial is at Frog Paper Paperie.

Image: Frog Paper Paperie

Snuggle up to a Pokemon Pillow

A simple way to decorate the kids' rooms from Some of This and That and it doesn't require sewing. This is a good project to do with the kids.

Image: Some of This and That

Wear a Pikachu Bracelet

A simple craft activity from Cute Lil Cupcakes that will let the kids take a little Pokemon wherever they go. All you need is some duct tape and a little patience – there's a full tutorial that's simple enough for bigger kids to follow.

Image: Cute Lil Cupcakes