Cords got you all tangled up? Nothing gets me crazier than a bunch of jumbled up cords…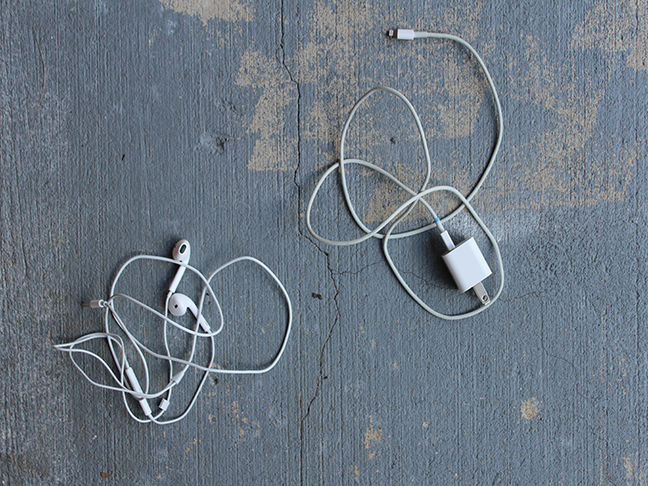 I travel a lot for my job and need to have my phone charger always on hand. I can't stand it when my cords are in a mess at the bottom of my purse. This past weekend, I finally sat down and made a cord keeper for all my pesky cords.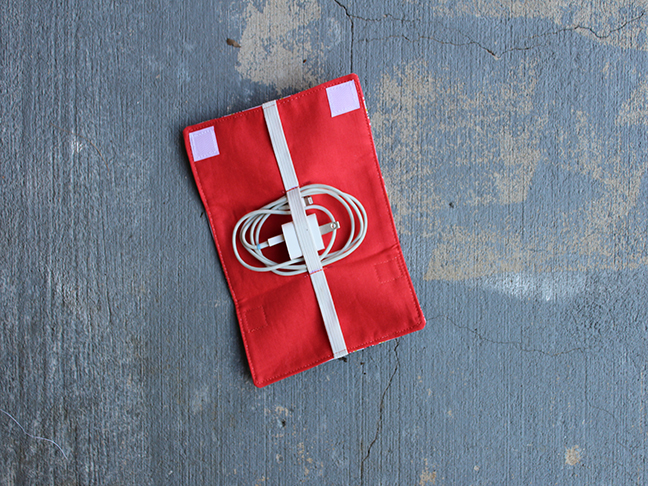 With just a few straight cuts and a few straight stitches, you can complete this handy little phone cord organizer in just an afternoon. You'll soon have organization on the go!
Supplies:

Cotton fabric – 2 colors, fat quarters or fabric scraps work well
Fusible interfacing
1/2" elastic
Disappearing fabric ink pen
Velcro 
Sewing machine and supplies
Iron and ironing board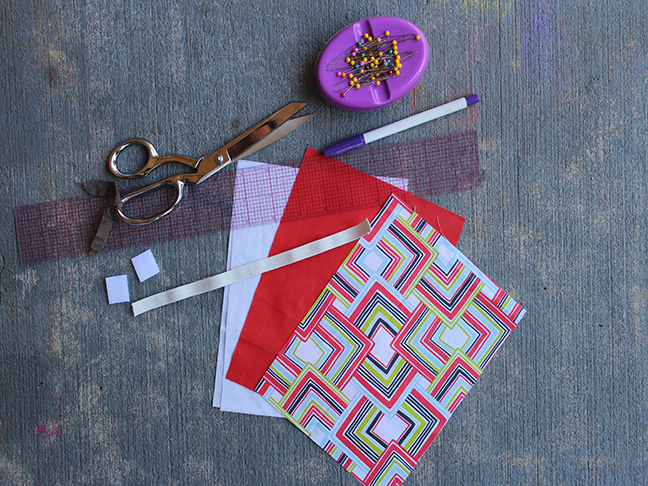 Instructions:

Step 1: Cut your materials: Cut out 2 rectangles measuring 8 1/2" L x 6 1/2" W from the cotton fabric. Cut out another 2 rectangles measuring 8 1/2" L x 6 1/2" W from the fusible interfacing. Cut the 1/2" elastic into a piece measuring 10" in length. Also cut 2 pieces from the Velcro, each measuring 1" in length.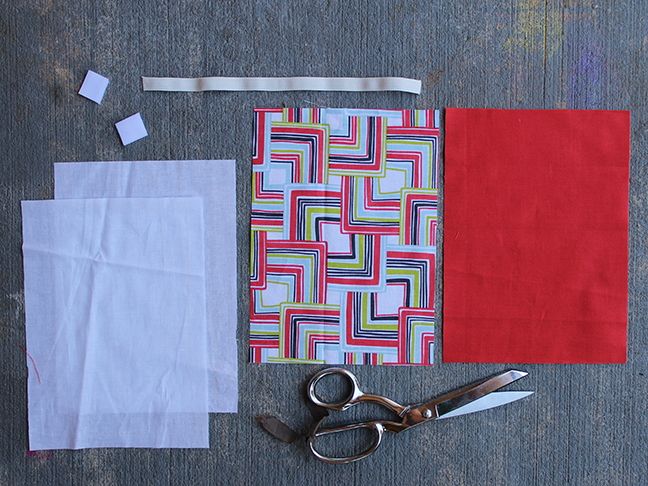 Step 2: Iron the fusible interfacing to the wrong side of each cotton fabric rectangle.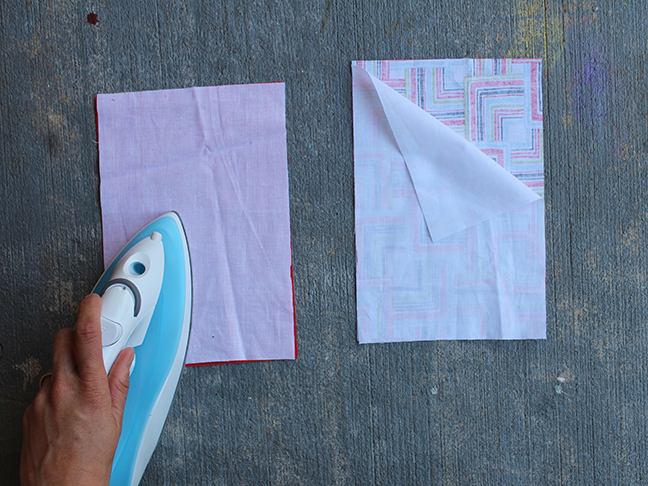 Step 3: Lay one cotton fabric rectangle onto your work surface, right side facing up. Place the elastic along the center. There should be extra elastic hanging off each end. Pin at each end.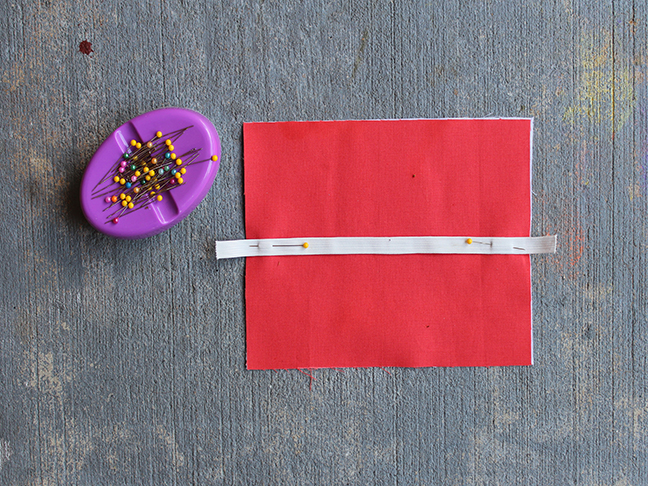 Step 4: Now lay the other cotton fabric rectangle on top, right sides facing each other. Pin at the edges. Place into your sewing maching and sew together wth a 1/4" seam allowance. Leave a 2" opening along one of the long sides. Press seams with an iron.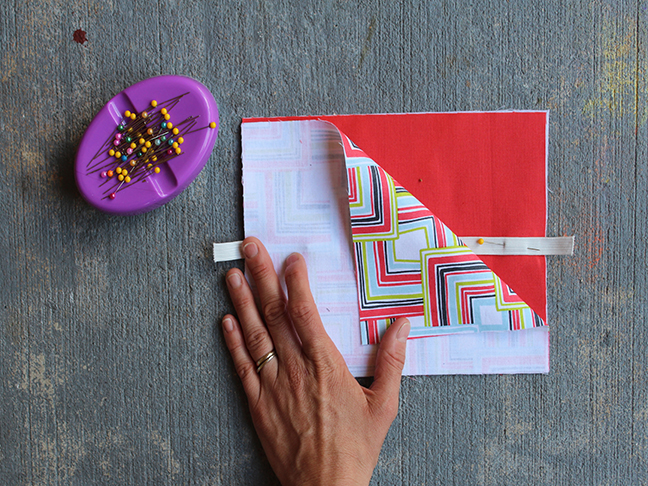 Step 5: Trim the fabric at each corner.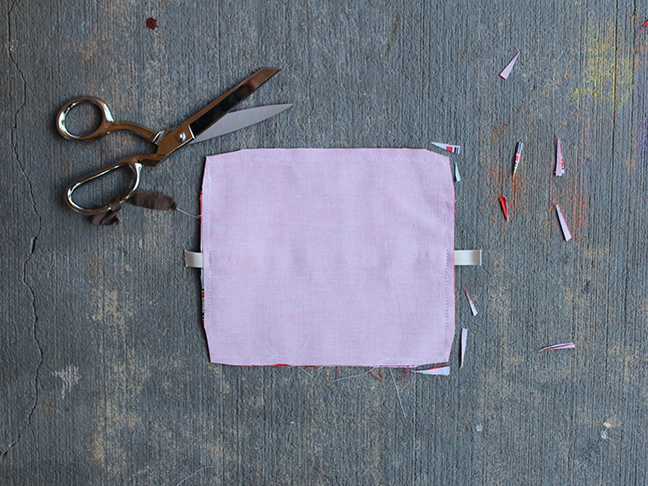 Step 6: Turn right side out. Wiggle the corners into place.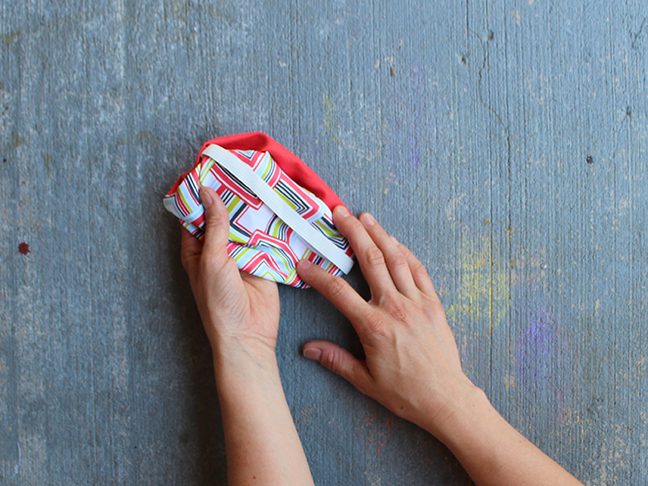 Step 7: Press with an iron. Place back into your sewing machine and edgestitch around the outside edge.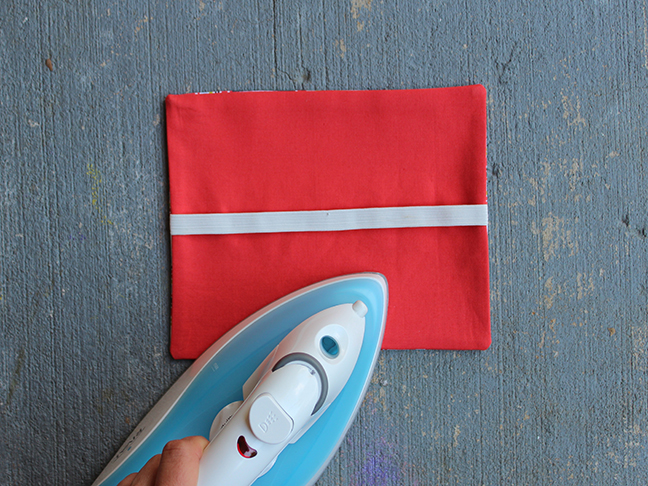 Step 8: Measure 2 1/2" inward from each end. Using the disappearing ink fabric pen, mark a line at the elastic and also on the fabric. Pin. Place into sewing machine and stitch down elastic.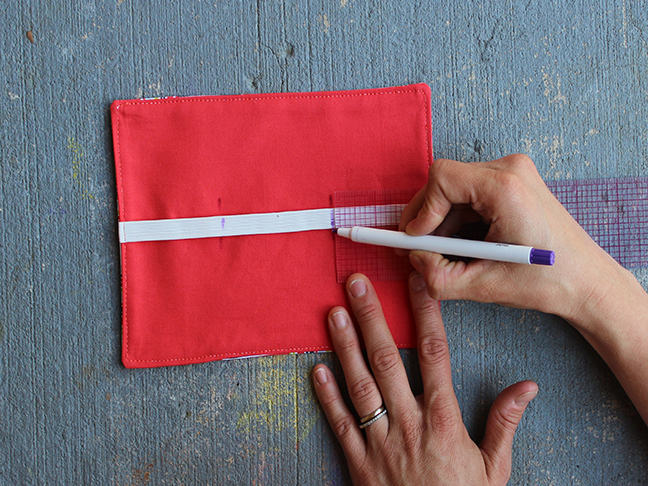 Step 9: Open the 1" Velcro pieces. Place one square at the top corner. Fold the cord keeper bottom upward. Match the top corner Velcro piece to a piece on the fold. Pin. Place into your sewing maching and stitch the Velcro down. Repeat for the other side.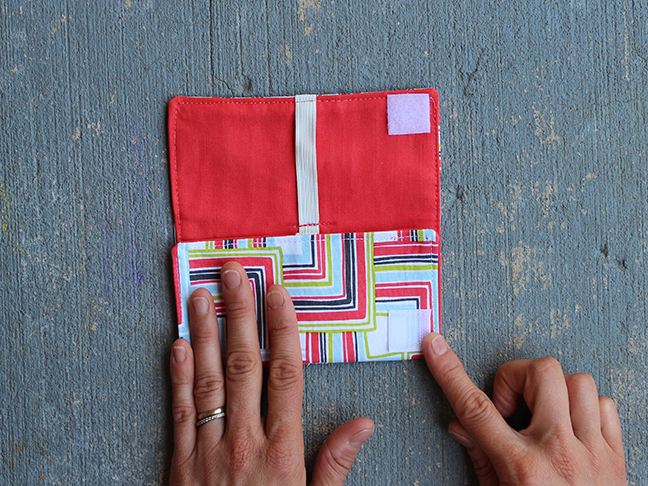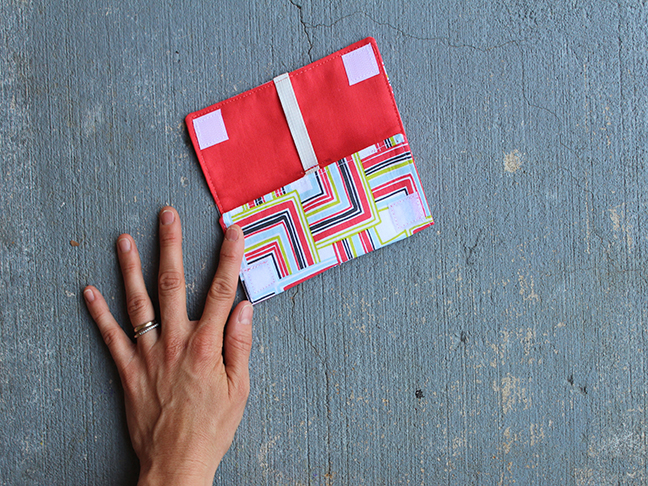 That's it! You've just made a cord keeper that is small enough for your purse or any travel bag.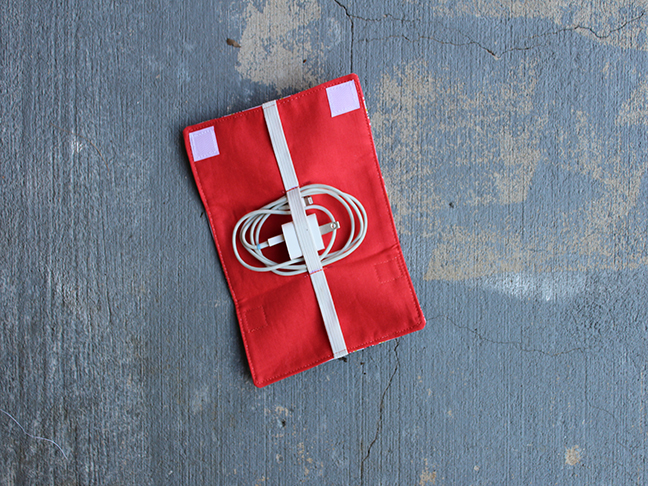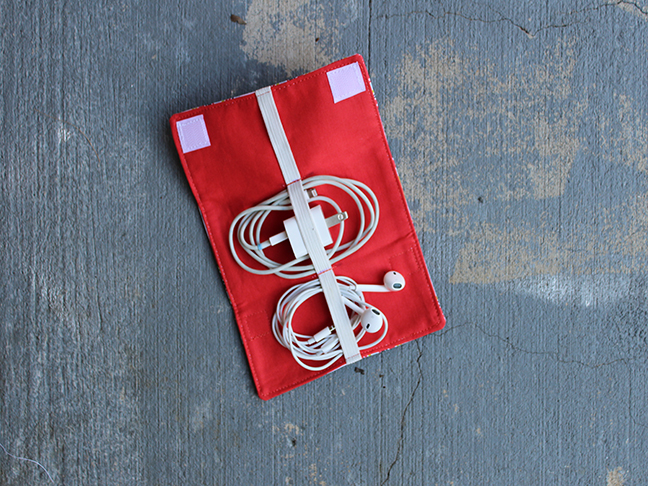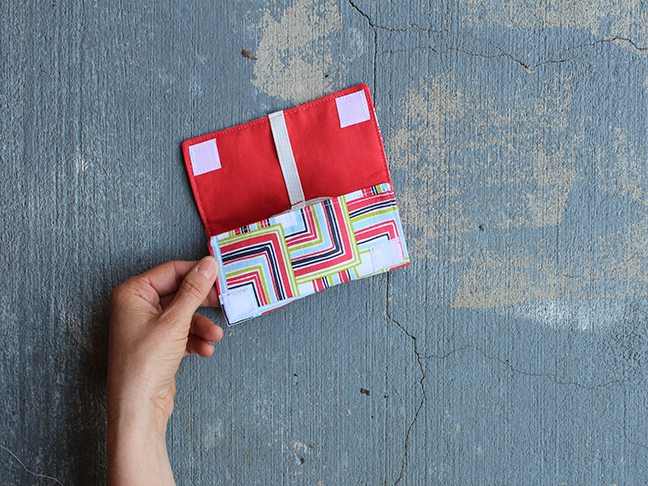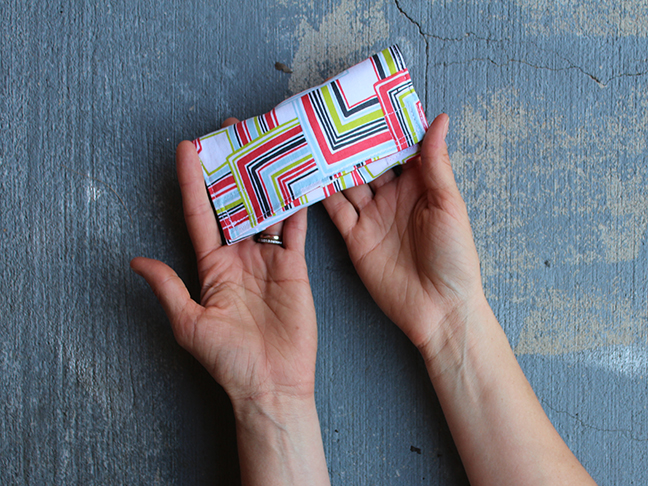 More Easy Sewing Tutorials: