This cute Halloween craft turns into the perfect Halloween party favor!  These quick and easy DIY Spider Treat Cups made from an egg carton are wonderful for school harvest or Halloween parties!
Each Treat Cup holds a few small Halloween treats and is perfectly sized for little hands. Or, you can add them to a decorative spider web for a great Halloween decorative display with a special sweet treat surprise.
makes 6 Spider Treat Cups
Supplies:

cardboard egg carton (6 egg cups)
black paint
1 paint brush
6 pairs of wiggly eyes
glue
18 black pipe cleaners
6 squares black tissue, about 2-inch by 2-inch
assorted small candies
small hole punch, or sharp tipped scissors
scissors
wire cutters
Instructions:

Step 1: Cut apart the egg carton into individual cups or sections.
Step 2: Paint the egg carton section black inside and out. Set it aside to dry.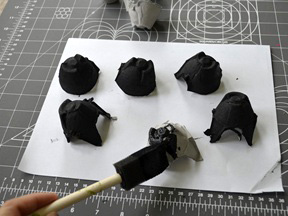 Step 3: While the egg carton is drying cut legs for the spiders from the black pipe cleaners. Each Spider Treat Cup should get 8 legs, each about 3 inches long.
Step 4: Once the egg carton sections are dry, add a pair of wiggly eyes to the front of each spider. Remeber to keep the open part of the up to hold your treats.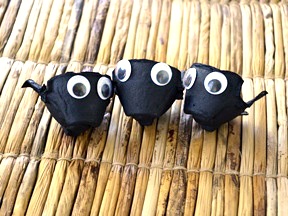 Step 5: Poke 4 holes in a row about 3/4 of the way up on each side of each treat cup to insert the spiders legs.
Step 6: Insert the black pipe cleaner pieces for the spiders legs, and bend each one slightly to help the spider stand.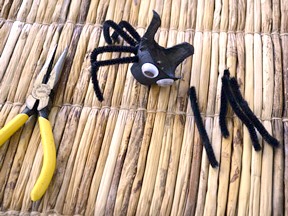 Step 7: Add a small 2 inch square of black tissue paper to the inside of each cup. This will be a protective layer so when you add the Halloween treats they can sit on top of the tissue paper.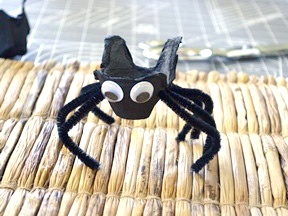 Step 8: Fill with small candies and you're ready to display your sweet treat spiders.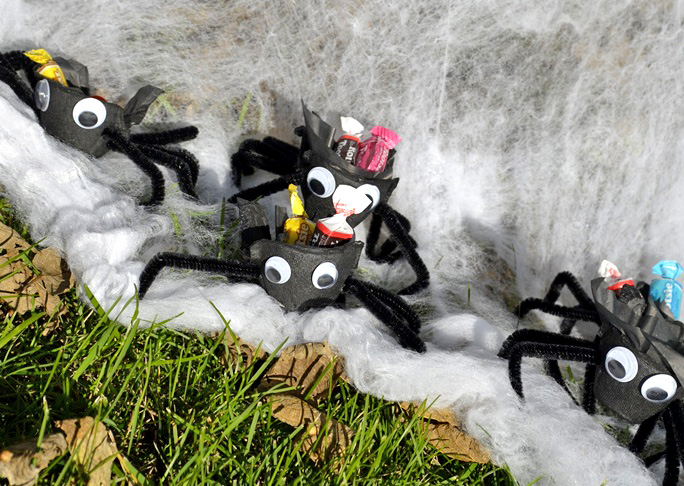 Want more Halloween DIY Crafts?