Whether you're going the puree route or the baby-led feeding one, yogurt can be a great (and easy!) addition to your baby's diet.
When babies are six months old, it's a good time to consider giving them yogurt," say the Nutrition Twins, Lyssie Lakatos, RDN, CDN, CFT, and Tammy Lakatos Shames, RDN, CDN, CFT, authors of The Nutrition Twins' Veggie Cure. "You can give it to them a couple times a day in 1/4- 1/2 cup servings for infants. Don't add sugar, simply add in mashed foods like fruit blends, banana, mashed peas, avocado and sweet potato for added sweetness or flavor."
What are the benefits of yogurt for babies?
The same reasons that make yogurt a healthy part of an adult diet, make it great for babies. "It's a great source of protein, calcium, probiotics, potassium and magnesium and it's rich and creamy and doesn't involve much chewing," say The Nutrition Twins. "Plus, you don't have to worry about your baby choking on it. It's convenient, easy to find and even available at most airports, drug stores and gas stations, so you can get it when you're out running errands.  It's also an ideal food for a baby to learn self-feeding."
But be careful! 
When shopping for yogurts for babies – even at "health food" stores – most options are sweetened with sugar, a lot of sugar. It's very important to choose yogurts that are unsweetened. Remember babies should, ideally, not get added sugar in their diet till age two. "Whole milk yogurt is best for babies since the fat is important for brain health and development. Look for brands that are free of hormones and antibiotics when available."
Dairy is a common allergen so you'll also want to be on the lookout for signs. "If your baby experiences vomiting, diarrhea, itching, fussiness or a rash around the mouth, your baby may have a milk/dairy allergy or sensitivity," say The Nutrition Twins. "Also, if your baby has a milk allergy, lactose intolerance, seasonal or food allergies, eczema or asthma runs in the family, you should discuss adding yogurt to your baby's diet with your doctor first."
Because we know new parents don't have the time to always read the fine print, we asked the Nutrition Twins to highlight their five favorite yogurts for babies: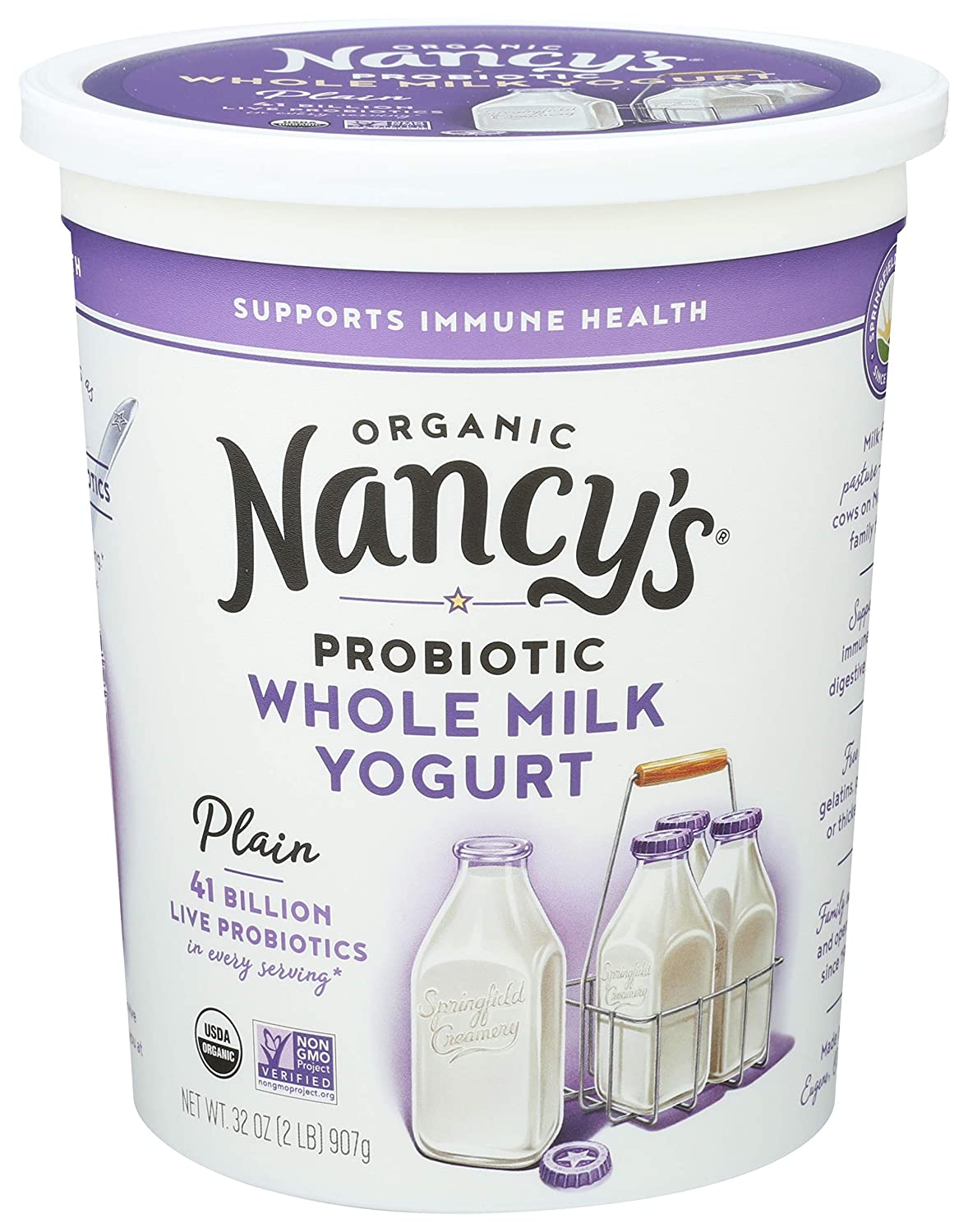 Here are the five best yogurts for babies. 
Nancy's, Organic Whole Milk Plain Yogurt
"This organic yogurt has 41 billion probiotics to support immune and digestive health. It only contains organic pasteurized whole milk and organic pasteurized nonfat milk and live yogurt cultures. It has nine grams protein and six grams of fat for your baby's brain health in each 130-calorie serving."
Wallaby Aussie Greek Style Plain Whole Milk Yogurt
"For a Greek yogurt option, this is delicious, USDA organic and contains milk and cultures, nothing more.  It's made with whole milk and contains no added sugar. This Aussie Greek Style yogurt makes a great, easy-to-eat, soothing teething solution because it helps babies to get nutrients like calcium to support strong bones when their teething pain and tummy troubles lower their appetites. Greek yogurt is higher in protein and lower in lactose and whey than whole milk (which isn't recommended for babies under one year)."
Stonyfield Organic, Whole Milk Probiotic Plain Yogurt,
Each ¾-cup serving has 120-calories, six grams of satisfying protein and seven grams of fat for your baby's brain health. It's made with Cultured Pasteurized Organic Whole Milk, Pectin, fortified with vitamin D."
Maple Hill Organic Grass Fed Whole Milk Yogurt 
"Maple Hill's cows eat only 100% organic grass, year round, which means their yogurt provides babies with CLA (Conjugated Linoleic Acid); this is a good way for them to start off their lives, since research shows people who get a lot of CLA from food are at a lower risk for type 2 diabetes, cancer and heart disease. Each 1-cup serving has 150 calories, nine grams fat and eight grams protein, a good combination for baby yogurt. It's made from organic non-homogenized whole milk. CLA content is 300–500% higher in beef and dairy from grass-fed cows than grain-fed cows."
Dannon Plain Whole Milk Yogurt
"This is made with whole milk, contains no added sugar, and is an excellent source of calcium which helps support strong bones.  It is made with two ingredients – milk and cultures.  It is also Non-GMO Project Verified and Certified Gluten Free."
More About Baby Nutrition: